Entertainment
Georgia May Foote Cleared Rumors Of Being Engaged; Has Dating Affair With Another Boyfriend
A ring on the ring finger of the left-hand of a woman marks that she is engaged. However, it's not necessary that every ring is an engagement ring.
Model and TV presenter Georgia May Foote was in the similar situation, and she cleared the rumors of engagement which spread when she was spotted with a sparkler on the ring finger of left hand. Curious about the truth? Don't worry; we'll unveil the mystery!
Georgia May Foote Cleared Engagement Rumors!
Georgia May Foote posted a picture with her ex-boyfriend, Giovanni Pernice via Instagram where the shiny sparkle in her ring finger gained all the attention.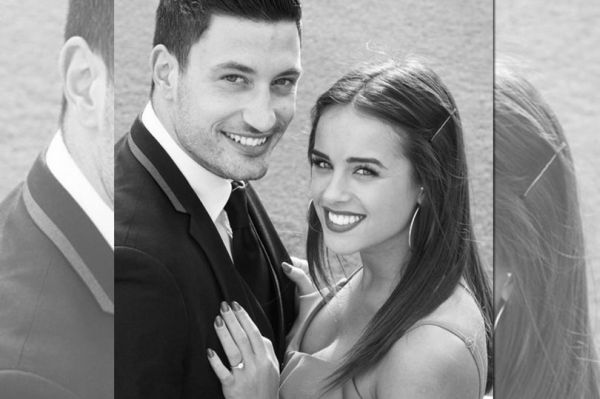 Caption: The photo which initiated the rumored engagement of Georgia May Foote and Giovanni Pernice.
Photo Credit: Mirror
Soon after that, the news of her engagement spread like fire, and congratulatory tweet started flowing, and people even started thinking that Giovanni had finally popped the question. So, it was necessary to address the ongoing rumor, and she stated that she is not engaged through a tweet on April 13, 2016.
Georgia is wearing the ring, but she is not engaged. It did not convince Keith Lemon, and she was asked to explain the confusion in the "Celebrity Juice" on May 2016.
Georgia shared that she has moved in together with Giovanni Pernice and explained the logic behind a ring without engagement as,
"it's not an engagement ring".
"Right in Italy he says that when you get a girlfriend and a serious girlfriend you get a ring. So they don't really do the engagement thing. You just get a ring and it's like a nice commitment but they have to wear it on that finger."
Moreover, gushing about Giovanni, she said,
"Gio is my best friend and he helped me through a lot. He's the best thing that has ever happened to me. I'm in a very good place now. I've got good people around me."
Georgia and Giovanni met on "Strictly Come Dance" in 2015 when she was still dating "Corrie" co-star Sean Ward, but the relationship suffered a split in December 2015. It cleared the path for Giovanni, and he soon became Georgia's man.
However, the relationship of Georgia and Giovanni could not survive for long, and they part ways on August 2016. Georgia shared the news fo the split via Twitter on August 27, 2016.
Moreover, in August 2016, Georgia showed excitement for his dancing show along with some sweet words for her ex-boyfriend back in September 2016.
"Of course I'll get jealous. Whoever Giovanni gets is a very lucky girl. He's a great teacher. I'm excited for whoever he gets and, yeah, he's a great teacher, so I'm happy for him. I think it's fine."
Talking about Giovanni, he had been linked with MTV presenter Laura Whitmore in 2016.
Georgia May Foote's Another Boyfriend!
In October 2016, the news of Georgia dating her new boyfriend, George Alsford, a model circulated in the media. A source to the Daily Star said,
'George fancies the pants off Georgia. They met at the offices of their agency and have been meeting up as much as they can around her hectic work schedule. They're really enjoying each other's company. He thinks she's really hot and they're having a lot of fun together.'
Following the ongoing news, Georgia confirmed that she was seeing George in November 2016. And on December 11, 2016, Georgia shared a fun picture of a toothpaste fight, where Georgia's face is covered with blue toothpaste, and George is brushing his teeth.
On the occasion of Christmas 2016, Georgia had a Christmas gift for her ardent fans, which was a glimpse into their love life. Georgia flaunted the romantic moments with her boyfriend through an Instagram post on December 25, 2016, where the couple is sharing a cheeky kiss under the mistletoe.
All the fans hope that the relationship of Georgia and George flourish beautifully and keep on sharing the beautiful moments with the fans more!
Stay with us for the emerging updates on Georgia May Foote!