Entertainment
Gina Torres Priority Is Family; Took Time Off From Professional Life To Attend Husband And Daughter
Being a celebrity is sometimes a boon and sometimes a curse. A celebrities' profession obliges them to grab the attention of the people around them because of which it is difficult for them to maintain privacy in their personal life. Their personal life either blends with their profession or overshadows their career.
But when a celebrity is clear about his priorities and purpose, he can surely enjoy both of his personal life and professional life separately. Forty-eight years old American actress Gina Torres, who portrayed the character of Jessica Pearson on USA's Suits is one of those celebrities who define herself by her priorities.
Gina, who is known for her take-no-prisoners attitude in Suits puts her family before her career. Let's shed some more lights on the personal life of Gina Torres!
Gina Torres' Married life!
Gina Torres has managed to captivate our hearts with her natural acting skills, but her heart is captivated by her loving husband and charming daughter.
She was married to actor Laurence Fishburne at The Cloisters museum in New York City on September 22, 2002, after keeping engagement low-key for around eight months. Gina was engaged to Laurence in February 2001.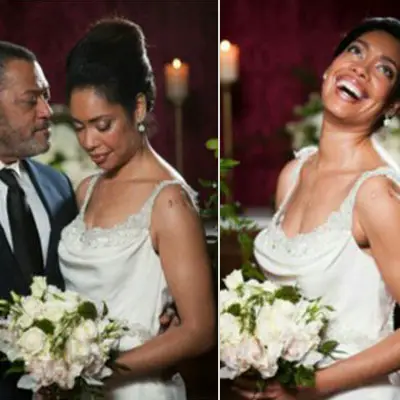 Gina Torres married actor Laurence Fishburne on September 22, 2002, at The Cloisters museum in New York City. (Photo: Liverampup.com)
The pair shares a daughter named Delilah, who was born in the year 2007. Gina is also a stepmother to Fishburne's two children, son Langston (born in 1987), and a daughter, Montana (born in 1991) from his previous marriage to actress Hajna O. Moss.
Ginna Torres priority is Family
Gina, who appeared in Hannibal with her husband Laurence Fishburne while portraying the character of husband and wife, keeps her family before her career.
In an interview with Hello! Magazine in January 2016, she talked about her life as a wife and mother. She even shared her hopes and dreams for her daughter Delilah.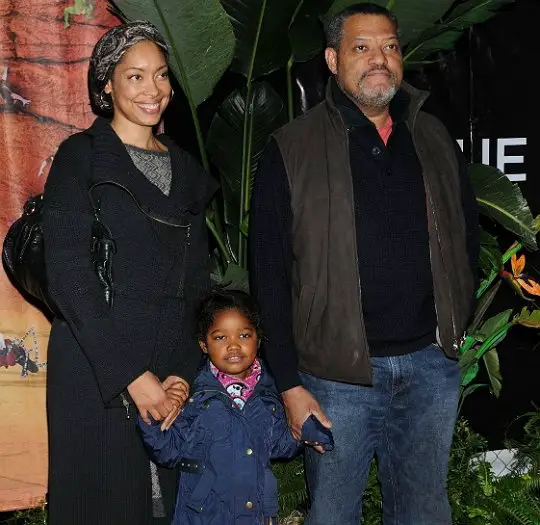 Gina Torres with her husband and daughter at the Cirque Du Soleil show in Santa Monica in January 2012 (Photo: muzul.com)
Likewise, in an interview with The New York Times, on September 15, 2016, Gina revealed the reason behind leaving "Suits." She said that her contract was up and her personal life needed to be tended. She explained-
"I think the public doesn't understand the rigors of shooting a show for an actor, much less when you're on location and away from home. At one point I approached Aaron [Korsh, the showrunner,] and said: "It's not that I don't love the show and love Jessica, who is my alter ego. But my life is my life, and I need to take care of it." And everyone was completely supportive."
Cuban ethnicity actress Gina Torres is now working in The Catch. The actress with height five feet ten inches and body measurements 34-25-35 inches has appeared in many films and television series.
She is known for working in Teenage Mutant Ninja Turtles (voice, 2016), Hannibal (2013-2015), Castle (2013), Star Wars Rebels (voice, 2015-2016), Huge (2010), Standoff (2006-2007), Angel (2003), and Cleopatra 2525 (2000-2001).
Gina is not only able to grab the attention from her audience but is also able to accumulate the net worth of $5 million.