Entertainment
Ian Hallard Hides His Wedding Details With Mark Gatiss! Are Still Considered A Power Gay Couple
The huge blessing that a person asks is to be fully seen by someone and be loved to the moon and back. However, not every person from the showbiz is lucky enough to find such partner who can understand both of their personal and professional life. Unlike them, the English actor Ian Hallard is a lucky fellow as he has been enjoying a blissful married life. Today, let's have a look at happy married life of Ian Hallard with his partner-turned-husband Mark Gatiss.
Ian Hallard's Low-key Married Life:
Ian Hallard, who is openly gay, flaunted his love life with Mark Gatiss without any hesitation. However, he hasn't talked about his married life with Mark in any of the interviews.
Though Ian has been maintaining a low-key married life, his partner Gatiss has been talking about it openly in several interviews.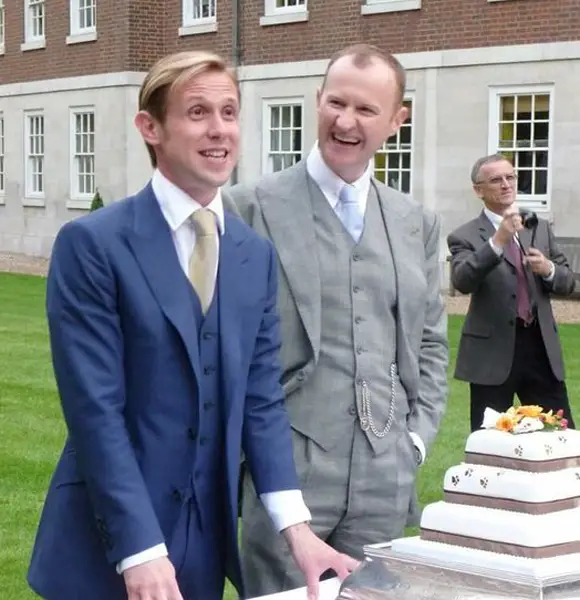 Caption: Ian Hallard with his partner Mark Gatiss at their civil partnership ceremony in the year 2008.
Photo Credit: Pinterest
Ian got married to Mark in the year 2008 in Middle Temple, in the City of London. He first met his lover in Finsbury Park at their rehearsal set. Moreover, the pair had their first date coincidently in the year 1999.
In an interview in 2010, Mark talked about his love life openly where he revealed how he met Ian. Mark said-
"I met Ian online. He spelled everything so well – I said to myself: "This is the man for me." We spent most of our first chat talking grammar. I knew I wanted to see him again. He said coolly: "I like to keep my cards close to my chest." But he rang me the next day."
He even talked about his wedding where he explained-
"We got married in Middle Temple, in the City of London, underneath a portrait of Edward Carson QC, the man who prosecuted Oscar Wilde. The whole day was replete with irony."
The proud parents of a Labrador retriever Bunsen, Ian, and Mark, have together shared a stage. They shared the stage for the first time in a play called "The Boys in the Band."
Caption: Ian Hallard and Mark Gatiss talking about their play "The Boys in the Band."
The pair now lives in Islington in London.
Ian Hallard's Wiki-like Bio:
Ian Christopher Hallard(age 42) was born on 9 November 1974 in England. Brought up in Solihull, Birmingham, Ian attended Solihull School and the University of Sheffield. He also joined the Mountview Academy of Theatre Arts and graduated in the year 1998.
Some of the work credits of Ian includes Doctors (2011, 2013), Sherlock (2012), An Adventure in Space and Time (2013), and Doctor Who (2014). Ian, who stands tall at the height of five feet nine inches has already marked his place in the industry.
He surely has more to achieve from his profession with his long-time partner Mark Gatiss!