Entertainment
Is Wendi Nix Really Been Divorced? If So, To Whom She is Referring As Husband in Twitter? Married Again?
When a beautiful sports journalist is on the television screen reporting and rising high in fame, then every fan wishes to know about her personal life. But some celebrities prefer privacy in their personal life, and when a star maintains a tight guard over the personal life, then least information circulates in the media and only the information the celebrity wants to share, is known to the fans.
Sharing a similar story is Wendi Nix who was once married but failed in the relationship. So has she moved on from the past? Did she give marriage a second chance as she mentions about her husband in her Tweet? Let's dig in to find the answers
Wendi Nix's Failed Married Life in the Past!
Wendi Nix prefers privacy in her personal life and has fiercely guarded her personal life so well that least information regarding her personal life has circulated in the media.
Wendi and her ex husband Ben Cherington- the former general manager of the Boston Red Sox, reportedly met at the University of Massachusetts and fell in love with each other. And eventually, Wendi exchanged wedding vows and got married to her ex husband, Ben Cherington. But the other details regarding the marriage have not been disclosed yet.
However, their relationship could not survive long and ended in a divorce silently. And Wendi's statement in an interview with the Myrtle Beach Tribune in 2010 suggests that she has separated from her husband.
Following the separation, Ben Cherington moved on in his life and married Tyler Tumminia, in a wedding ceremony held at Brooklyn Borough Hall on April 6, 2012.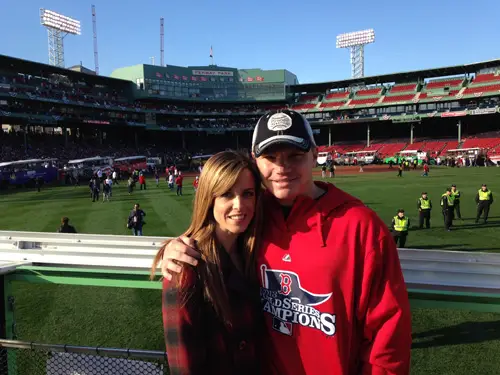 Caption: Ben Cherington with his wife of five years Tyler Tumminia.
Photo Credit: playerwags.com
Wendi is one of the people who likes to seal her lips when it comes to her private life. Still, her fans wish to know- Has Wendi Nix moved on from her past? Did Wendi Nix marry again? Let's find out.
Has Wendi Nix Married Again? Husband?
Hannah Strom posted a group picture with Wendi Nix, NBC correspondent, Dan Hicks, Trista Sutter, and others along with a mystery man, through Twitter on February 14, 2016.
And quickly a follower noticed the mystery man and asked, who was the mystery man behind Wendi in the photo through Twitter on February 14, 2016.
Following the tweet, Wendi acknowledged the mystery man as her husband and accepted the fault as she has blocked his face in the photo, on February 14, 2016.
The mere mention of her husband raised curiosity among her followers, but she neither shared any details regarding her mystery man nor disclosed anything regarding her marriage. Nevertheless, Wendi's ardent fan got to see a glimpse of her husband.
Wendi has time and again mentioned about her husband in her tweets, and Wendi's ardent fans got a little insight into her personal life with husband and kids.
Info on the Mystery Husband:
Wendi's tweet back on October 4, 2015, suggests that her husband is a football fan possibly some administrative of football.
Moreover, Wendi's complained about her husband's language when he was watching a game. And Wendi's tweet on December 2015, suggests that he is a fan of New York Jets while Nix is a strong Carolina Panthers fan.
Is there a flag you can throw for your husband's language during the game? My kids feel like there should be. #LifeWithAJetsFan

— Wendi Nix (@WendiNix_ESPN) December 6, 2015
Never speaking to my husband again. Ever. Panthers fan. (Me) Odell Beckham on his fantasy team.

— Wendi Nix (@WendiNix_ESPN) December 20, 2015
Furthermore, Wendi is a mother of two beautiful daughters and takes out time from her busy schedule to spend with her daughters. And she even flaunted her daughter through Twitter on May 26, 2015, where her daughters are enjoying summer 2015.
Wendi is leading a blissful married life with her husband and kids in their paradise. And the hope of her opening up about her personal life remains alive in the heart of Wendi's fans.
Wendi Nix along with her contemporary journalist including Rachel Nichols, Heidi Watney, and Beth Mowins are inspiring upcoming sports journalist, to pursue the career in sports.