Entertainment
Actress Isabella Rossellini Talks about her Young Age Hardships and Married Life! View Full Report
No matter how much equality is on the table, for women, it is always hard to stick to her acting career because as age takes on, so does the aging signs.To that, actress Isabella Rossellini talks about her share of hardships that she was young and also mentions her married life.
Married Life That Uplifted Her Career:
Born on June 18, 1952, to famous actress mother Ingrid Bergman and film director father Roberto Rossellini; Isabella did not step into her acting career at once, but she did make her first film debut in 1976, alongside her mother in 'A Matter of Time.' She married her then-husband Martin Scorsese at the age of 27 in 1979. She met Martin while she was a reporter and was assigned to interview which led to the couple dating.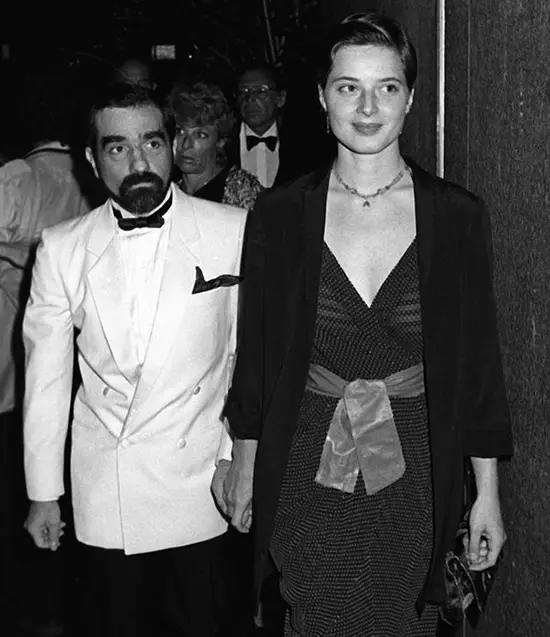 Caption: Isabella Rossellini with ex-husband Martin Scorsese in 1981
Photo credit: guim.co.uk
Being married to an actor opened the doors to modeling as her husband's fame grabbed her so much attention and she started her modeling career at the young age of 28 with renowned photographers such as Richard Avedon and Bruce Weber on the cover of Vogue. She soon became the highest-paid model in the world by Lancôme's contract in 1982.
The following year, Isabella got pregnant, but she was carrying the child of a colleague, Jon Wiedemann while technically, still being married to Martin but was already separated. The reason for her split with Martin Scorsese is not known but there might be some connection with her relationship with Jon Wiedemann with whom she gave birth to a daughter; Elettra Rossellini Wiedemann in 1983 and got married to Jon Wiedemann the same year.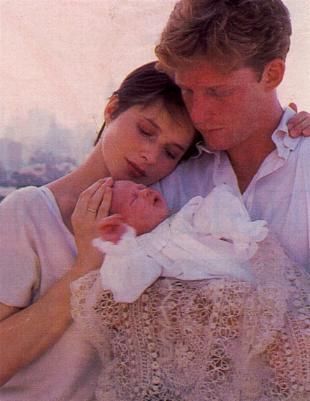 Caption: Isabella Rossellini with then-husband Jon Wiedemann holding their daughter in 1983
Photo credit: pinimg.com
Seeing her father leaving only $200 in his bank account for them and her mother handling her financial affairs to her accountants, Isabella wanted to become financially independent.She said,
"My mother never ran her money. It was intimidating for that generation. Women [in my family] always gave it to the men to take care of. I did say to my mum that I was going to take control of my own money. I had seen what happened if you don't."
She persuaded David Lynch to give her a chance at Blue Velvet as David's first choice was Helen Mirren. As an opportunity that she got, her contribution to the movie is still considered to be iconic. She won the Independent Spirit award in 1986 and also dated David Lynch for about six years after her split with Jon Wiedemann.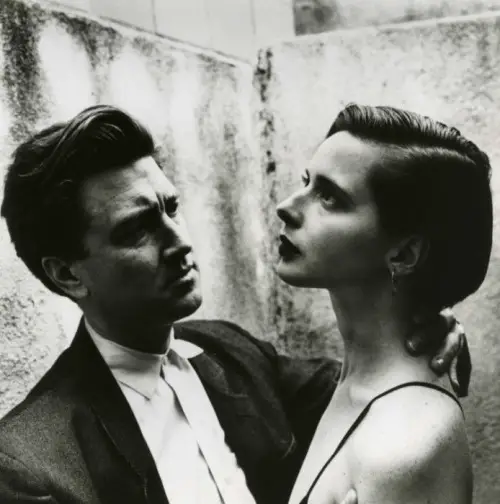 Caption: Isabella Rossellini with David Lynch in 1988.
Photo credit: tumblr.com
She always preferred modeling over acting as she said,
"modelling gave me the confidence to act. Both my parents were very famous, so I was hesitant, but modeling gave me the feeling that I could dare."
The Youthful Looks Faded, and So Did Her Career
Even after being sacked at 44 years old for being 'too old' to be the face of Lancôme, she did not take the option of plastic surgery into consideration and remembered her mother's word of wisdom and mentioned,
"My mum told me that there is no job for women between 45 and 60 because you are in-between. You are not young enough to play the young girl, but you are also not old enough to play the matriarch, the witch or grandmother. So there is a period of 15 years where you're in limbo, and they don't know how to hire you. Then after 60, a lot of work comes back. That was true for my mum. And you see, Maggie Smith is the hottest thing on Earth. Helen Mirren is the hottest thing on Earth. Then there is this gap."
Her mother's words might have been soothing, but she did worry about her condition financially as a single mother who has to feed her children; a daughter Elettra Rossellini Wiedemann and a son, Roberto Rossellini who she adopted in 1993. Isabella explained,
"It was pretty rough, no doubt, it was hard. My daughter was 10, and my son was one, and I was a single mum. I cried and was depressed, and I worried financially."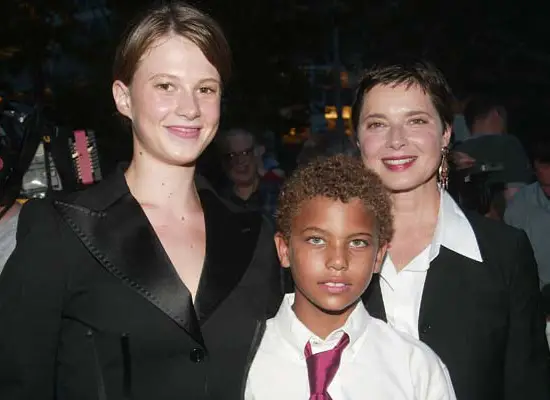 Caption: Isabella Rossellini with her children at the 'Casablanca' 60th Anniversary Event in August 2013
Photo credit: montrealgazette.com
At the time when she lost her job at Lancôme, she was dating Gary Oldman. However, according to a source, the couple got engaged on December 1,1993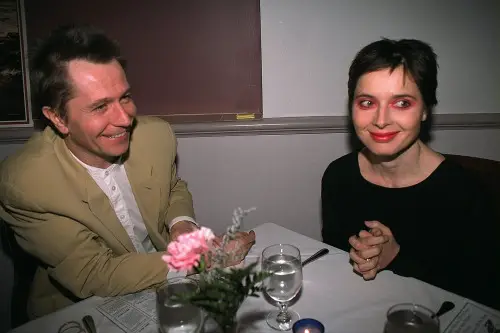 Caption: Isabella Rossellini with Gary Oldman in 1994
Photo credit: tumblr.com
Later in 1997, she dated Gregory Mosher after her split with Gary Oldman in 1996 but did not disclose the reason for the split.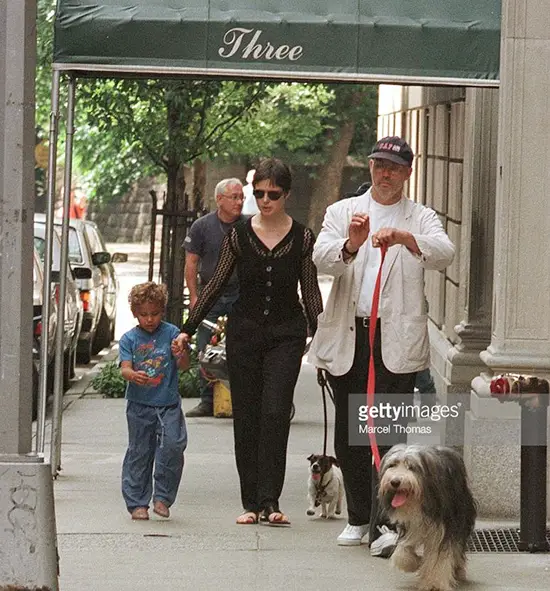 Caption: Isabella Rossellini is walking dogs with Gregory Mosher and her son, Roberto in 1997
Photo credit: gettyimages.com
The couple dated for about a year and chose their separate ways as of 1997. Her other not so famous relationships were with Mikhail Baryshnikov (1985), Franco Angeli (1974), However, all of her relationships had one thing in common, and that is the hidden reason for the split.
Assigned at Lancôme Again
Now, after 20 years, she is now again back at the Lancôme cosmetics.The Lancôme 20 years ago was different Isabella explains who remembers only men in the top posts. In 2016, she got rehired by the CEO, Françoise Lehmann, and felt it was a while since Lancôme celebrated older age as it turned 80 last 2015 and decided to celebrate Isabella at the age of 64. She is now the muse and a spokesperson of Lancôme.