Entertainment
Jeffrey Earnhardt On Parent's Racing Legacy! Getting Married Just Too Slow?
'Earnhardt' is such a veteran last name that it has over-ruled the racing industry since the time of great-grandparents.
Now, Jeffrey Earnhardt is the new face of Earnhardt descendant rising in the racing community with the promising looks. He carries not only the challenge of being the best on track but keeping up the family legacy as well.
Jeffrey, who is trying his best to live up to the name, also shared the company of a girl on the racing track.
Well, if remain curious to discover Jeffrey Earnhardt's family legacy and relationship, let us be the guide and follow us till the end!
Racing Legacy From Great-GrandFathers
"Earnhardt" comes from generations.
His great-grandfather, Ralph Earnhardt was the NASCAR Grand National Champion in 1956, which remained as his prime time. Running down the line, his grandfather, Dale Earnhardt also claimed the Winston Cup after he won the Rookie of the Year Award in 1979. He got his first championship in 1980.
Dale followed 22 years of racing career, where he won 22 poles, 76 races and 7 Championships on NASCAR's premier circuit. The passionate racer, Dale later, died in an auto-race crash.
Don't Miss:- Lindsey Vonn Casually Dating; Won't Marry Boyfriend Soon, Ski Racer Reveals
Next comes Jeffrey's father, Kerry Earnhardt, another racer in the family. Like that of his forefathers, he followed the footsteps of his ancestor and made the name. After Kerry, Jeffrey was the one to enter into the racing world after he experienced the dirt tracks of Wythe Raceway and won Rookie of the Year at the local track.
Shortly, he chased his dreams that took him to NASCAR's paved tracks and followed many tracks in his career. Recognizing his talents, Jeffrey was named as 2007's Busch East Series, Most Popular Driver.
With the long family involvement into this profession, Jeffrey was driving for his uncle Dale Earnhardt Jr. but certainly, he came with the conclusion on July 2018 that he would not be driving for his uncle in the JR Motorsports.
Born from the first wife of father Kerry Earnhardt, the racer, who has the experience of Truck, Xfinity, and Specialty racing events, also dealt with many criticisms that come along with family legacy in his career. In an interview with ftw.usatoday.com in February 2017, he stated the problems brought on by his family legacy. He said,
"It sucks when you see it on social media – people saying, 'He's just there because of his last name,' 'If it wasn't for his last name, he wouldn't be racing."
Jeffery also cleared his intentions that he wanted to earn a name in the racing world by himself rather than from a famous family. He remarked,
"I don't want to feel like I've had things handed to me. I want to feel like I've earned it, and people thinking I'm here because I can actually drive, not because of who I am."
He also cleared that there's a lot to do to be a perfect driver and ultimately, he is going to keep the legacy going. He stated,
"I'm also going to have to have the right opportunity. But that's my goal, to keep the Earnhardt name alive and keep the legacy going."
Well, the racer seems to be doing well to maintain his family's legacy through his talents, which is evident through his achievements. Also, his achievement and his family legacy of driving are covered by many media. His step-mother Rene Earnhardt also expressed how she was proud of his step-son for handling the long family legacy.
She took to Facebook with a video on 3 March 2015 that talked about Jeffrey Earnhardt where she claimed herself as the 'proud mom."
Girlfriend On The Track; Net Worth Seems Impressive
The year 2007 was the time, cars were not the only love of Jeffrey. He was in a dating relationship with Meredith Jones and was spotted with his girlfriend on the racing track in September 2007.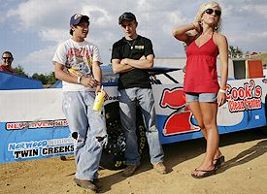 Jeffrey with the girlfriend, Meredith Jones back in 2007 (Photo: espn.in)
The duo was captured by ESPN magazine, which provided a small glimpse of Jeffrey's then-relationship. Jeffrey was in his teenage days when he was dating Meredith.
See Also:- Rebecca Dalton's Bio: Her Age, Racer Boyfriend and Her Instagram Filled With Dating Affairs and Her Lifestyle
Later, in April 2013, Jeffrey's uncle, Dale Earnhardt Jr., who is also the popular driver of his generations, gave his side of disappointment for nephew's lack of focus for the career in his teenage days. He stated:
"He was young and just not really wanting to put in the dedication and the focus. He was wanting to chase girls, be off goofing around fishing."
Since then, the 29-year-old racer has rarely come to media regarding the romantic relationship. He seems to be entirely focused on his racing career as of now, as he has neither been spotted with any girl nor has he hinted anything about dating or getting married.
Jeffrey seems to be relishing his life as a racer, strictly focusing his career and will probably come with a wife-figure when the right time comes. The racer, who earns the amount of $2 million per year, enjoys an impressive amount of net worth, despite the fact that the exact figures remain confined.
Think we're missing something? Do let us know in the comment section below!