Entertainment
Kathleen Rose Perkins Too Smitten To Get Married! Possible Boyfriend Clicks
When you hit the marriageable age, it is evident that your matrimony becomes the subject of many a talk. Accordingly, when you are a celebrity, it becomes the topmost priority for their fans to know about the private life of their favorite star.
Well, the actress who gained popularity with the hit movie 'Gone Girl,' Kathleen Rose Perkins, is in her early forties and she has not yet publicised her personal life.
Despite being a public figure for around two decades, no paparazzi could sneak into her territories. She has not revealed any inside stories including her family in front of the camera. However, she is much seen flaunting her love life on the social networking sites.
So, if you want to know about her relationship status that she has hinted at for long, then you can keep reading!
Unmarried Actress Kathleen Rose Perkins Dating?
The American actress, Kathleen Rose Perkins, has her personal life just under her palm. But, she has been giving a thorough glimpse of her relationship status through her social media. Kathleen has hinted to the possibility of her having a boyfriend through most of her posts.
Back in 2013, the actress replied to Danny Wallace's comment on Twitter where he addressed their pretention of being husband and wife. She went on to add that, though thrilled, she was not fully sure that she was entirely happy for the brief married moments Kathleen and Danny shared.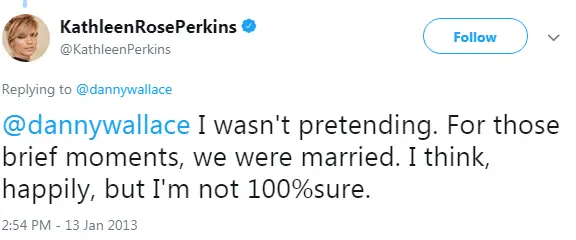 Kathleen talks about her pretend marriage (Kathleen's twitter)
Later that year, Kathleen tweeted that her boyfriend is reading the books of Greg Sestero. The post marks the first time Kathleen openly talked about her boyfriend.

Actress Kathleen talks about her boyfriend (Kathleen's Twitter)
Well, as of now, the information about Perkins's boyfriend does not limit only to her tweets. She can be seen spending time with her boyfriend on several of her Instagram posts.
The actress seems content with the man featured on her Instagram who she went to the beach town of Brighton with.
The two again looked beautiful together at the Altadena Christmas tree lane lighting ceremony which, apparently, is their third year attending. Perhaps, they have been together since before that 2013 tweet where Kathleen showed her and her boyfriend's appreciation for Greg Sestero's book.
"Love this man," Kathleen captioned, and the picture reflects it all.
And it appears that she is enjoying her love-life for the time being, for she tweeted, with a photo of her in her wedding gown, claiming that it was the first time she was wearing it.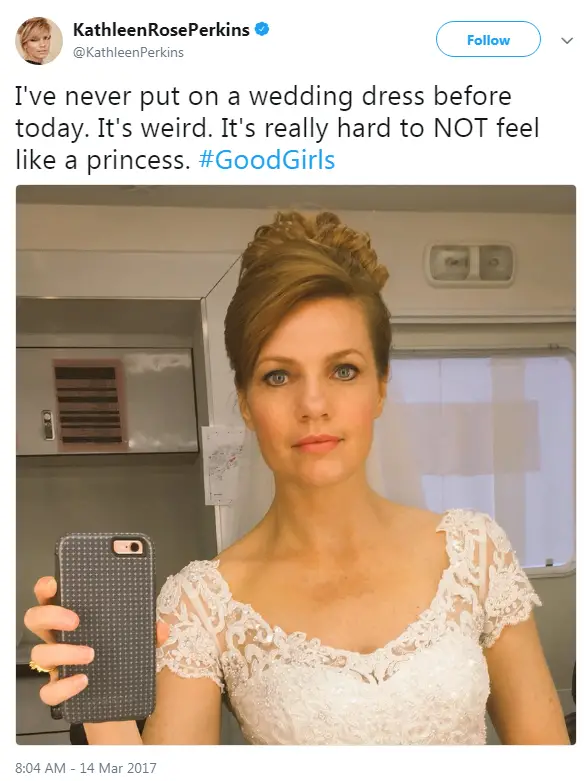 So, clearly, Perkins is not married. It's possible that she might just be concerned about her career for now.
Kathleen Rose Perkin's Short Bio
The beautiful actress Kathleen Rose Perkin was born on 15 November 1974 in New Baltimore, Michigan, as the only sister to her four elder brothers.
Perkin graduated from Anchor Bay High School back in 1992 and got enrolled in Western Michigan University, where she again graduated with a degree in Musical Arts.
The actress made her screen debut with a role in the television series, 'The Fighting Fitzgeralds' in 2001. And Kathleen's career in the movie started with the 2004 film, 'Burning Annie.'