Entertainment
'Episodes' Actress Sophie Rundle, Stopped Stalking After Finding Boyfriend On-Screen: Off-Screen Affair?
The characters portrayed by an actor may sometimes puzzle the audience. They portray the character of a sick and fragile individual in one movie, while in the next, they portray an influential and affluent individual. Though they enact different roles, it depends on the audience to choose which character leaves a long-lasting impression. Today we are talking about an actress who has played varieties of character but is loved mostly for one particular role of a 'stalker'.
An English actress, Sophie Rundle is popular for her role as Labia in the television sitcom, Episodes. The episode is a multi-award winning series that completed its final fifth season in 2017.
On-Screen Boyfriend and Dating
In the first season, Labia appear as a character, who courts a wealthy but arrogant boy, Matt Le Blanc for fifteen years.
As a kid, Labia was a Make-A-Wish child afflicted by cancer. Her wish in childhood was to visit Disneyland with Matt. But after she recovered from cancer, she started following Matt.
Don't Miss:- Tom Ellis Gay, Wife, Divorce, Children
Matt always disliked her behavior, but he did sleep with her when she was eighteen years old. In season 2, Labia add Sean, who is close to Matton, on her Facebook to know about Matt's current happenings. Then she again engages in a physical relation with Matt when he becomes tormented by overweight.
But reaching season three, Labia makes a new boyfriend and stops stalking Matt. We also have a promotion video of Episode, which will make you clear about the character of a crazy young lover, Labia
Sophie Rundle talking about her character Labia, published on July 30, 2012 (Source: Showtime, Youtube)
Well! This was about her onscreen story, but what about her off-screen life. Don't you want to know who is she dating??
She is dating a mystery man. Although posts about her lover are present on Instagram, she keeps her man's identity hidden. It may be the case that she doesn't want anyone to stalk her boyfriend.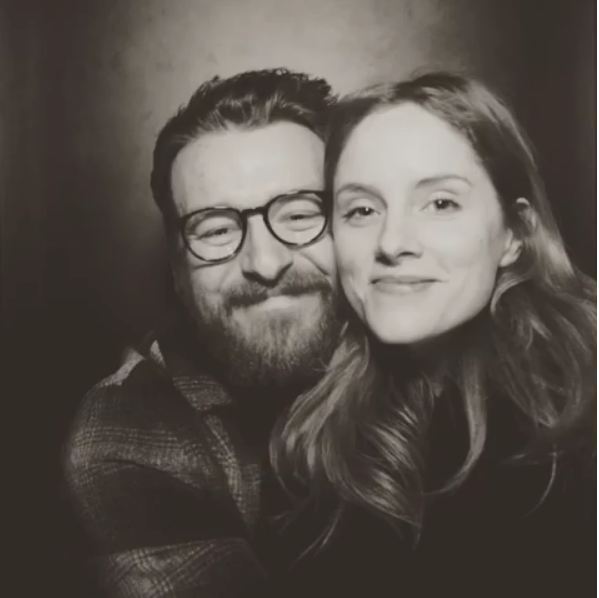 Sophie Rundle looks so much in love with her mystery beau on 14th February 2019 (Photo: Sophie's Instagram)
But that doesn't mean she is shy of her dating, she declared her love for her boyfriend on Valentines Day 2019.
The pair looks so much in love as Sophie flaunts their affair in her social media posts. It is no wonder she is in a relationship. In addition to her obvious good looks and acting talent, there is another reason to love her, her obvious love for dogs!
She even declares her love for dogs in her Instagram bio.
Sophie's Short Bio:
Born on 21 April 1988, Sophie Rundle is a graduate from Royal Academy of Dramatic Art. She started her career from the British horror comedy named Small Town Folk in 2007.
Sophie is best known for her role as Ada Shelby in the Peaky Blinders. She has starred in other movies like Small town folk, Great Expectations, Talking To The Dead and An Inspector Calls. Similarly, she has featured in numerous television series including Peaky Blinder (2013-present), Garrow's Arrow, Titanic, Episodes, Merlin, Call the midwife and Dickensian (2015-2016) Happy Valley (2014) Not Safe for Work (2015), Brief Encounters (2016) and Jamestown (2017).
You May Like:- Frank D'Angelo Married, Family, Net Worth, TV Shows
Sophie is set to star in a BBC's eight episodes series titled Gentleman Jack in 2019. Written by BAFTA winner Sally Wainwright, she plays Ann Walker, the wealthy heiress in the British costume drama.
Lastly, she has not disclosed her net worth. However, we can assume that she enjoys a happening net-worth as an actor's average salary on television is $50,529.