Entertainment
Kendall Long, 26, Personal Life! Luck On The Bachelor To Family Details
The Bachelor is an American famed dating and relationship reality TV series, the 22nd season of which is on the running now.
If you are the regular viewer of the show, you probably did not miss out the name Kendall Long. The beautiful American reality star, Kendall is one of the top contestants on the show, but very few information about her has surfaced in the media.
So, today for all her ardent fans, we dedicate this article to help you know Kendall a little bit more!
Kendall Long's Journey On The Bachelor
Kendall Long is one of the final four contestants on season 22 of The Bachelor, who is geared to win the heart of The Bachelor star, Arie Luyendyk. Among the contestants, Kendall is a little different as she is the only one who never got a solo date with Arie Luyendyk.
Besides that, Kendall's ability to sing and play the ukelele also makes her special. She published a YouTube video named "Song For A Special Someone" on 2 January 2018, where she showcases both her singing and ukelele playing talents for Arie Luyendky. She even provided the description as "Original ukulele song I wrote for a handsome race car driver named Arie on The Bachelor :)" for the video.
Moreover, Kendall as well brought Arie to meet her family in the hometown dates. Addressing Kendall's involvement in the show, her parents had concerns and questions whether or not the romantic commitment found in the show is for Kendall.
Despite family's concerns, the taxidermy-obsessed Kendall is on the show, going on hometown dates with Arie; one of which includes their taxidermy date. Even ABC plot description states for their romantic moment together as:
"Kendall introduces Arie to her passion: taxidermy; but oddly, it becomes a romantic, if quirky, date."
Kendall took moments from their date to her Instagram, sharing a picture of the duo on 20 February 2018.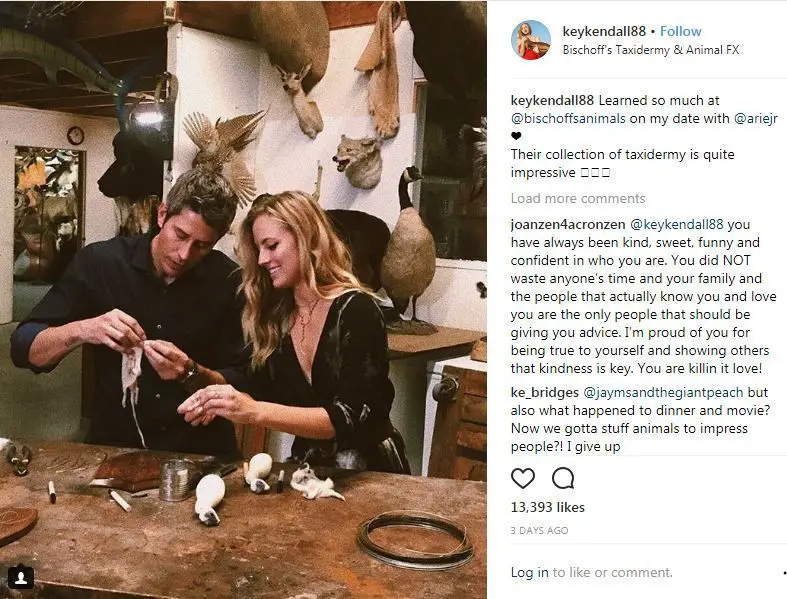 Kendall Long, Arie Luyendyk at their hometown date (Photo: Kendall Long's Instagram)
However, Kendall was not the one who won the heart of Arie, as other fellow contestants, Becca Kufrin and Lauren Burnham reached the finale. As per reports, Arie reportedly gets engaged to Kufrin but gets back with Burnham again.
Apart from the Bachelor, Kendall revealed her dating life in an interview with ABC magazine. In the interview, Kendall was asked about her most romantic present ever received.
While answering the question, she revealed about her past relationship by mentioning her ex-boyfriend who gave her an alligator hand holding an iron heart in a jar. Kendall found her ex-boyfriend's gesture sweet as she is a die-hard fan of taxidermy.
Kendall Long's Bio
Kendall Long was born in the year 1991 in Santa Clarita, California to her parents; Bob Long and Michele Long, and celebrates her birthday on 17 August. Her father, Bob, works in the entertainment industry while her mother, Michele is the owner of a jewelry company named Beautiful Soul Jewelry.
Moreover, the 26 years old shares an identical twin sister, Kylie and a younger brother, Colton in the family.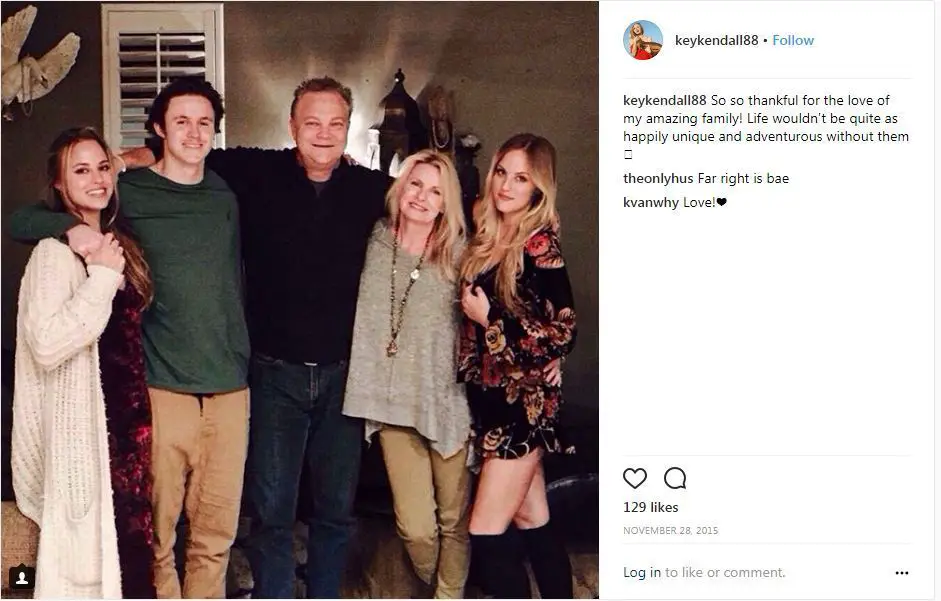 Kendall along with her parents and siblings (Photo: Kendall Long's Instagram)
Kendall, who stands at the height of 1.676 m (5 feet 6 inches), graduated from the Academy of Art University, where she studied Multi-Media Communications and Broadcasting Television in 2014.
Kendall is a freelance creative director and set dresser by profession. She even has job-experience on the Keeping Up With the Kardashians' 10th anniversary special and has been a part of several episodes of the show.
As of now, Kendall is serving as the Creative Director of the company called 'WhoHaha.'
Think we're missing something? Do let us know in the comment section below!