Entertainment
KJ Apa's Surprising Dating Status Amid 'Riverdale' Family Backlash On Girlfriend Of 16
Keneti James Fitzgerald Apa aka KJ Apa knows all the colors of success derived from his successful projects like The Hate U Give, The Cul De Sac, and A Dog's Purpose.
However, the New Zealand-born actor, best known for his portrayal of Archie Andrews on the CW series, Riverdale, has also colorful dating life on his side that made big headlines. From romantically linking with the co-star to the alleged relationship with a minor girl, the actor's personal life has been a thing of interest for many.
Onscreen Girlfriend Meets Parents
KJ has all his thanks to the American drama series, Riverdale for his fame and fortune. His per season salary of $200,000 for the series, Riverdale, which has also further contributed to his net worth.
Related:- Trevor Stines Is Boyfriend Goal, Says No To Girlfriend – Makes Him Gay?
However, there's more KJ has gained from the show; his close friendship with the cast members while working on the show. He even shared an intimate relationship with his onscreen lover Camila Mendes and even took her to meet with his parents.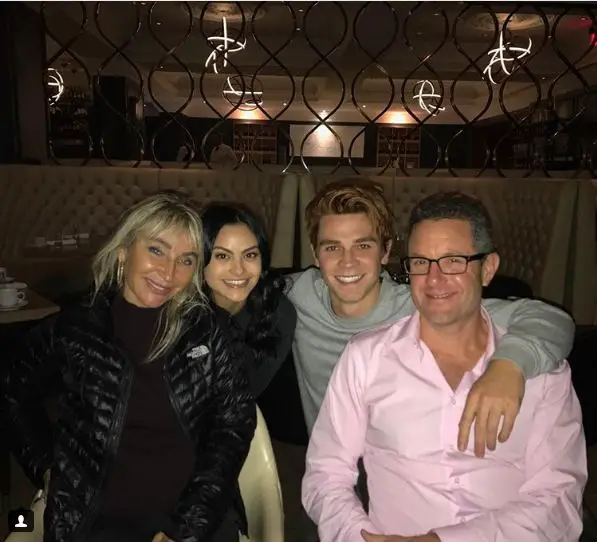 KJ Apa hangs out with Camila Mendes and her parents on 19 September 2017 (Photo: KJ Apa's Instagram)
While many assumed that KJ had received the approval of Camila's parents, others argued that Camila was more like a sister to him as he captioned the picture referring to her as his sister.
However, the confusion was soon cleared after KJ was spotted with a mystery girl.
Dating A Minor; Fans Outraged
While returning to Canada from the Christmas holidays for the shooting of Riverdale, the 5' 11" (1.8 m) tall actor brought back a mystery blonde along with him. The pair was spotted and photographed as they exited the Vancouver Airport on 11 January 2018.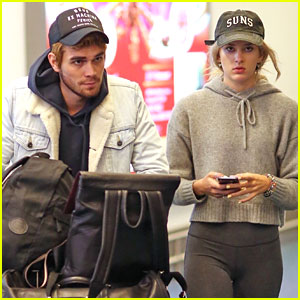 KJ Apa and his supposed girlfriend exit the Vancouver Airport on 11 January 2018 (Photo: JustJaredJr.com)
It was later discovered that the girl was none other than 16-year-old Corinne Isherwood. Further, Clevver News reported that the pair had been dating since November 2017. Previously, the two were also spotted having a lunch with friends.
See Also:- Jared Keeso Dating? Canada's Hottest Actor Must Have A Girlfriend, Right?
The relationship didn't go well with the fans as they accused the actor of dating a minor girl. Angry tweets were directed towards KJ as he ignored the whole situation. Fans argued that the phrase "age doesn't matter" didn't apply in the case of KJ as he was dating a minor.
An outraged user going by the name "Mins" wrote on Twitter,
"did you forget that you're not actually 16? you just play one @kj_apa #kjapaisoverparty"
The same user posted another sarcastic tweet writing,
"what a love story she's a fan of my trashy show and supports me her account name is archiegothot she's an intellectual and i realized age didn't matter i love her #KJAPAISOVERPARTY"
However, the pair split after a while and KJ confirmed his single status later while appearing for the cover of Seventeen magazine in June 2018. The 21-year-old actor mentioned that he was single and further revealed that he had no control over when he will start dating.
Fans are assuming that amid all the pressure and hatred for dating a 16-year-old, KJ has decided to let go of the affair and could be searching for his special lady.
Village Chief Father And Instagram Star Sisters
Born as the youngest son of Keneti Apa and Tessa Apa, KJ grew up in New Zealand along with his family. He has two elder sisters, Arieta and Timena. Descendants of Scottish, English and Samoan ancestors, both KJ's father and grandfather were chiefs of their respective Samoan villages. He even carved a traditional Samoan tattoo on his right shoulder at the age of 15 to honor his father, who had become elected the village Matai (chief) at that time.
As for KJ's older sister Timena, she is an Instagram star with the massive followings of more than 40,000 fans. She commenced her Instagram career by uploading a self-portrait in February 2012.
Other Instagram Star:- Nathan Schwandt Age 24 Dating Gay Personality? Zack Schwandt Brother Detailed
KJ's eldest sibling, Arieta is also a celebrity on Instagram, with a fan following exceeding 10000 users. She is known for posting travel photos, along with pictures of friends and family.
Upcoming Projects For 2018: Boost For Net Worth
KJ has a busy schedule ahead in 2018 as he is set to return to return to his role of Archie in the third season of Riverdale. KJ had to go through taking a long road trip from Los Angeles to Vancouver with his co-anchor Cole Sprouse for the shooting of the series.
In addition to that, KJ has also been appointed as the new ambassador for the campaign of men's fashion watch brand, Fossil, with several promotional events for the product ahead.
Moreover, KJ is also reported to join the forthcoming season of popular TV show Survivor. KJ is yet to confirm the reports and sources reveal that a negotiation is being held between the two producers and KJ.
All the big projects, KJ has been involved in 2018, it certainly helps to boost his net worth of $3 million.