Entertainment
Lara Bingle, Married in 2014, is Pregnant for Second Time: Shows Baby Bump
Pregnancy brings a new meaning to a women's life. When she carries a little soul within her, she receives a colossal joy with a huge excitement of being a mother. Well, Australian model and media personality, Lara Bingle is again ready to add the meaning to her life with immense joy.
Pregnant Lara: Expecting her Second Baby
A mother of one son, Lara,29, who once said to the KIIS FM Kyle and Jackie O Show, "I think being pregnant is such a personal thing for a woman. I just find it weird even talking to you about it.", is once again pregnant. On May 2016, Lara was seen with a potential baby bump in New York while she was strolling with her husband Sam Worthington. On June 2016, Lara herself confirmed her pregnancy as a part of the cover shoot in the July issue of InStyle Australia magazine. She is now eight months pregnant.
Married to an Australian actor, Lara has 15-month-old son Rocket Zot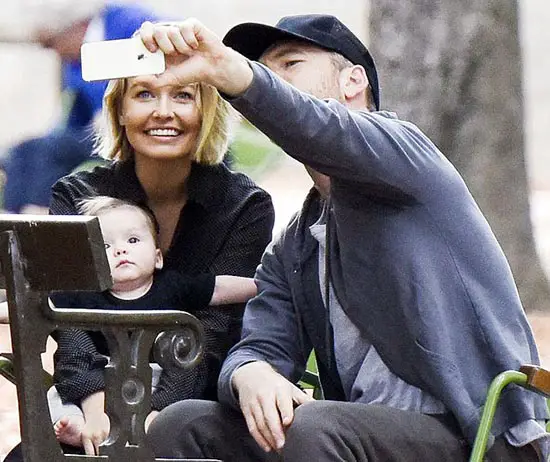 Caption: A family snap by Sam Worthington with his wife Lara and son Rocket during a day out in Paris(August 2015)
Source: dailymail.co.uk
Lara first gave the hint of her wedding on her social media. She changed her surname to Worthington after enjoying a secret wedding in 2014. She has been married to Sam Worthington who was previously her partner for three years. She had confirmed her wedding in October 2015.
Lara had given birth to her first baby named Rocket Zot Worthington in February 2015.
To the Sunday Telegraph, Eight months pregnant Lara recently told the monthly Magazine:
"I had a great pregnancy with Rocket and touch wood it will be the same this time."
"I'm sure it might seem full-on at the beginning for me (having two children so close in age), and it's probably a lot harder than it is now, but when they get older they can share their life together"
Lara didn't get any morning sickness while she was pregnant with her son Rocket; we hope it would be same this time.
Born on 22 June 1987, Lara Worthington is popular by her maiden name Lara Bingle. She also has inked beautiful tattoos on her finger, ribcage and wrist. Australian model, Lara is best known for appearing in "So where the bloody hell are you?", the 2006 Tourism Australia advertising campaign.
She is also known for appearing on her own reality television series, "Being Lara Bingle". It was premiered in June 2012 on Network ten. The show ended after one season. Lara's net worth is speculated to be $4 Million (estimated).