Entertainment
Lauren Ash Is Not Married! Does That Mean She Is Dating And Has A Boyfriend?
"Second City Toronto Mainstage" and "Second City Chicago Mainstage" alumni Lauren Ash is not just a beautiful face, as she has been doing nothing less than spectacular in her career.
The success she has acquired in her career has also helped her accumulate a massive fan following, and those fans are always keen to know about the personal front of her life. The fans often wonder if she is married and has a husband in her life or at least has a man who she can call her boyfriend.
So without further ado let us find out what the personal front of this beautiful lady looks like!
Lauren Ash not Married: Perhaps She Has A Boyfriend?
Almost everyone who adores Lauren Ash knows that she has been someone who has never served her details to her fans and media. But what she has done is let them know that she is dating and has a boyfriend in her life who she is madly in love with.
Moreover, her wishing her favorite man on Valentine's Day shows the amount of love they have for one another.
And in case if you are wondering who her boyfriend is, his name is Umberto Gonzalez, and he is the founder and editor in chief of Heroic Hollywood.
The pair has not exactly revealed about the tenure of their relationship and about their further plans to take their relationship to the next level, but it can be seen that the love between them is pure, and we would like to wish them the very best for their love relationship in the days ahead.
Lauren Ash And Her Lesbian-ish Role On-Screen.
Lauren Ash has played a somewhat lesbian-ish role in one of her most successful projects, ABC's "Super Fun Night" where she portrayed the role of Marika.
In the show, she (her character) kissed a straight girl named Kendall, portrayed by Kate Jenkinson. And after the kiss, she discovered herself to be a lesbian.
Speaking about her role during an interview back in 2014, she said,
'I love the (kissing) scene with Marika and Kendall,'

'I just think it's just so cute. I [thought] that the Internet was going to explode as that happens. I think Twitter is just going to like invert itself!'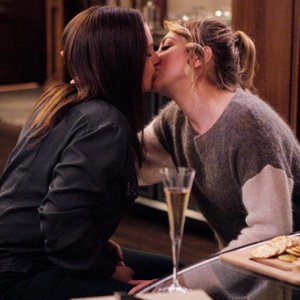 Caption: Lauren Ash's Lesbian Character Marika Kissing.
Photo Credit: gaystarnews.com
She also added,
'We have to remember that those three girls have been literally holed away in their apartment for 10 years since high school,'

'They're all kind of in this stunted adolescence.'
She concluded by saying,
'It's realistic that Marika doesn't really know and hasn't really thought about it and is forced to kind of look at herself and look at her feelings and what maybe is in there.,'

'And she's kind of been ignoring or not looking at for some time. So I think that it's really lovely that she kind of gets to have that little bit of a journey rather than just a certain episode and all of a sudden it's like "Hey, she's gay. It's over!"'
Lauren undoubtedly did portray the character and justified the script with absolute precision.
The success of this very project and other projects like "Superstore," "Super Fun Night" and "Lars and the Real Girl" has helped her finances the world of good, but still, she has not disclosed any official statement on her net worth.
Stay tuned with us for further developing the story of the life of Lauren Ash.