Entertainment
Openly Lesbian TV Chef Anne Burrell: When Does She Plan to Getting Married to Her To-be Wife?
Sometimes people tend to hide their perspective towards a particular thing just because of the fear of the so-called society. Celebrity chef Anne Burrell, however, did not care what people would think and is proudly a lesbian just like Rachel Maddow who came out as a lesbian at the age of seventeen.
Anne Burrell who as we discussed is an openly lesbian personality who has been dating Koren Grieveson who is another fellow celebrity chef and a soon-to-be wife. Anne Burrell was outed as a lesbian in 2012, in a radio interview with SiriusXM when 'Chopped' host Ted Allen talked about her sexuality. Ted Allen said,
"Her significant other is a very private woman. They have been together for a couple of years and spent a lot of time together. It is no secret in the culinary world."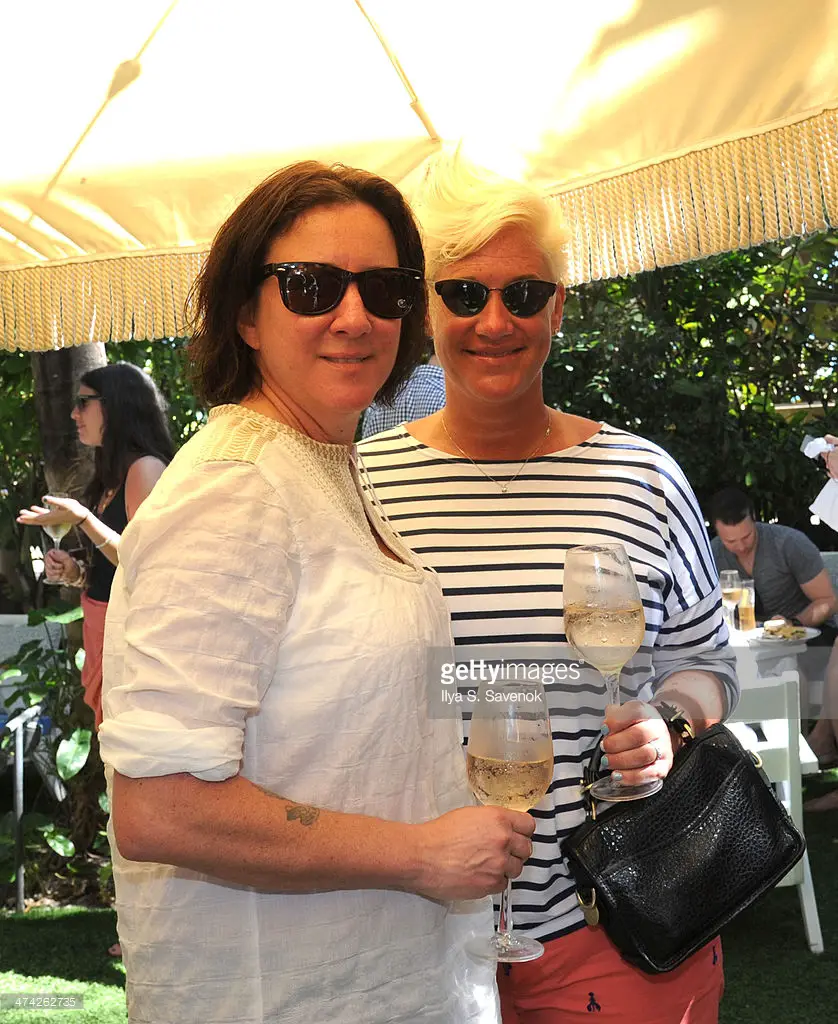 Caption: Ann Burrell with partner Koren Grieveson at the Geoffrey and Margaret Zakarian's Rosé Lunch on February 22, 2014
Source: gettyimages.com
As Ted revealed that Ann was dating a woman, whilst sort of revealing her sexuality, he continued,
"I'm not going to put a label on Anne, but she is dating a woman right now."
Later the year on New Year's Eve, Ann wished everybody a happy new year and took the liberty to inform her fans and loved ones that she was now an engaged woman.
Happy new year everyone! Happy and healthy! And I'm engaged!!!!!!!!

— anne burrell (@chefanneburrell) January 1, 2013
Plans to Getting Married?
Now, everyone is curious to know the when they will get married but it looks like some people forgot that Ann is a private woman. Shortly after her engagement with her lesbian partner who we believe will soon be known as her spouse, Ann stopped by Good Morning America to discuss the new season of Chef Wanted and Worst Cooks in America but before that the host of GMA George Stephanopoulos sweetly congratulated Ann on her upcoming wedding saying,
"We've got a lot of Superbowl snacks coming up, but first, congratulations are in order. You're getting married! That's fantastic!"
Ann Burrell, 47, who strictly keeps her professional and personal life separately did not respond to George's congratulatory comments while the show flashed pictures of the couple. Although Ann might not have discussed her wedding at the GMA, she has revealed some plans relating to it in Radaronline.com in January 2013.
The couples are still busy with their lives and are yet to decide the place where they will get married. However, they both have Vieques, Port Rico in their list as that location holds some of the most exciting and special memories of the couple. Ann said,
"That's where we got engaged, and the first time we ever traveled together was to, so it's kind of a special spot for us."
Ann Burrell who currently works as a host for Food Network's Secrets of a Restaurant Chef and co-hosts Worst Cooks in America is also an instructor at the Institute of Culinary Education in New York. She has not revealed the dates on which her wedding will take place but we hope it will be soon.
As a celebrity, Ann is open about her lesbian personality, and that surely has made her a source of inspiration for many lesbian and gay people to come out in what they believe. She is currently continuing her works as a host and instructor in tv series like Worst Cooks in America(since 2010), Celebrity Food Fight and much more. Due to all these, she enjoys a net worth of $5 million dollars.