Entertainment
Lucy Boynton Having Dating Affair With Co-Star? Rumors of Actor Johnny Depp Becoming Her Boyfriend Debunked!
It is not a new story when one gets linked with his/her co-stars. With no doubts, celebs are often amid the rumors that their co-actor in the movie is their off-screen boyfriend/girlfriend. That sometimes might reach a high point and might hit the headlines of news time and again. The actor, who recently got into the assumption that she might be dating her co-star, is Lucy Boynton.
Speculations have arisen that Lucy might be dating actor Rami Malek and previously Johnny Depp, with whom she co-starred in 2017's "Murder on the Orient Express." But are the rumors true or will they vanish like smoke in the air?
Tackling Rumors - Was Johnny Depp Her Boyfriend?
In the fall of 2017, Lucy Boynton got amid by the assumption that she might be dating Johnny Depp. The two co-starred in the 2017's crime movie "Murder on the Orient Express."
The rumors of the two hit the headlines after a source claimed Lucy as the alleged girlfriend of the Kentucky-bred. As the source reported to the site,
"Johnny's totally smitten with Lucy who's equally enthralled by the A=list star."
The source added,
"They've been spending a lot of time together away from the set and everyone's convinced they are hooking up."
The source further continued.
"Unlike his ex [Amber] Lucy's much more down to earth and doesn't put up with his bad behavior so it should be a good match.
Moreover, the source mentioned,
"There's a genuine fondness between them, and they love each other's sense of humor and intellect."
From there, many got convinced that the famous actor was ready to find moving on from his wife of years, Amber Heard; until another source reported that there is "no weight" in the story.
Lucy Boynton and Johnny Depp in the 2017's crime movie "Murder on the Orient Express." (Published on June 1, 2017)
To this day neither Lucy nor her alleged boyfriend Jhonny Depp has publically acknowledge the rumored affair.
On-Screen Affair Turns Real - Lucy Dating Co-Star
No longer had the rumors of her seeing her co-star Jhonny Depp began to wan down; Lucy got linked with actor Rami Malek.
Unlike her alleged affair with Jhonny, there was some credence to the said gossip involving her and her Bohemian Rhapsody co-star. To their credit, the duo didn't hide their romance.
The massive success of the Queen biopic only helped further Lucy and Rami's relationship as Hollywood's next "it couple" as the public appearance grew in number when the award season jumpstarted.
Fresh off the Golden Globe win, she got photographed getting intimate with her boyfriend at an afterparty event in January 2019. Later that month, Rami "claimed" her on his acceptance speech at the Palm Springs International Film Festival's Film Awards Gala.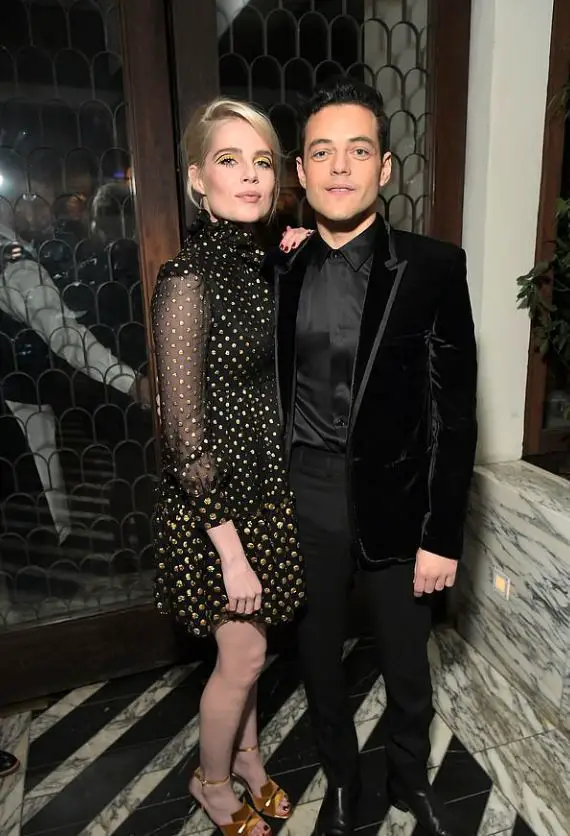 Lucy Boynton attends the Vanity Fair and Genesis' tribute to Bohemian Rhapsody in Feb 2019 in West Hollywood (Photo:- eonline.com)
The lovebirds of more than a year and a half dazzled the fans when they attended the Vanity Fair and Genesis' homage to Bohemian Rhapsody, held in late February 2019 in Hollywood.
On Lucy Boynton Including Parents Info & Height
Born on January 17, 1994 (age 23), Lucy Boyton is an English. Raised by writer parents (her father Graham Boynton,) she traveled different parts of the world as a kid. She has an elder sister Emma Louise Boynton.
Lucy is a New York-born actress who was raised in London and went to Blackheath High School followed by James Allen's Girls School.
The actress with five feet and five inches height started her professional career at the very young in 2006 in "Miss Porter." Further, she landed in different roles and projects to add to her work credits.
Brit Actress You Might Know:- Amber Rose Revah Married Actor Boyfriend? Parents, Ethnicity, Net Worth
Some of those include Sing Street (2016), I Am the Pretty Thing That Lives in the House (2016), Rebel in the Rye (2017), Borgia (2011-2014), Law & Order: UK (2014), Gypsy (2017) and so on.
Her other work in 2017 includes Rebel in the Rye, Let Me Go and the beloved movie "Murder on the Orient Express," which premiered in November 2017.