News
Life Goes On! Actor Johnny Depp Back on Set after Finalizing Divorce with his Wife Amber Heard
Pirates of the Carribean's star Johnny Deep is back on set with an entirely different look leaving behind the tragedies he faced last year. Deep had a tragic 2016 where he lost his mother and his ex-wife Amber Heard filed for a divorce alleging domestic violence.
Just days after finalizing the divorce with Heard, 53-year-old actor Johnny Depp was spotted on the set of "Labyrinth" sporting a new look while he was roaming around the set smiling in a police outfit.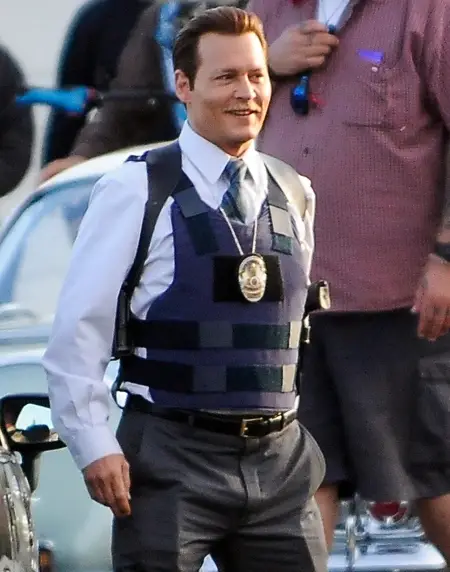 Caption: Actor Johnny Deep spotted on the sets of "Labyrinth" right after finalizing his divorce.
Photo credit: People
Likewise, Johnny thanked all his loyal fans for their support during hard times while accepting 2017 People's Choice Awards at the Microsoft Theater in Los Angeles. During the Awards, Johnny delivered an emotional speech where he stated-
"I came here for one reason, and one reason only, I came here for you, the people, who through whatever good times or bad have stood by me and trusted me."
"Thank you. You very graciously invited me here once again tonight. I appreciate it. You have no idea how much I appreciate it. I was very deeply affected by the kindness of your recognition and your well wishes to me and my family."
"Why it is especially meaningful for me to be here in front of you is to say thank you and tell you that I truly feel the need to thank. Because in all honesty we all know that none of us, especially me, would not be standing up here if it wasn't for all of you."
And gave a tribute to his mother looking heavenward and shouting- "Give em hell Betty Sue."
Johnny married Amber Heard in 2015. But Amber filed for divorce against Johny on May 23 after being together for just 15 months. Their divorce finalized on January 13, 2017, and the Johnny paid $7 million (£5.6 million) to Heard for the divorce settlement which is bound to be donated to the American Civil Liberties Union and the Children's Hospital of Los Angeles.