Entertainment
MacKenzie Mauzy Started Dating Affair With Sam Heughan; Wedding With Husband Did Not Pay Off After Getting A Divorce
Sometimes we as a viewer is so touched by the chemistry of a pair on-screen, we just want them to be together off-screen too. But it is not possible that should or will happen, isn't it? After numerous fans insisted to date the Outlander star Sam Heughan and his co-star Caitriona Balfe, the duo never came into the spotlight as a couple.
In fact, we have known a girl who is romantically involved with the actor, and it is the 'Into the Woods' star Mackenzie Mauzy. Let's get some details about the American actress Mackenzie Mauzy along with some information about her husband in our today's story.
New Couple Alert! Dating and Boyfriend?
The Beautiful actress Mackenzie Mauzy was rumored to have an affair with Outlander star Sam Heughan back in November 2016. Then, fans were expecting the on-screen chemistry of Sam Heughan and Caitriona Balfe to turn out in real, and in response to that, Sam proclaimed,
"We're not together. It's funny. We've always said from the get go that we're incredibly great friends. And to have that friendship and that closeness and to be able to get along as we do on set, it's great that we're able to get along that well. We're not together. I'm sorry to break people's hearts. They like to try to maybe replicate the Claire and Jamie story. But I think it would be difficult for us to work together and be together."
Back in November, Mackenzie Mauzy was the target of online bullying when she had to defend herself from death threats and harassment from the so-called Outlander shippers. The bullying got so intense that Sam Heughan took to Twitter to defend her. He said,
"Please stop this. Spread this bile and pettiness elsewhere. NO-ONE deserves to be treated this way. I'm disgusted and shameful.Shameful behavior by many on social media recently. It's disgusting and needs to stop. Spineless bullying. Stop. Now."
From then and there, the rumor of the duo's dating sparkled, but the pair didn't come out publicly until now.
The pair went on to make a public appearance in The Weinstein Company and Piaget's Oscar Weekend Kick-Off Party which made clear that Sam is the new boyfriend of Mackenzie Mauzy.
Caption: Mackenzie Mauzy and Sam Heughan made their public debut at Oscar party. (Published on Feb 25, 2017)
And they looked great together.
Divorced with her husband in 2014!
Prior to her now dating, she was previously married to her fellow stage actor John Arthur Greene on June 9, 2012. The wedding function was very grand and was witnessed by friends and family.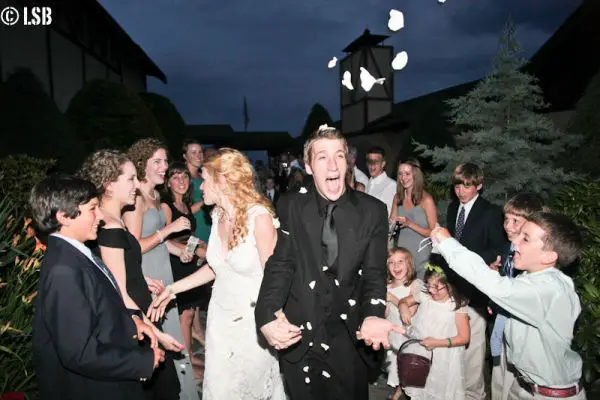 Caption: Mackenzie Mauzy married her fellow stage actor John Arthur Greene on June 9, 2012.
Photo Credit: lsbphotoweddings.com
But it seems their wedding didn't work out that well and following the two years of marriage, the pair divorced in 2014. As Mackenzie and her ex-husband are not found talking about their divorce, the reason behind their divorce is still a mystery.
However, the past has been, Mackenzie Mauzy is now happily in relation with the Sam Heughan, and we would like to wish them blissful life ahead.