Entertainment
Matt Passmore: Married to Girlfriend Natalie Cigliuti. Reliving Their Wedding and Holiday With Wife
What would be more beautiful than going on a vacation with your newly married wife? However, the majority of people fail to experience this fun of spending quality time with their beloved ones. Unlike those people, today we are talking about one such individual who does not miss to live even the small moments of life.
The well-known Australian actor, Matt Passmore enjoyed holidays with wife Natalie Cigliuti, Uruguayan American actress, at Los Angeles in January 2016.
Matt & His Girlfriend-Cum-Wife's Outdoor Wedding; Honeymoon In LA
Matt and Natalie married on 3 January 2016. The wedding was conducted in an outdoor setting in a beautiful scenario. All the friends and relatives were invited to the wedding. Matt, his girlfriend-turned-wife, and guests; all seemed very happy in the function.
Outdoor Wedding:- Alexis Roderick Bio: Billy Joel Wife Age, Wedding Info, Net Worth, Ethnicity
On the wedding photos released following the ceremony, the newly-weds appeared glee as anyone can be. Hopefully, this beautiful couple will always enjoy the relation and never become apart.
For their honeymoon, the pair opted to vacation at a beach in Los Angeles.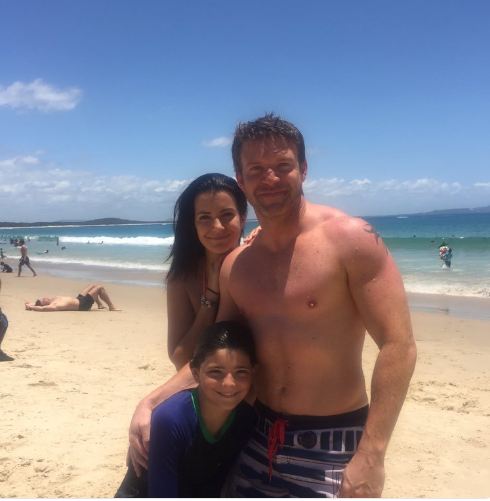 Matt Passmore and his girlfriend-turned-wife, Natalie Cigliuti spend their honeymoon vacationing in LA (Photo:- Matt Passmore's Twitter)
Before marriage, they dated for a long time. The smitten duo often spotted spending quality time together as boyfriend and girlfriend.
Matt & Natalie Envious Married Life
Matt and his wife, Natalie are currently basking on the joy of their third wedding anniversary. For the 2nd wedding anniversary, the former penned a tribute, calling his other half "the love of my life," and "partner in crime." Instagrammed from Big Bear Lake, the post's caption read:-
"To my partner in crime, the love of my life, the better half of this dynamic duo, the most vivacious, beautiful, witty, 'grab life by the balls' person I have had the joy to be married to for two years... Happy Anniversary baby! X"
With every passing year, the lovebirds' relationship seemed to be going from strength to strength. The actor's globe-trotting ways has had minimal effect on their marriage.
Explore:- A Little More About Frank Welker; Hiding His Married Life And Possible Family?
Matt, for his part, doesn't mind going an extra mile to understand his wife and her culture better. Case in point: he cheered for his Urugaiian National Team at the 2018 FIFA World Cup.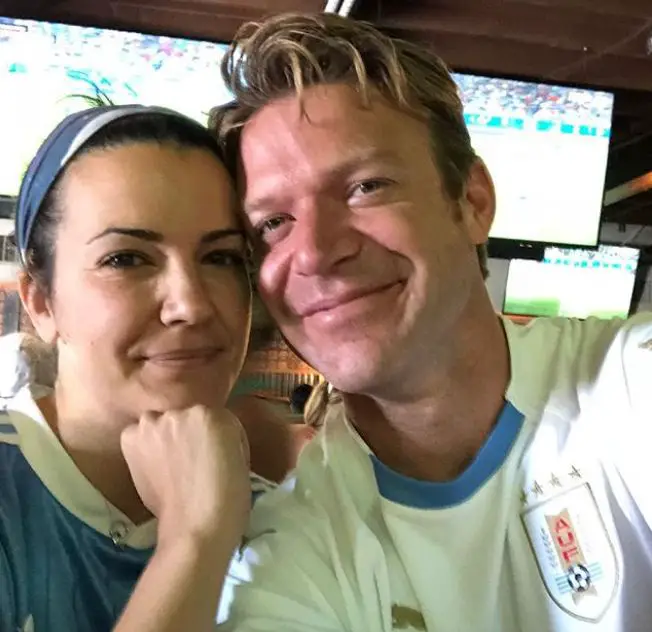 Matt Passmore cheers for his wife's NT at the 2018 FIFA World Cup all the while donning Australian Football Team's jersey (Photo:- Matt Passmore's Instagram)
Matt was previously married to Jacqui Passmore. He married Jacqui in 1997. But unfortunately, the relation could not go well for a very long time, and they ended the relationship in 2006.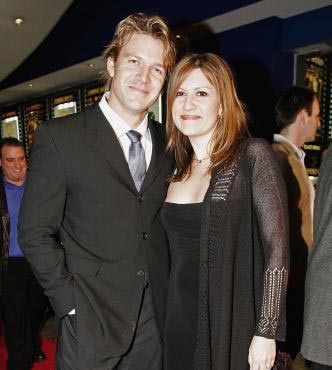 Matt Passmore with ex-wife Jacqui Passmore (Source: gettyimages.com)
Matt stayed in the headlines for a long time in March of 2016 after he replaced Bailey Chase in Kevin Williamson's CW paranormal pilot.
Mini Bio Unveils Net Worth
It seems like the marriage with Natalie is a lucky one for Matt Passmore. Well, Jokes apart, Matt is considered a hardworking personality. Decades-long hard work in the television sector has yielded him a considerable net worth of $ 5 million.
Australian Actor In Our Vault:- Liam Hemsworth & Miley Cyrus Are Married! A Wedding Over Christmas
Belonging to Australian Nationality, Matt Passmore was born on 24 December 1973. He completed graduation in 2001 from NIDA, the Australian national drama school.
He appeared firstly on Children's show, Play School (1966). Matt is best known for his role in McLeod's Daughters (2006–2009), Blue Heelers (2003), and The Glades (2010–2013). In 2014, he appeared in Neil Truman's series "Satisfaction."
His most recent works include his acting performance as Lethal Weapon in the 2017 flic Jigsaw and Gideon Leon in TV Series Lethal Weapon. In 2019, he starred as sheriff Eden in the film Deadly Switch while also landing his acting skills to hit TV show Frayed.
Short flick Nox, Army of One and Family Pictures are names of few projects that Matt is currently part of and which are on the pipeline.