Entertainment
Michael Oher Has A Wife! A Drunken Scandal Revealed Married Life
Privacy is undoubtedly a primary concern for everyone, be it a celebrity or a regular citizen. While the public generally doesn't care about an ordinary person, a man on the spotlight is usually a target for the paparazzi and the gossips media.
So, many celebrities try their best in hiding their personal lives from the daunting eyes of the bystanders. However, the truth comes out at some point by mere coincidences or by the unintended actions of the person himself.
The same happened to American footballer Michael Oher. Previously assumed to be single without a girlfriend, Michael's one drunken incident led to the revelation of his married life with wife.
Married Status Discovered In 911 Report; Wife Picture Out?
Back on 14 April 2017, 911 received a distress call from an Uber driver. The caller named Girma Berkessa reported that he was having a dispute with a customer, who was trying to attack him at the moment.
The driver revealed his location to be at Wedgewood And Eighth Avenue and mentioned that he was bitten by a person, who appeared to be a player for the Tennessee Titans. The biter was later identified as none other than Michael Oher.
Similar:- Robin Taylor bashes hateful Gay Comments received after his Married Life Revealed!
According to reports, Michael had rented the Uber taxi to drive him and his friends to a local comedy club located in Nashville. He had ordered the driver to follow a car, where his wife was seated.
When Girma asked the player to take the lead, Michael became suspicious and assumed that the man was trying to make more money by taking a lengthier route.
The Uber stopped for a while so that two of Michael's friends could use a bathroom, and once Girma tried opening the passengers' doors to let the men out, Michael immediately confronted and pushed him making him fall on the ground.
Although Michael's friends tried to intervene, he only left the driver hurt after kicking him in his leg. The driver later sued Michael for compensation of $500,000, but the final verdict has not been revealed.
While the incident was tragic, it led the offensive tackle's fans to know a key aspect of his life, Michael is married! However, he has not talked about his wife or his married life after the day and neither has revealed his wife picture.
Tragic Childhood And Foster Family Becomes Movie Adaptation
Michael Oher's wife's identity may still be a secret, but he is open while talking about his family.
He was born as one of the 12 children of Michael Jerome Williams Sr. and Denise Oher. His biological father was an ex-convict, who was frequently arrested, whereas, his mother was a crack addict.
Michael and his 11 siblings received little to no support from their parents and basically lived in foster homes.
Another Adopted Celebrity:- Matthew Jay Povich: Adopted by Journalist Family, Are They His Biological Parents Too?
When he was in high school, Michael's father was murdered after which his life's paths took a turn for the good.
Michael befriended the son and daughter of fast food joint owners, Sean and Leigh Anne Tuohy. When the couple became aware of Michael's tragic life, they adopted him as their own son in 2004.
Michael showed talent in football and even got to college as a player. Over the years, Michael has been close to his foster parents and even spends his free time with them.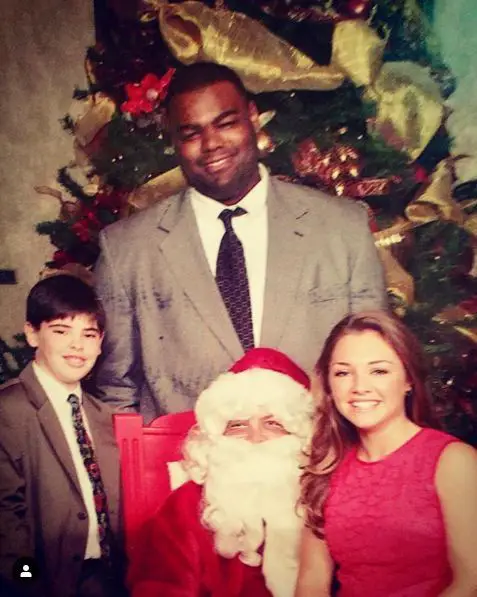 Michael's foster mother shares a throwback Christmas picture of the family in December 2018 (Photo: Leigh Anne Tuohy's Instagram)
The footballer's life has been even portrayed in the 2009 movie, The Blind Side, starring Sandra Bullock for which the actress won a Golden Globes' Award.
However, the movie might not have much helped Michael in his career. He claims that he is often judged because of the film and criticized for not living up to the expectations of the audience.
You May Also Like:- Bennet Omalu Age 50 Family Rift? Wife No Where To Be Seen, Where Is She?
Michael was also released from his contract with the Carolina Panthers after failing to pass a physical. As of today, the 32-year-old works as a free agent and is trying to piece back his broken life.