In turn of events, one of the most adored couple in Hollywood has bid goodbye to their romance of more than half a decade. Sources reveal that American model Miles McMillan and his partner, Zachary Quinto, are no longer dating; putting an end to a relationship of nearly six years.
The news of the couple's split comes after a period of isolation during which the duo was not seen together or shared any posts on social media featuring each other.
While the breakup is tragic with fans asking their favorite lovebirds to reconsider their decision, let's spare some time to take a look at some of the beautiful moments Miles and Zachary shared as partners!
Commenced Dating In 2013, Split After Six Years
Soon after the Star Trek actor, Zachary Quinto broke up things with his former boyfriend, Jonathan Groff in 2013, he was spotted with a new man - who turned out to be none other than Miles McMillan.
The duo took some time to acknowledge their relationship and went public with it only after a year in 2014. Zachary was the one to announce the romance sharing an Instagram post where he called Miles as his "real life baby."
Similar Gay Partner:- Randy Rainbow, Out Gay Man's Partner & Dating Status - Finally Discussed
Miles and Zachary became comfortable sharing the glimpses of their moments together. They were also seen going on dates in New York City. Finally, taking a step forward in their affair in 2015, the pair moved into a $3 million home in New York.
In 2016, Miles' partner was seen wearing a silver band on his ring finger of his left hand, which gave rise to the rumors of the couple getting engaged. However, Zachary soon turned down the gossips mentioning that the ring was supposed to be a gift for Miles but as the Heroes actor liked it, he decided to give it a try. As the band didn't fit in any of his fingers, Quinto had to put it on his ring finger.
Although the partners weren't engaged, they still had thoughts of getting married. Zachary revealed that he and Miles had discussed the matter, but both were in no hurry to settle down.
As 2018 kicked in, Miles and his gay partner supposedly grew distant from each other and posted fewer pictures of each other on social media. The last time the partners were seen together was in June 2018, when they attended the 2018 Tony Awards dressed in matching outfits.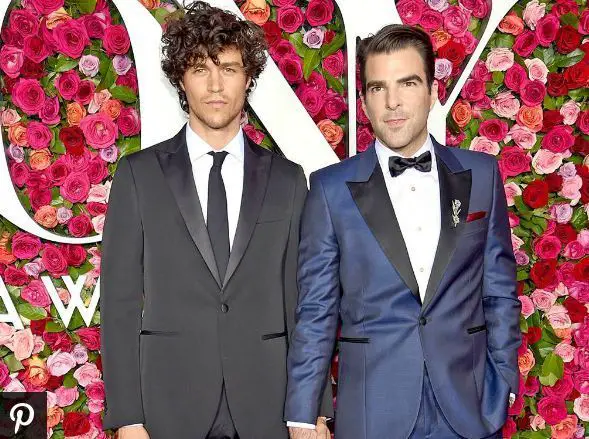 Miles McMillan and Zachary Quinto attend the Tony Awards in June 2018 (Photo: MilesMcMillan's Instagram)
Soon rumors began surfacing that the duo was no longer dating each other and had parted ways. By 2019 Oscars, the pair was supposed to have split up as they attended the ceremonies separately.
Further, Miles and Zachary also went to different after parties with Miles attending the Elton John AIDS Foundation program while his former partner was seen at the Vanity Fair after party.
After witnessing one of their favorite couple split, fans are wondering who is going to be next!
More About Miles McMillan
Miles McMillan, age 28, is an American model - who has appeared in commercials for several brands including Tommy Hilfiger, Armani, Jeremy Scott, and more.
Born in California, Miles was more intrigued to have a career in painting but, he had to take up modeling for paying his bills.
Accomplished Painters In Our Archieve:- Openly Gay Jwan Yosef is Married! Gets Ricky Martin As Husband
He was even awarded the 2016 Daily Front Row's Model of the Year. However, he didn't let go of his dreams of becoming an artist and continued with his love of painting. Today, he identifies himself as a successful painter.