Entertainment
Randy Rainbow, Out Gay Man's Partner & Dating Status - Finally Discussed
An internet sensation, Randy Rainbow is an American comedian and singer, best known for his videos on YouTube. Despite his glorious fame, the gay star's dating struggles remain...With several tour dates announced, the comedian is all set for...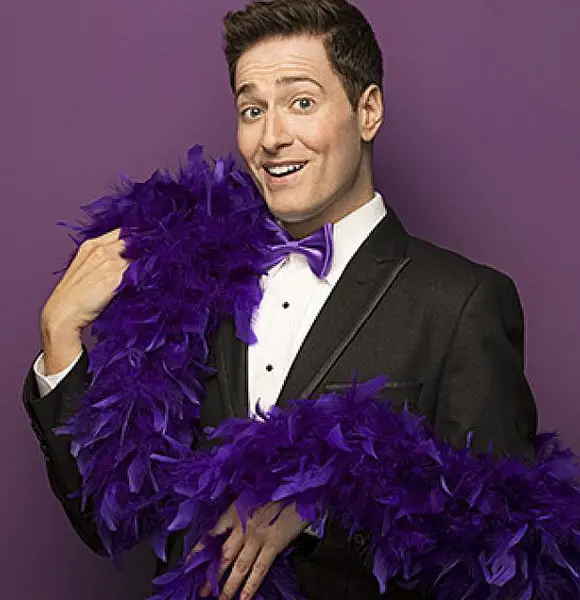 In this world of internet and technology, there might not be a better person than Randy Rainbow to describe the ongoing trend of being an internet sensation. Expressing his political opinions through his musical parodies, Randy Rainbow is one of the most popular guys on the Internet.
With glorious fame comes extravagant attention. However, for Randy, attention doesn't seem to come in the way he wants it to be. Openly gay, Rainbow has had a series of tweets from his yesteryears where he seems to be searching for a boyfriend.
One would think that he would definitely have a boyfriend now following his celebrity status. But does he?
Despite his personal life struggles, one thing Randy hasn't struggled with one bit in modern times is to make people laugh through his videos. With the comedian/ singer growing day by day in stature, his earnings have also escalated as he now takes part in one successful tour after another.
Gay Star's Partner Struggles: Dating Boyfriend Or Still Single?
Though his YouTube career had long been running, Randy came into attention during the 2016 presidential campaign where he openly mocked President Donald Trump on his controversial views, in an extremely hilarious manner.
With his social media then stalked, Randy was found to be openly gay and had produced some desperate and embarrassing boyfriend calls on his Twitter account on his yesteryears.
You May Also Like: Eddie Izzard Despite Partner History, A Heavily Rumored Gay; Here's Why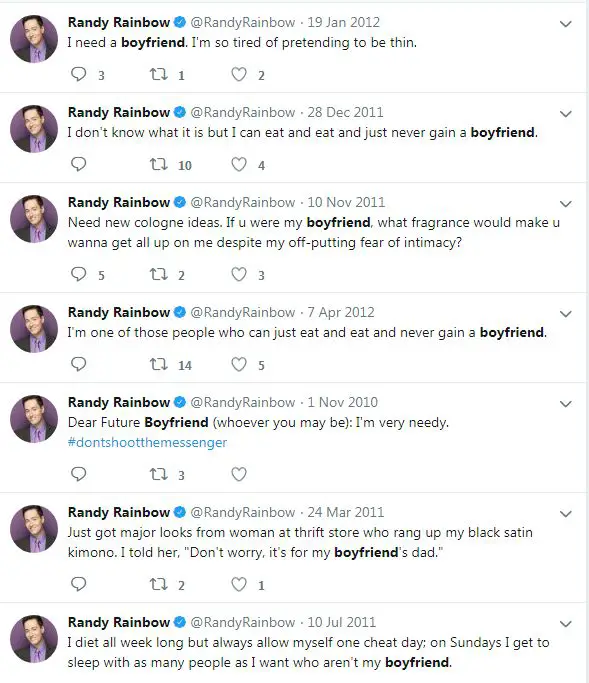 Randy Rainbow's series of tweets calling out for a boyfriend. (Randy Rainbow's Twitter)
One would believe he had finally found a partner post his breakthrough in the internet world in 2016. However, Randy confirmed in an interview given to  Alexander Kacala in November 2016, that he still remained single.
When asked about whether he was single or taken during the time, Randy in a regretting tone revealed that he was not dating anybody at the time.
"Single. Damn It."
Furthermore, he also mentioned his biggest misery of being a YouTuber.
"Being alone all the time."
Possessing an unmatchable sense of humor, the comedian has since then taken to Twitter, to mention Diamond Phillips, a man who has been married three times is currently married to wife Yvonne Boismier, as his boyfriend.
Read Also: Openly Gay Stephen Fry Half Age Husband; Massive Gap Helps Or Strains?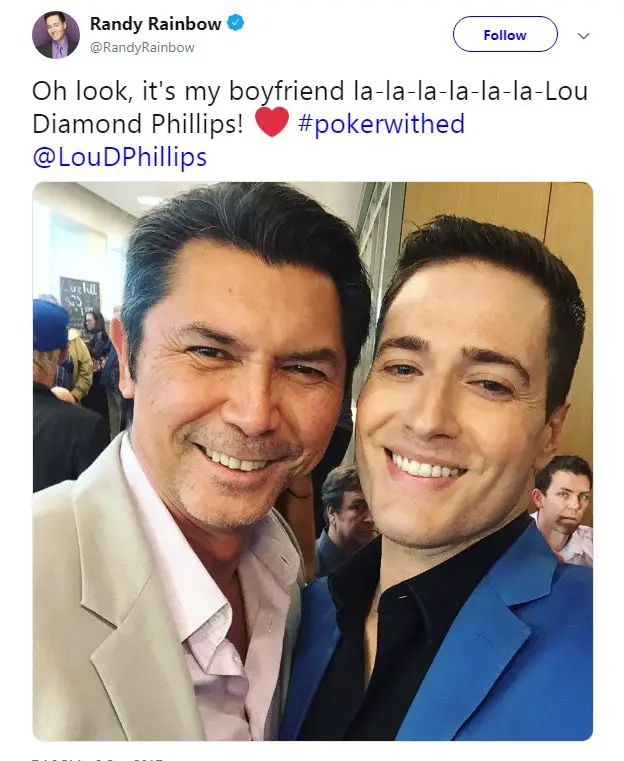 Randy Rainbow refers to Diamond Phillips as his boyfriend. (Photo: Randy Rainbow's Twitter)
Hence, despite all the fame and popularity that Randy has witnessed in the past couple of years, it seems the gay star still remains single and is waiting for the right guy to arrive sometime soon.
Earning Escalates Amidst Tour Duties
With his career now all set and running, Randy is making the most out of it. Mocking political figures through his songs, well complemented by his soothing voice, Randy has quickly grown on to become one of the most in-demand performers of the recent time.
Rainbow, who is now on tour, described his wonderful experience in an interview given to The Times Of Israel in September 2018.
"It's very exciting for me because I get back on stage and that's where I had started. It's also that I'm very much by myself in my apartment for the majority of this. I'm making these musical extravaganzas but it's just me and my computer, so to get to transition onto the stage with live music and get the feedback from the audience is very exciting."
Similar: Openly Gay Matt Lucas Husband Death Left A Dent, Affecting Present Partner?
With his songs now on everybody's lips, Randy is all set for his upcoming tour of the United States dating from 29 November 2018 to 8th December 2018.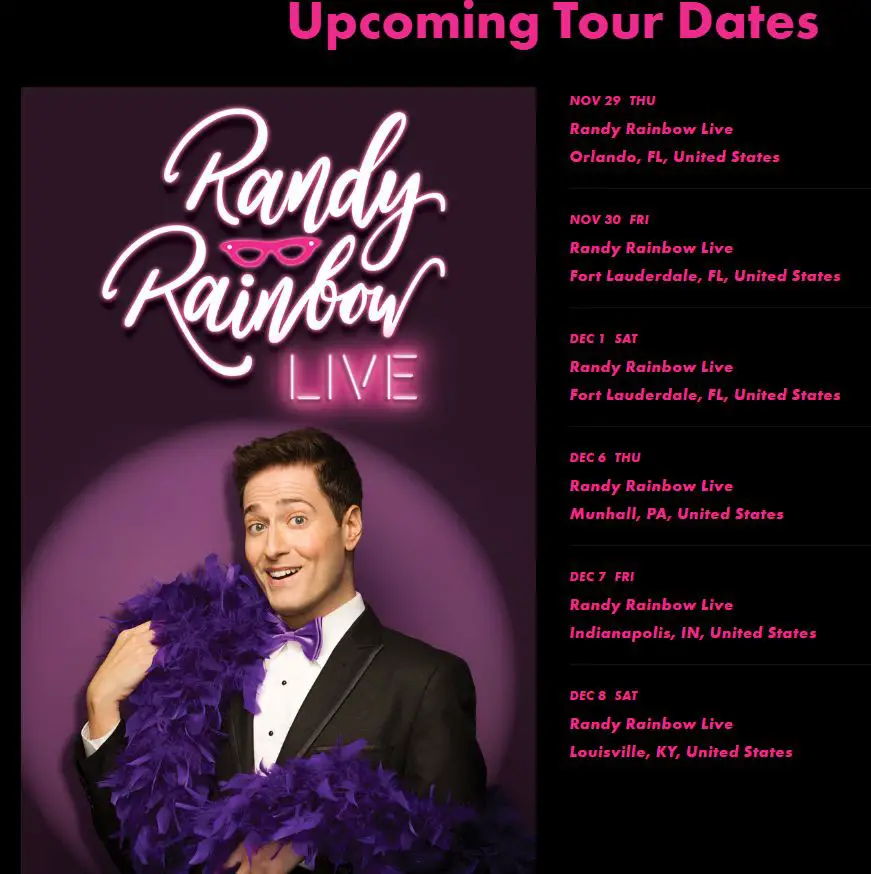 Randy Rainbow's tour schedule across America. (Photo: randyrainbow.com)
Also, with fortune appears to be a good friend for Randy. With his YouTube salary earning him around $50k per year, the comedian's net worth seems to be in an inclining state, well supported by his several stage performances and tours.