Entertainment
Nats Getty, 25, Engaged-To-Get-Married! Dramatically Proposed
The billionaire oil heiress of Natalia Getty, Nats Getty, was in a romantic relationship with her partner for a couple of years; however, she had been hesitating in stepping ahead for tying a knot.
Nevertheless, lately, she unexpectedly proposed her partner for marriage in a very lavish and romantic way which overwhelmed the heart of her partner.
Well, if you are willing to be acknowledged about her relationship with her lover and the way she proposed him, then you are at the right place!
Nats Getty's Lavish Proposal For Her Partner
Nats Getty proposed transgender YouTube star Gigi Gorgeous to get married during the trip to Paris, France, on Thursday after staying in a romantic relationship for two years
Nats rented a massive, opulent chateau in one of the most romantic cities in the world, Paris, in order to propose her girlfriend, Gigi Gorgeous. Their family and friends were also assembled during the proposal, where Gigi was in a dilemma as she had no idea what was happening.
Every moment of the proposal and celebration was captured in the video, which was eventually shared by Gigi on Instagram on March 11. The couple took a helicopter ride to a luxurious palatial French estate, where the words "Will You Marry Me?" appeared on the front of the sprawling mansion. Nats' proposal was heart whelming and made her partner speechless.
Furthermore, Gigi expressed her sublime experience of the proposal by Nats through the post on Instagram back on 9th March 2018, by flashing a big and beautiful diamond ring on her finger.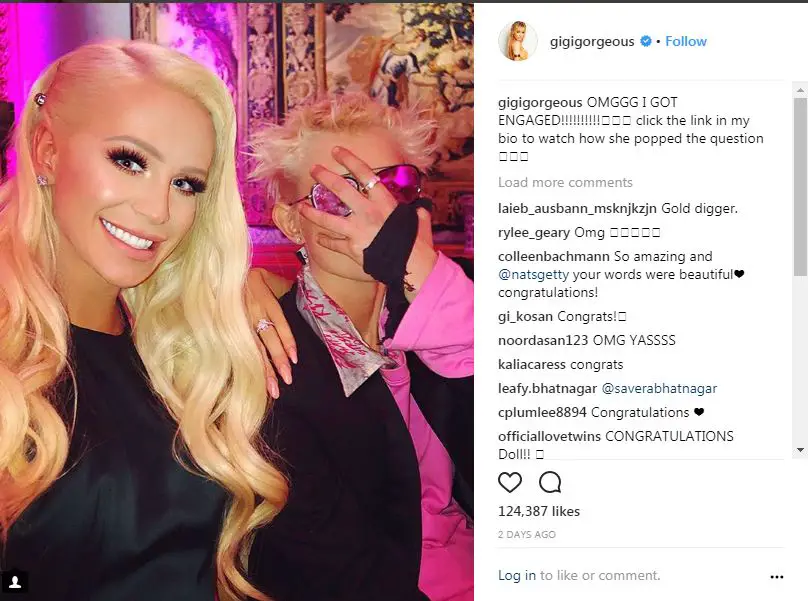 Nats Getty and Gigi Gorgeous during the proposal at Paris (Photo: Gigi's Instagram account)
Nats, who is currently running at the age of 25, started dating her girlfriend Gigi back in February 2016.
At that time, the internet sensation Gigi came out as a lesbian by revealing her relationship with oil tycoon J. Paul Getty's great-granddaughter Nats Getty. She flaunted their relationship with 2.4 million YouTube subscribers.
More About Nats Getty
Natalia Williams a.k.a. Nats Getty was born on 22 November 1992 in Los Angeles, CA to parents Ariadne Getty and Justin Williams. Nats moved to England for boarding school when she was at the age of 8.
Nats, who stands at the height of 1.79 m (5 feet 10.5 inches), even has a brother named August Getty, who is also a fashion designer by profession.
Nats is a fashion designer as well as an heiress to Getty oil fortune. Apart from this, she has even left her footmark in the acting industry; Nats is best known for her role in Smoking Solitary (2014) and Shane & Friends (2016).
Furthermore, Nats have collaborated with the organization "Gay & Lesbian Alliance Against Defamation" (GLAAD) and also helps renovate the Los Angeles LGBT Center.
Think we're missing something? Do let us know in the comment section below!