Neal Bledsoe's name got imprinted on the people's mind when he played the gay guy, who kissed Chuck (played by Ed Westwick) in Gossip Girl.
Since then, he went on to act in prominent movies and TV shows, namely Sex and the city 2, Ugly Betty, Shameless and Code Black. No wonder he makes a salary of $50,529 per year, which adds to his net worth.
Relationship Details
Neal has been pretty open about his relationships since the beginning of his career.
While talking to ew.com in 2009, he revealed about his girlfriend being supportive of his career. She didn't mind when he kissed a male actor on-screen in Gossip Girl. However, he had refrained from mentioning her name.
Fast forward to 2017; Neal introduced his girlfriend, Asha Leo to the world via Instagram. A TV host by profession, she supported her man to the fullest tweeting about the Shameless actor's projects on Twitter.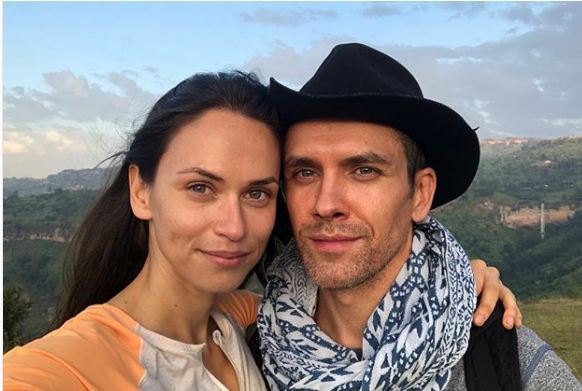 Neal Bledsoe and his girlfriend Asha Leo take a selfie on 15th February 2018 (Photo: Neal Bledsoe's Instagram)
Fans were loving the couple's lovey-dovey romance on social media. On top of that, Neal and his model girlfriend made fun of each other and showed immense love online. The loved-up pair even adopted a dog named Pirate together.
Neal's Co-Star:- Shameless' Actress Emma Kenney's Dating: Does She have a Boyfriend? What About Her Parents?
It was a sign of great relationship; being dog parents meant that Neal and his girl were in for the long haul. Thus, their admirers were sure that the Ugly Betty actor would turn his Indian-Welsh-Brit-girlfriend into his wife. However far from getting married, the pair parted ways.
Asha moved on pretty quickly with a guy named Jordan Karcher- an entrepreneur by profession.
Interestingly, Neal and ex-girlfriend didn't delete their past love posts. Usually, people tend to remove the posts about their past lover, but the former exes chose a different route.
Well, the Timeless actor's unconventional break up didn't end there, Asha kept flaunting the dog that they adopted together with her new beau. Whereas Neal became busy in running race and supporting charity named I got legs- which objectives were re-enabling people with physical challenges by driving mobility technology forward and building active communities.
Neal's Bio
The actor was born on 26th March 1981 in Toronto, Ontario, Canada. Named after the great writer, Neal Cassady, he grew up in Seattle with the love and care of his parents and company of older brother Nate.
The siblings are still very close; the talented actor posts about his elder brother in his social media quite often.
Well, a loving family, guy Neal went to Shawnigan Lake School - a leading Canadian Boarding School - and completed his education from North Carolina School of the Arts in 2005.
Interestingly, he holds dual citizenship of Canada and the United States. Exciting things about Nate don't end there; he boasts an impressive height of 6 feet 3 inches (1.91 m).