Nicola Anne Peltz is an actress known for movies; The Last Airbender and Twilight. Standing at a height of 5 feet 5 inches (1.66m), Nicola is an up and rising star in the Hollywood industry.
Want to know more about her life, family, age, boyfriend? Just take a look below!
Nicola Peltz's Dating Life
Nicola was initially linked to Justin Bieber and Cameron Fuller. However, she never confirmed her romance with either party.
In 2017, Nicola got linked again to model Anwar Hadid. As good friends, who shared the same social circle, the rumor began that they were dating. And, the romance conjectures further increased when she posted a picture wishing Anwar on his birthday.
Inception of Nicola And Anwar's Romance:- Dating Alert! Anwar Hadid Spotted Holding Hands with his New Girlfriend Nicola Peltz
Finally, Nicola and her model boyfriend's romance got confirmed by various sources. Sadly, their dating life was short-lived as they only lasted until May 2018.
After their separation, Nicola moved on with singer Paul Jason Klein in 2018.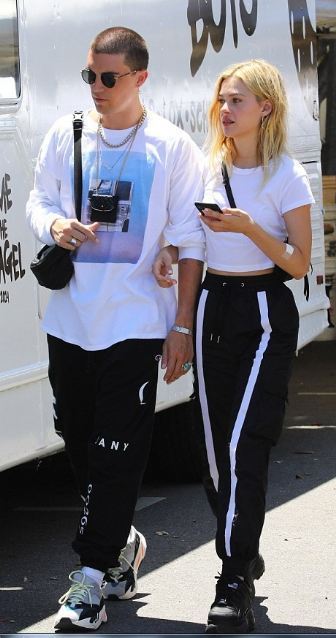 Nicola Peltz with boyfriend Paul Klein on July 2018 (Photo: Dailymail.co.uk)
Sadly, the relationship also failed to blossom. On 23 Feb 2019, Nicola talked about her split on her twitter handle. Since the actress of age 24 remains reportedly single.
However, her ex-boyfriend, Anwar on the other side, has been linked with various women. He was seen kissing famous model Kendall Jenner in June of 2018. Now, he is dating pop sensation Dua Lipa.
Parents & Age
Daughter of Nelson Peltz and Claudia Heffner, Nicola possesses white ethnicity. However, the actress' ancestry is mixed as her father is Jewish while her mother is a mix of German, Welsh, and English heritage.
Her family also practices Judaism.
Nicola, now at the age of 24, grew up with seven siblings in Westchester County, New York. She is one of the middle children between four elder brothers, one elder sister, and two younger brothers. In addition to her siblings, her father also has two children from his first marriage.
Coming from a wealthy family, Nicola attended private schools in New York. At the age of 12, her parents hired an entertainment industry agent.
As a child interested in acting, the move worked in Nicole's favor as the agent helped her secure a part in the drama Blackbird in 2007. She shared the stage alongside Alison Phil and Jeff Daniels, who are both well-named celebrities of the movie industry.
Net Worth
Nicolas father, Nelson, is the former owner of Snapple and many other companies. With his succesful endeavors over the years, he has been able to amass a total net worth of $1.6 billion.
SimilarWealthy Celeb:- 'First Sight' Gay To Wife, Ryan Serhant Relishing Massive Net Worth After Wedding
Well, Nicola is also a hard-working individual like her father. With her career in movies, the American actress has a fortune of $50 million. On top of that, her worth is only going to increase with a promising future ahead.
She is working on new projects in 2019; The Obituary of Tunde Johnson and Above the Line. The former drama is on post-production, while later is in its production phase.