Ola Al-Fares is one of the prominent celebrities of Jordan. A celebrated journalist known for MBC channels, she is the most followed Jordanian celeb after Queen Rania on Instagram.
While not presenting the news, she is busy in her high profile modeling career as a brand ambassador for L'Oreal Paris in the Middle East.
Is Ola Married? Details On Dating Life
The award-winning Arabian journalist is the heartbeat of people all over the world. Naturally, they want to know all the deeds of her personal life.
However, Ola shies away from revealing any details about her personal life. Far from telling about her husband or boyfriend, she refuses to give an inch regarding the love of her life.
Ola's Family Background
Ola belongs to a high profile family.
Her grandfather, Abdul Raouf Al-Fares was a reputed politician. He served as the deputy in the Jordanian Parliament from 1954 until his death in 1984. Likewise, her father, Tahseen Abdel Raouf Al-fares, is a prominent politician.
Oscar-Winning Actor Who Practices Muslim Religion:- Actor Mahershala Ali: Wondering Who is This Actor Married to? Wife, Girlfriend or Gay?
The journalist's whole family holds Jordanian nationality and practice the Muslim religion. Thus, Ola belongs to Arab ethnicity.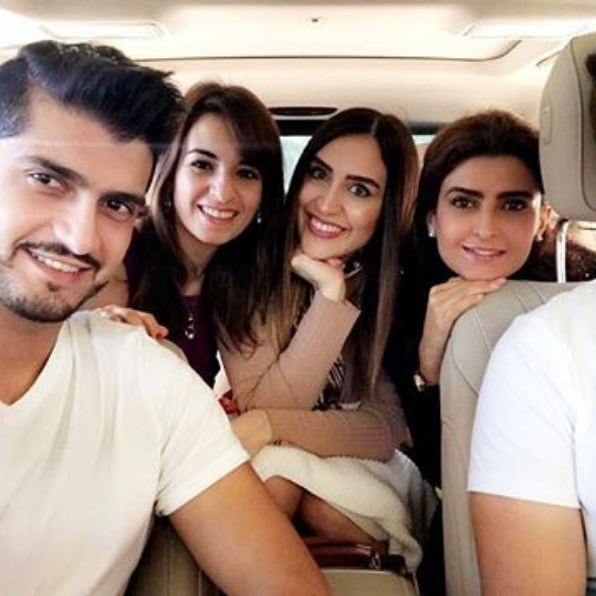 Ola Al-Fares( Left) poses with family on 6th January 2019 (Photo: Ola Al-Fares's Instagram)
Well, growing up in a reputed Islam practicing household, she had some impressive company. Her partner in crime included three brothers. Ola is exceptionally close to her brothers and parents. She keeps posting about her family on social media.
Education And Achievements
Ola was always a bright kid; after completing her high school at the age of 16, she joined Amman Private University to study Law. While still at college, she started working as a reporter for Al-Arabia TV at the age of 17. Ola was considered the youngest reporter of the Middle East for starting so early.
Arabian Star Who Stole Rihanna's Heart:- Hassan Jameel-Saudi Arabia's Billionaire Is Dating Rihanna!
The talented journalist still put in hard work for her college while working on the side. Well, she managed to complete her Law degree at the age of 19. Considered one of the most influential people in the Middle East, she became a news-heavy weight in small time.
She went on to win an array of awards; Young Arab Media Professionals Award (2009), Best Jordanian Media Award (2009), Creative Youth Shield (2010), Jordanian Model for Successful Youth (2011) and Arab Woman Of The Year (2015).
It is no surprise that she makes an average salary of $22K per year, which adds to her net worth.
Ola's Controversies
People weren't feeling the love for their heartbeat, Ola in March 2017. The reason behind such condition was the Jordanian's alleged racism towards Asian maids. She reportedly crossed the height of racism when she posted on Snapchat about choosing the blue colored workers like buying products in the supermarket.
Well, the controversy didn't end well for Ola as she came under fire for commenting on Trump's decision of recognizing Jerusalem as the capital of Israel in 2017. Her tweet cost her job at MBC channels as she left the job after the controversy.