News
Hassan Jameel-Saudi Arabia's Billionaire Is Dating Rihanna! More About Riri's Recent Beau
A brand new romance in town!
Hassan Jameel, the Saudi Businessman and an heir of one of the world's biggest firm, is all over the tabloid for being Rihanna's new lover.
Hassan's identity was revealed when Rihanna displayed a sizzlingly hot picture of her kissing the man last week during her vacation in Spain.
One of her fans shared the image to his Twitter account.
The pictures are too cozy to handle as they flaunt romance out in the pool. Hassan couldn't resist smiling as he has Rihanna, the Megastar, being wrapped around his arms.
Caption: Rihanna and Hassan, cozying up during their vacation.
The couple was also seen enjoying the date with a glass of champagne they slurped between their steamy kisses. 
The duo's romance was confirmed after these pictures came to display. The source also confirms that Rihanna calls the relationship a real deal, as she shared it with her friends mentioning 'she is in love with him.' And for her, it's quite overwhelming.
Hassan Jameel is reportedly a Saudi businessman, who is currently the deputy president and vice chairman of the family business. Abdul Latif Jameel is one of the biggest companies in the world that owns distribution rights for Toyota cars in Saudi Arabia.
His family's business doesn't just end there, as they are also the owner of the Jameel League, which is a Soccer league in Saudi Arabia.
Rihanna, who previously was linked up with various well-known stars now seems to have found love in a cheerful place!
Hassan Jameel's Wiki-Like Bio:
The hunky businessman, who grabbed the media attention immediately after being linked up with the steamingly hot artist Rihanna, is 29 years of age; and is one of the famous faces of the business empire.
Hassan, as the deputy president and Vice-chairman of one of the biggest business, Abdul Latif Jameel Domestic, is also an heir to the business.
He was also reported to be a close friend of supermodel Naomi Campbell, as they were seen cozying up during Stevie Wonder's performance at last summer's Barclaycard British Summer Time Festival in Hyde Park.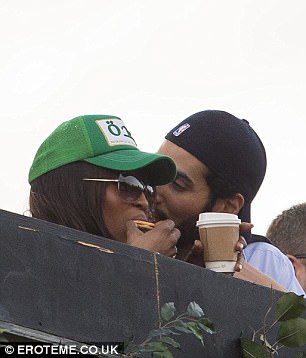 Caption: Hassan and Naomi Campbell, getting close at the summer time festival in Hyde Park.
Photo Credit: Dailymail
Rumors further suggest that Campbell has unfollowed Rihanna on her Instagram and Twitter.
The now couple are yet to reveal when the love sparked between the two, but the source reveals they have been dating for quite a time, successfully sidelining the media attention.
Congratulation to the couple on finding love.
Stay tuned with us for more updates on this story!