Entertainment
Does Olivia Nuzzi Have A Boyfriend? A Woman Who Dealt With Father's Loss and Criticisms
The American political journalist Olivia Nuzzi is one of the strongest women, who has set an example for many when it comes to making a career in the political beat.
With her firm nature and attitude, the writer has been an inspiration to many. But as it is said that success doesn't come on a plate, she too had to face lots of hurdles to achieve the success she now possesses.
Well! The strong woman like Olivia Nuzzi has now left people wondering whether she has a boyfriend or is a married woman. The one, who dealt with father's loss and criticisms in her career, has a motivational incident in her career. Today, let's get to know more about the political writer.
Has A Boyfriend To Flaunt Her Love-life?
If someone enters in politics at the very young age, then them getting the limelight might not come as a surprise to many. Same is the case with Olivia Nuzzi, who has been coming forward as a political writer since 2011.
Being herself in the media as a writer, she gained a lot of limelight and media attention. That has kept many wondering if she is into dating zone and has a boyfriend.
We can find out the innovative thoughts and her deep thinking on politics in her article, but it is just the opposite when it comes to her love life.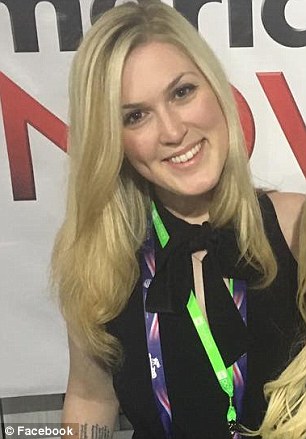 Caption: The bold and beautiful, Olivia Nuzzi smiles with all glee to be pictured in a photo.
Photo Credit: dailymail.co.uk
The 24-year-old Olivia Nuzzi, who serves as the correspondent for New York magazine, has been able to catch the eye of many. She is possibly an unmarried woman, but what about her dating life? Does she have a boyfriend to flaunt?
Well, the young writer is as silent as the grave when it comes to talking about her relationship status. She might be dating and have a boyfriend behind the veil, but it too remains unclear until Olivia comes forth to reveal something.
Not so sure about the love from someone special, but it's sad to know that she lost her beloved one more than one and half years back.
Showed Love, Praise, And Tribute To Her Father In An Article:
On December 20, 2015, Olivia lost an important part of her life, her father, John Nuzzi. After the demise of the father, she made sure that she will let the whole world know about her father, how much special he was.
Olivia Nuzzi wrote an article describing her father as "a tough guy" who had tattoos of a star on his knuckle and a baby devil on his bicep.
The beautiful journalist impressively described his father character and said he "was complex and beautiful and solid" and concluded her article saying,
"people were fortunate enough to call John Nuzzi their father, husband, brother, and friend."
Well, that was a heart touching one.
Dealt With Criticism Back In The Past!
Olivia started writing since 2011, as a monthly columnist for the "tri CityNews," an alt weekly based in New Jersey. Further, at the age of 20 in 2013, Olivia Nuzzi volunteered as an intern for Anthony Weiner New York mayoral campaign.
During her internship in the mayoral campaign, she was also hired as a full-time staff writer by NSFWcorp. On July 28, 2013, she wrote her experience as an intern in a blog post, which asserted that Weiner mistakenly referred her and other female interns as "Monica."
Along with that, it also addressed that Weiner had lied to his campaign manager and as a result, manager fled the campaign.
After the particular article about the campaign, she, later on, wrote follow-up article about the campaign. The article became the front page story on July 30, 2013.
According to the article written by Nuzzi, some of the interns in the mayoral campaign was working hoping to meet Anthony Weiner's wife, Huma Abedin so that, through her, they can get to her boss, Hilary Clinton and anticipate for the presidency.
But who knew that Olivia Nuzzi would face lots of criticism after her published article. In response, to the article, Weiner's communicating director Barabra Morgan, called Nuzzi a fame-hungry "Bitch" who "sucked" at her work.
She also called Nuzzi a "slutbag," "twat," "cunt" and threatened to sue her. But after describing Nuzzi in whole different level, Morgan later e-mailed her for an apology which of course, Nuzzi accepted.
As to Barbara Morgan's apology, of course I accept it.

— Olivia Nuzzi (@Olivianuzzi) July 31, 2013
In such a way, Olivia faced criticisms and struggled in the very beginning of the career. As of now, she is on her way to determine heights of success.
Olivia Nuzzi's Short Bio:
Born on January 6, 1993, Olivia Nuzzi is a political journalist who serves for New York magazine covering the Donald Trump's presidential administration.
She was born to parents Kelly Nuzzi and John Nuzzi, who worked for the New York City Department of Sanitation for two decades, in New York City. She also has a brother named Jonathan.
Olivia went to Middletown High School and attended Fordham University. She started her career as a political writer at the very young age of 18, writing for the triCityNews.
She also wrote for "More Monmouth Musings." In November 2016, Nuzzi was named as one of the "16 Breakout Media Stars" by Politico of the presidential election.
As of 2017, Nuzzi was hired by New York magazine earlier in November to be its Washington correspondent. So far, she has also written for GQ, Esquire, The Washington Post and Politico Magazine.