Entertainment
Presley Smith Now: Age, Mother, Father And More On The Baby Actress
Talent shows up in all shapes & sizes, all you have to do is cherish it. Presley Smith, the child actress, is the living example of it.
At the age when most of us were crying and looking out for our mothers, Presley made her debut in the world of entertainment. Presley appeared in one of the interesting television series, A Series of Unfortunate Events as Sunny Baudelaire.
Presley, the child actress on the show, has been able to steal the show and has been able to gain herself a lot of admirers who are much eager to know more about Presley.
If you too belong to that category, then this one is just for you!
Presley Smith: Everything About The Baby Actress
Presley Smith, who is now four years of age, was born in 2014 and celebrates her birthday on 16 January every year. The child artist, who was even titled as the "scene stealer" by an online magazine Glamour, has indeed made her mother and father proud without even realizing it.
Well, some parents would have chosen to come forward and take the credit for the achievement of their baby, but her parents have chosen to stay far away from the limelight. Thus, their details remain a mystery.
Presley, who portrays as Sunny in her one and only series, A Series of Unfortunate Events, is the child who has been able to grab herself admirers with her adorable cute face. She debuted in the show when she was just three and is set to appear in the coming season of the series as well.
Even though her character Sunny was rumored to be CGI prop in the Netflix adaptation, she is very real. Presley, although unknowingly, has been able to spread a charm and shine like a ray of hope in the cold dark world of the series.
Her character Sunny is the show lifter and the one with wit in the show. Sunny is shown as the one who would have uncovered the clues if she was only older while people older to her were distracted by nonsense.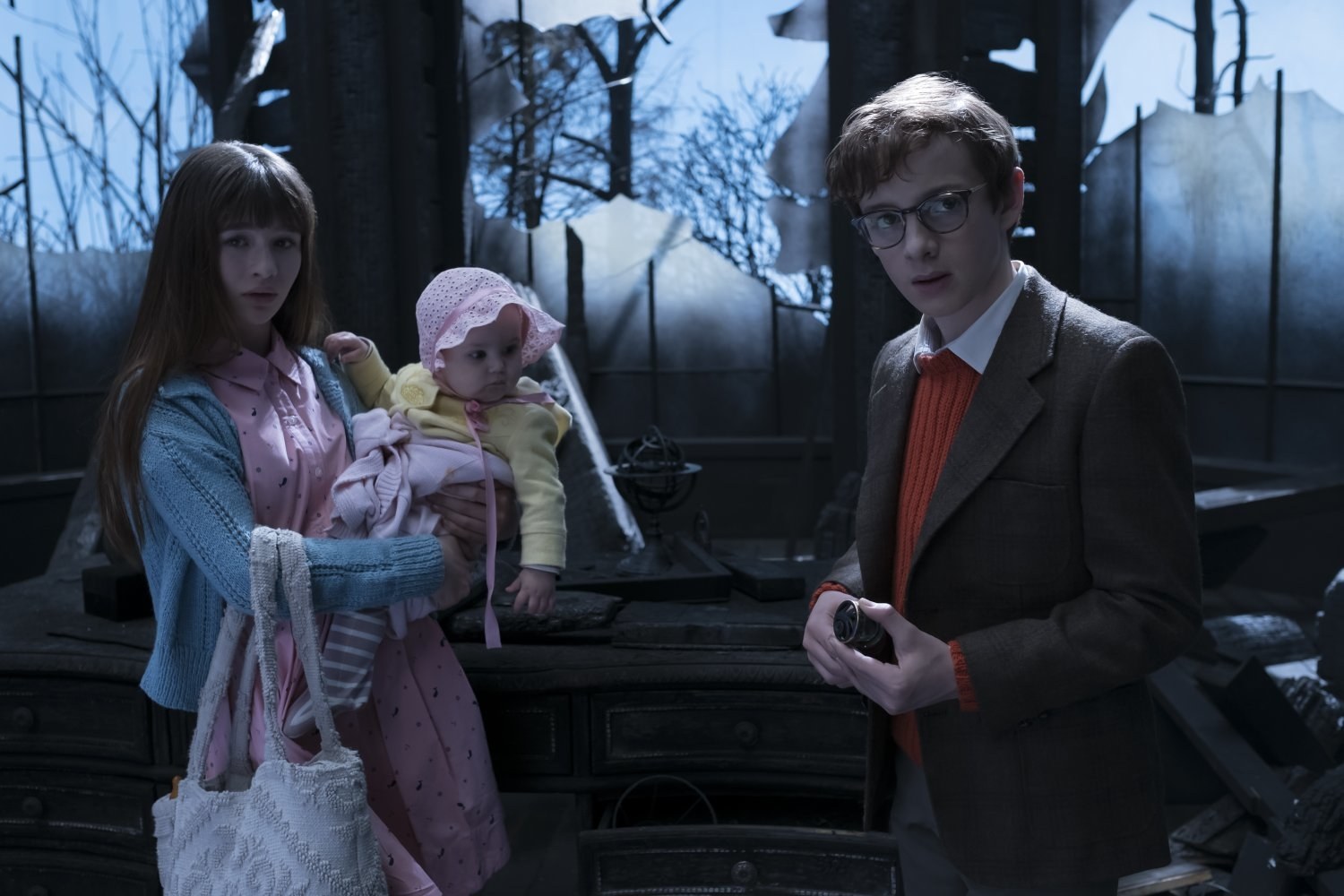 Baby Presley Smith with her co-actors Malina Wisseman and Louis Hynes (Photo: glamour.com)
Well, one of Presley's co-actress Malina Weissman, who portrays the role of Violet on the show, shared her experience while working with the baby on set. She expressed how adorable the moments would get even though Presley would get cranky at times.
While talking with Buzzfeed, she termed her experience in one word and said,
"It was awesome,"
However, her life away from the set is pretty much a mystery to all of us. Just like any other four years old, she must spend most of her time with her mother and father.