Entertainment
Rami Malek Dating Smoking Hot Blonde Girlfriend While Playing Gay Rockstar On-Reel
American actor Rami Malek, who is best known for his role as Elliot Alderson in the USA Network television series, Mr. Robot, has gained much fame through his talent. Not only fame but he has also earned Critics' Choice Award and the Primetime Emmy Award for the same role.
Well, his work as an actor is outstanding and his love life in no less. He has been involved romantically off the camera with the co-stars wih whom he shares romance on the screen providing their fans with the satisfaction of watching their favorite couple.
Indeed, he has strong gameplay when it comes to dating a woman in his life.
Dating With Co-Star; Reel To Real Romance For Second Time
Rami Malik, who is set to appear as the gay rock star Freddie Mercury, the frontman of Queen, in the upcoming movies Bohemian Rhapsody, has been involved romantically with his co-stars.
Previously, Rami was in a relationship with Portia Doubleday with whom he starred alongside in Mr. Robot. Back then the couple was surrounded by rumors of them dating as they were witnessed sharing moments together.
In the early days of the relationship, the couple made an effort to keep their relationship a secret but their fans were wishing in heart for those rumors to be true. The rumors were finally cleared off when Portia confirmed their relationship back in September 2015.
The couple was going strong with their relationship until it turned sour and the pair parted ways. Though it is unclear when they ended their relationship sometime around 2017, their admirers were really heart-broken not getting to see their favorite couple together anymore.
However, after the end of their romance, Rami gave love another chance as he is now dating his co-star from Bohemian Rhapsody, Lucy Boynton. It turns out Lucy plays as Mary Austin in the movie who was the love interest of Freddie back in those days.
Freddie and Mary shared a serious romance in real life back in the 1970s and it is also said that she is the inspiration that led to Queen's one of the greatest hit in 1975, Love Of My Life.
While portraying the romance on the screen it seems like the pair has fallen in love with each other even in real life away from the camera. Well, the Egyptian-American frontman does seem to share serious romance with his co-star aka his possible wife.
Relationships Revealed Despite Attempts To Hide It
Rami Malek, who is of mixed ethnicity, has been putting effort to hide his relationship with Lucy. But despite his efforts, some sources have revealed that he is involved in a romantic relationship.
According to the sources, it has come to light that the pair first met while filming the movie back in London. The pair had an immediate connection and while playing each other's love interest on the show they have grown deeper in love with each other.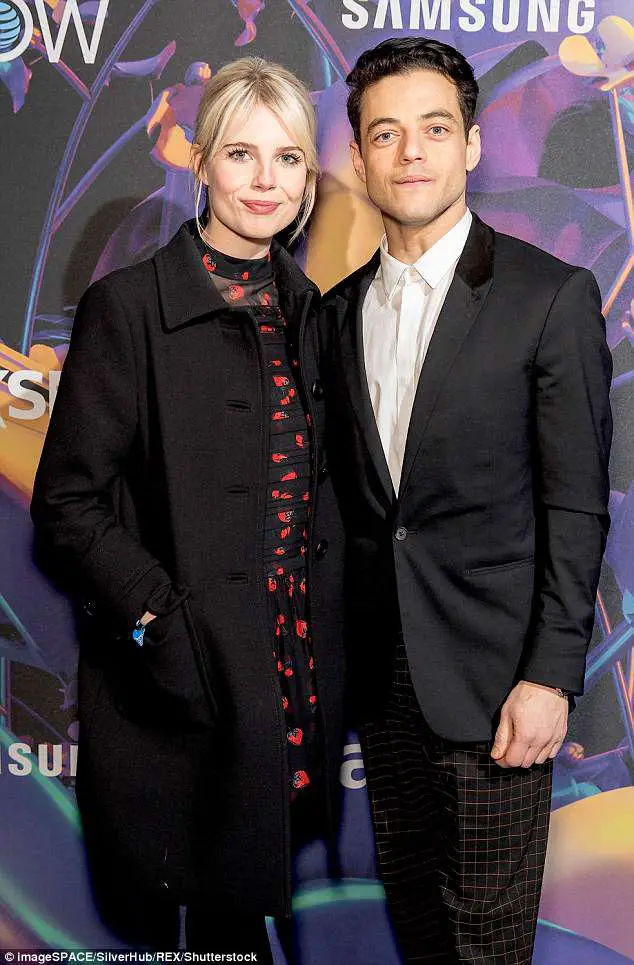 Remi Malek with girlfriend Lucy Boynton at an event in Minneapolis in February 2018. (Photo: dailymail.co.uk)
The insider at Us Weekly has revealed that Rami is so much into her. Adding to it, it has also been revealed that Rami keeps visiting London just for the sake of seeing Lucy.
The insider said,
"He is so into her. He goes and visits her in London all the time."
Adding to it, the couple is often spotted together even though they have not yet made their relationship public. Rami and Lucy appeared at Alexa Chung's Fantastic Collection bash in London in January.
Adding to it, they were also seen at an event in Minneapolis in February. Moreover, they were seen together at Miu Miu's Paris Week fashion show back in March. As of recent, they were spotted together in Los Angeles while they were heading into the U2 concert at Inglewood's Forum venue