Entertainment
Mary Austin, Freddie Mercury's Muse Wiki: An Exquisite Relationship That Silently Thrilled Everyone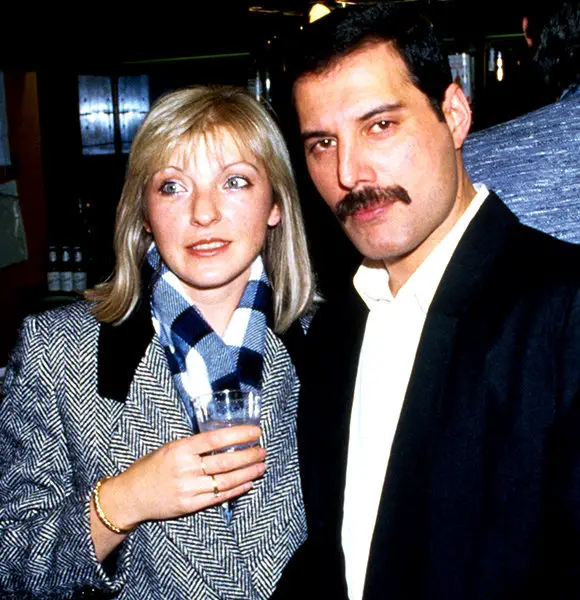 The rock band Queen, even though collapsed, still rocks the music world with its tunes, but very few may know Mary Austin is the woman behind inspirational lyrics of the Queen's band.
As the "wife" of the late band's vocalist Freddie Mercury, Mary has been around the singer's during thick and thins, be it "Love of My Life" song inspiration or supporting him in his later days. This might be the reason why he left her with all his fortune and mansion by quoting her as his common-law wife.
After the early & unexpected demise of the singing sensation, Mary tried giving marriage a second chance but, she failed. Wanna know how? Here, we present you the wiki-biography of Freddie's common-law wife.
"Common-Law Wife"s Rockstar Husband; Coming Out As Gay To Moving Out
Growing up in the working class home in West London, Mary Austin used to date the band, Queen's member, Brian May back in the days. After dating Brian, Mary soon met the band's vocalist, Freddie Mercury while both, Mercury and May used made round trips to London fashion house Biba to see the retailer's gorgeous female employees.
Mary was one of the shop-girls, whom May introduced to Freddie, and after five months of knowing each other, Mercury asked her out for a date which she first hesitated and later, accepted.
Freddie and Mary had their personalities poles apart; he was all-time enthusiastic in public while she was shy and modest. Despite their personality differed, their relationship went too deep that Mary got to see the different side of the singer, a serious and quiet person, which many never got to observe.
Though they were not financially stable, they grew closer and moved in together in 1973. But after his band got into the world of fame, the couple moved to the bigger apartment and lived together for six years.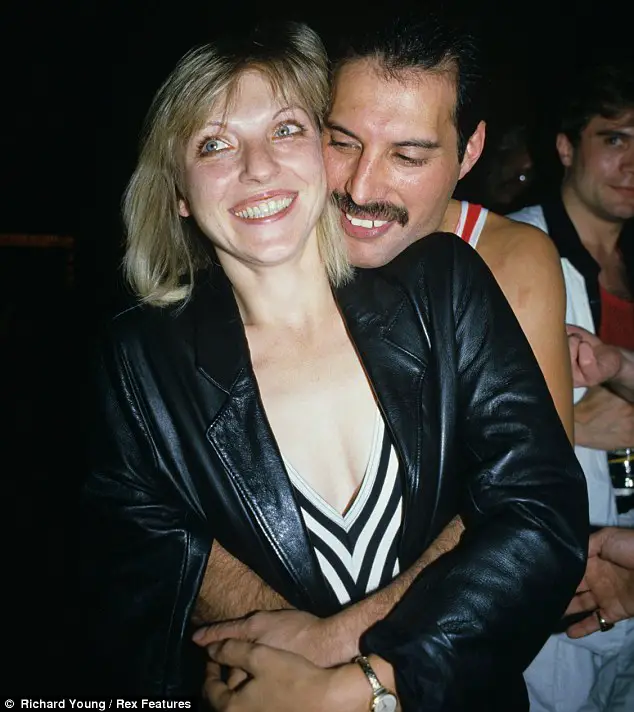 Mary Austin with her then-boyfriend Freddie Mercury (Photo: dailymail.co.uk)
As the band grew enormously, Mary felt Mercury was losing interest given all the fame the band; especially Freddie was receiving. However, the play was something else as Mercury confessed he was cheating with male partners and eventually came out as gay. Mary was not surprised with his infidelity or sexuality for she had long suspected after the singer used to come home late.
Don't Miss:- Tim Cook Inspiring Coming Out Story, Being Gay & Partner To Married Status!
The revelation pinned their long relationship's demise but they remained close friends. Mary started working as the band's secretary but she moved out of his place, which Freddie bought near his apartment.
Singer's Death
Later, in 1987, he was diagnosed with HIV-positive which took his life in 1991 at the age of 45. Merucy, who always considered Mary his common-law wife, left all his £9 million fortune, possessions along with his £20million mansion, Garden Lodge. Also, he mentioned her in his will, saying:
"You would have been my wife and it would have been yours anyway."
Though they were not married, Mercury, who had a net worth of $50 million, claimed that Mary was utterly irreplaceable.
 "All my lovers asked me why they couldn't replace Mary, but it's simply impossible. The only friend I've got is Mary and I don't want anybody else. To me, she was my common-law wife. To me, it was a marriage. We believe in each other, that's enough for me."
Mary agreed to live in the mansion but living came in such a large mansion came with a cost; the fans' notorious tributes in graffiti forms of the mansion walls. Frustrated by constant cleaning and replacing the walls, Mary also put up a warning sign threatening people to report to police if they leave tributes. As of 2017, the mansion walls are clean after Mary ripped down all tributes from the walls.
To add to the 'gift of curse' as Mary puts it, the whereabouts of Mercury's ashes remain only with her alone. According to Mary,
 "He was so terrified that his last resting place might be defiled by bigots that he insisted the whereabouts of his ashes must never be revealed."
After Freddie's death, his long-time girlfriend fulfilled his last wish as she was asked by Freddie on his deathbed to keep the location of the ashes to herself, revealing to no one, not even Freddie's parents.
She also established a foundation named Mercury Phoenix Trust in Mercury's memory that fights HIV and AIDS worldwide and also continued to support Queen's musical efforts. Soon she also returned to her life and got married.
Bohemian Rhapsody Brings Attention
Interestingly, Mary and Freddie's story was featured in the 2018 super hit movie Bohemian Rhapsody which won, Golden Globes Best Film. The movie continued its award season love with multiple wins for its lead actor Rami Malek, who portrayed Freddie Mercury's role.
Considered to be in the Oscar race 2019, the movie brought the world's attention to Mary Austin, who prefers to stay away from the spotlight. Lucy Boynton portrayed her role in the film. Mary is estimated to earn £40 million from royalties from this hugely successful film about Queen frontman Freddie's life. 
Read Also:- Comedian Kevin Barnett Dies, Cause Of Death Is Shocking!
It is no surprise that Mary is about to get such mouth-watering sum of money as Freddie had left her 50 percent of his future earnings. The percent increased as Freddie's parents, who had 25 percent of his revenues, died. Now, Mary has 75 percent of his future earnings, and the remaining 25 percent remains with Freddie's sister.
Post-Mercury Death; Unsuccessful Married Life
After mourning for a specified period of time, she returned to her life and started living a normal life in Freddie's £20m home
She got in a relationship after a year of his death to a painter called Piers Cameron. The couple shares two children; of which, the older one Richard regards 'Freddie Mercury" as his godfather. But the relationships could not long last.
She again got married to the businessman Nicholas Holford from 1998 before it was annulled in 2002.