Entertainment
Randy Fenoli, 53, Prominent Wedding Dress Designer Not Getting Married Himself; A Partner Perhaps?
The 'Say Yes to the Dress' star Randy Fenoli has been helping women pick the dresses of their dreams; while staying in the 'I do' industry. Moreover, he is a bride's Therapist concerning her dress for the nuptials.
The fashion pundit, Randy is an expert on veils, bustles and every little detail of big-day wear and he has been a reason for several successful wedding ceremonies.
However, he doesn't seem to have a husband in his life, despite the fact that he is in the business which guides the brides to get married wearing their choice of white, fluffy dresses. Let's take a peek at his life and find out if there is more to his life than he shows!
Does Randy Fenoli have A Partner To Accompany Him Throughout His Life?
Coming out of the closet much earlier, Randy revealed his gay sexuality amid the mass. He is indeed the one who won the title of Miss Gay America in 1990. Therefore, dating a girlfriend has never been a choice of Randy.
Meanwhile, there has not been a single source to report any existing romantic connection about Randy, as he doesn't seem to have a partner so far. However, he has gained a lot of fans and friends who don't get tired admiring the person he is and his creativity.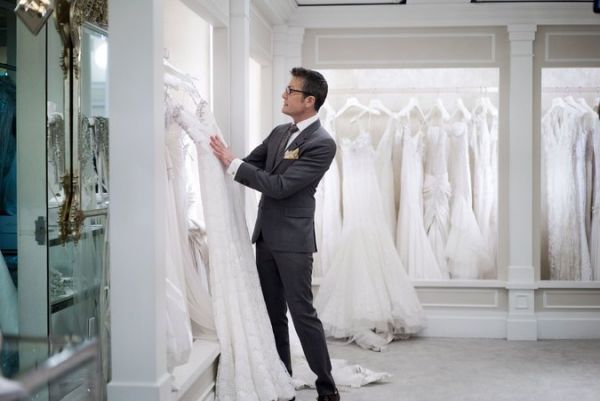 Caption: Randy runs an inspection over the designed gowns.
Photo Credit: New York Times
A New York fashion stylist, Robert Verdi says,
"He is good at discerning the dynamics of the family. He is skilled at negotiating that territory. He's like Switzerland: neutral."
He even says,
"He has a routine and a recipe that works, a great formula and template."
Another fashion pundit Darcy Miller, who is also the editorial director of Martha Stewart Weddings, spoke few words about him.
"Randy is a phenomenon. He has a big personality and a passion for what he does."
Well, if you are loving what these fashion specialist are saying about Randy, you are undoubtedly going to love his designs. The website, brides.com showcases his craft as Kleinfeld Spring 2018.
Besides a career which changes brides' dream into reality, Randy seems to be accompanied by his family and not to be forgotten, his cute little pet 'Chewy.'
The Family Of Randy Fenoli:
Randy was born on a cattle farm in Southern Illinois and is the youngest of the seven children of his family. He has certainly been through blissful childhood days, and he even shares fond memories of those moments.
In July this year, he took one of the memories of his mother from his childhood to Instagram. The picture had a small Randy assisting her mother in one of her activities, fishing.
While the little Randy seemed to enjoy assisting her mother in her work, the 53-year-old Randy is fond of playing with his cute little puppy.
Randy takes the little Shitzu, Chewy as the most precious friend and wealth for him. Moreover, it is one of the integral parts of his life which he believes to be a source of happiness for him.
Keep visiting for the latest updates on the life of Randy Fenoli!