Entertainment
Ken Jeong Rejoicing Family With Gorgeous Wife | Gay Talks & Net Worth
Famous as the gangster Leslie Chow in the Hangover movie series, actor Ken Jeong is not just a comedian but also an intellect. Having shown his acting talents in movies and TV series including Community, Dr. Ken, Pineapple Express, Ride Along 2, and more; Ken has also proven himself to be a loyal husband and a father to look up. 
Ken, who leads a content life along with wife and daughter, is one of the few in Hollywood to have maintained a successful family life. 
Cancer Survivor Wife; Beautiful Family With Daughters
Ken is married to a woman named Tran Ho, who is a physician by profession. The couple had first met in 2002 while working at Kaiser Permanente in Woodland Hills, California. The couple tied the knot in September 2004 after dating for two years but not much about their wedding has been disclosed.
See Also:- Cancer Survivor Sarah-Jane Crawford Romancing Boyfriend; Dating On Different Level
While Ken was offered the role of Leslie Chow in the Hangover movie, his wife was suffering from a rare breast cancer, which almost prompted the actor to turn down the role. However, his wife insisted on Ken taking up the part. Ken has always been a loyal husband and was together with his wife during Tran's chemotherapy sessions, mastectomy, and radiation. 
Tran has now recovered from cancer but the love between the couple has not diminished. The pair is regularly attending various events together and most recently the partners were seen attending the premiere of Crazy Rich Asians. Ken even shared a picture of the duo to mark the event.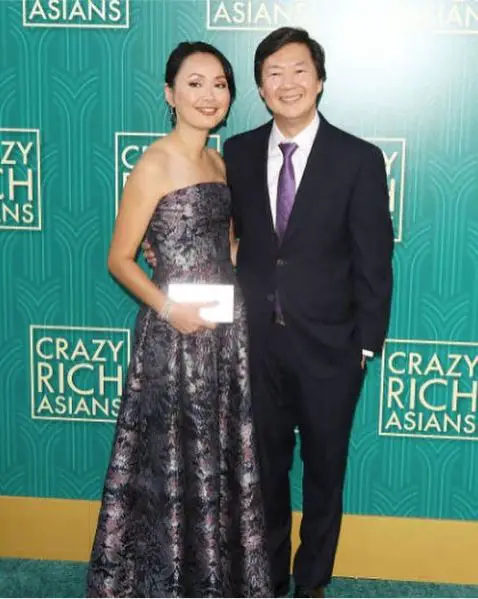 Ken and wife Tran on the premiere of Crazy Rich Asians on 9 August 2018 (Photo: Ken Jeong's Instagram)
Ken and wife are blessed with twin daughters named Zooey and Alexa. Ken along with his family reside in Southern California where along with their daughters. 
Don't Miss:- Who Are John Henton's Wife & Daughter? 'Living Single' Star's Married Life
Ken, aged 49, is particularly close to his family and loves taking out for quality family times. Recently on 8 October 2018, Ken shared a photo of himself along with his wife and daughters attending the premiere of Goosebumps 2.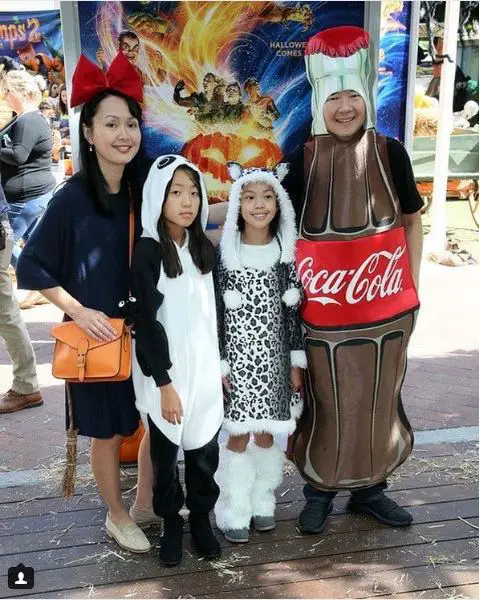 Ken Jeong with family attend the premiere of Goosebumps 2 (Photo: Ken Jeong's Instagram)
Apart from his beautiful family and a successful acting career, Ken is also a certified physician who inherited his intellect talents from his father.
Parents Details; Childhood, Education And Net Worth
Ken was born in Detroit, Michigan as the son of D.K. Jeong, a professor at North Carolina A&T State University. When Ken was a young boy of age 4, his father moved to North Carolina along with the family where Ken grew up. The actor is extremely close to his parents and even brings them on the sets of his show.
You May Also Like:- Who is Eivin Kilcher Mother? Including Bio With Age, Education, Net Worth
On 1 February 2017, Ken shared a picture of his parents on the sets of his show Dr. Ken in which the couple can be seen posing with Ken's onscreen father, Dana Lee.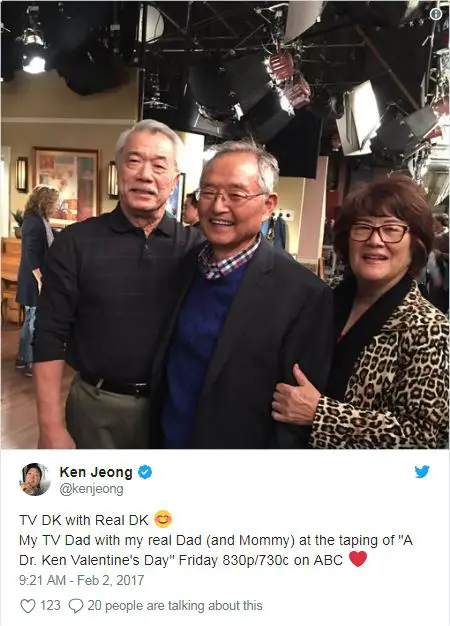 Ken Jeong parents with onscreen father D.K. Park (Dana Lee) (Photo: Ken Jeong's Twitter)
During his high school years at Walter Hines Page High School, Ken was a violin player and was even a competitor on the IQ team. After graduating from high school at the age of 16, he attended Duke University and later transferred to the University of North Carolina where he gained a medical degree and thus completed his education. The Korean-American actor is also a certified physician like his wife and even worked on the field before pursuing a career in acting. 
More From LiveRamp Up:- Stephen Nolan Avoiding Potential 'Crazy' Partner, Does That Make Him Gay?
The actor standing at the height of 5' 5" (1.65 m) later made a career in acting and has been successful both professionally and financially. Ken currently boasts a substantial net worth of $14 million, which has helped his family attain a better standard of living and gain quality education for his daughters. 
Famous For Making Gay Jokes
Although Ken is not a gay man and has never been gay at any point in his life, he's known to make funny gay tweets. Back in April 2010, he shared a tweet dedicated towards the Community writer, Dan Harmon. In the tweet shared on 11 April 2010, Ken wrote,
@danharmon LOL we did it better w/Pierce"That's what I'm asking u to write for me. Improv.""He likes gay jokes-I said we write great jokes."
Similarly, he also made a gay joke about his character Dr. Ken Park from the series Dr. Ken on 20 November 2015. In the post, he mentioned that playing the titular role in the show was like Disneyland but felt gay. He wrote in the tweet,
"#DrKen #AskDrKen ...it's like Disneyland for me everyday, but gay."
Apart from these occasional posts, Ken hasn't much talked neither in the favor nor against gay rights advocacy.