Entertainment
Robyn Brown, Fine With Husband Adding Another Wife: Mother of Five Children
Not every family has sound relation and mutual understanding. Especially if a family is large, some problems emerge whether it's because of misunderstandings or trust issues. Likewise, in the 'Sister Wives' family, there is a lot of drama these days.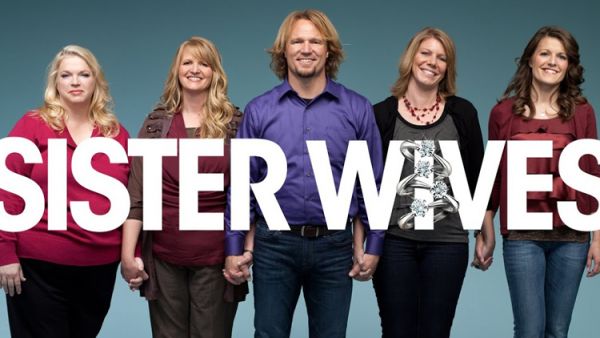 Caption: Caption: Kody Brown with his four wives; Meri, Janelle, Christine, and Robyn.
Source: wordpress.com (blog)
Kody Brown, who has four wives, has something new in his mind. Guess what? He is seeking a new relationship. Well, it is reported that he wants to add the fifth wife in his family. Robyn Brown's friend, Kendra Pollard, who has been in the show reveals that Kody is seeking another wife. Whereas, hollywoodlife.com have claimed that-
"He's been looking for more than a year. He's wanted someone really young, like 19 or 20. And she has to be attractive and thin."
'Sister Wives' family is getting through rough times after Meri Brown's catfishing scandal. And, the addition of a member of a family will definitely not make things better.
Kody's fourth wife Robyn Brown has made her extraordinary confession during the family's Tell-All Special. She says,
"That's OK if Kody chooses a fifth wife."
Will Kody marry for the fifth time? it's just a matter of time until we find out.
Robyn is a mother of five children. She has two daughters and one son from her first marriage whereas she has a son and a daughter from her second husband, Kody Brown. Robyn was previously married to David Preston Jessop.
In 2015, Kody Brown willed to adopt Robyn's three kids which could be the reason for Meri and Kody's divorce. Meri is the first and only legal wife of Kody Brown. They got married in the year 1990. She was blessed with a baby girl in the year 1995 though she faced infertility problems throughout her life.
Caption: Meri Talks Divorce in 'Sister Wives' Season 6
Kody Brown, the husband of four different women, is the father of eighteen children. Meri Brown is his first wife whereas Janelle Brown, Christine Brown and Robyn Brown are his second, third and fourth wives respectively. Kody's marriage with Janelle, Christine and Robyn is a spiritual union.
An American reality television series, Sister Wives, broadcast on TLC since 2010. It documents a lifestyle of a polygamist family where Kody Brown is the head. According to the family members, they participated in the show just to make people aware of polygamist families. Kody Brown has estimated net worth of 800 thousand dollars.
A fan of "Sister Wives" has admired Kody Brown's relationship with his wives and children. She is also thankful as he has shared his lives with us.
@realkodybrown
I admire your family dynamic and the relationships you have with your wives and children. TY for sharing ur lives w/ us!! ????

— joy hall (@Hall11Joy) May 31, 2016