Entertainment
Romesh Ranganathan's Apology To Wife – Parents To 3 Children | Regret
British comedian, Romesh Ranganathan has one more thing to feel a lucky man; he has a loving wife which most people can only dream about. Along with his successful comedian career, he has been leading a blissful married life with his family.
However, sometimes he feels that he might have added some extra burden on his wife as she is often left alone to handle their stubborn kids.
The comedian famous for his stand up comedy and shows like Just Another Immigrant and Asian Provocateur shares a glimpse of his personal life along with the details of his parents and family.
Happily Married To Wife; Regrets About Having Three Children
Romesh has been longtime married to his drama teacher wife, Leesa Ranganathan. The couple romance dates back to the time when Romesh used to work as a mathematics teacher at Hazelwick School located in West Sussex, England.
See Also:- Thorsten Kaye Family Details! Inside Life With Wife & Kids - Bio Reveals
Romesh and Lessa eventually got married nine years back in 2009, however, not much of about their wedding ceremony has been disclosed. Together the pair has three children, all of them sons named Theo, Alex, and Charlie.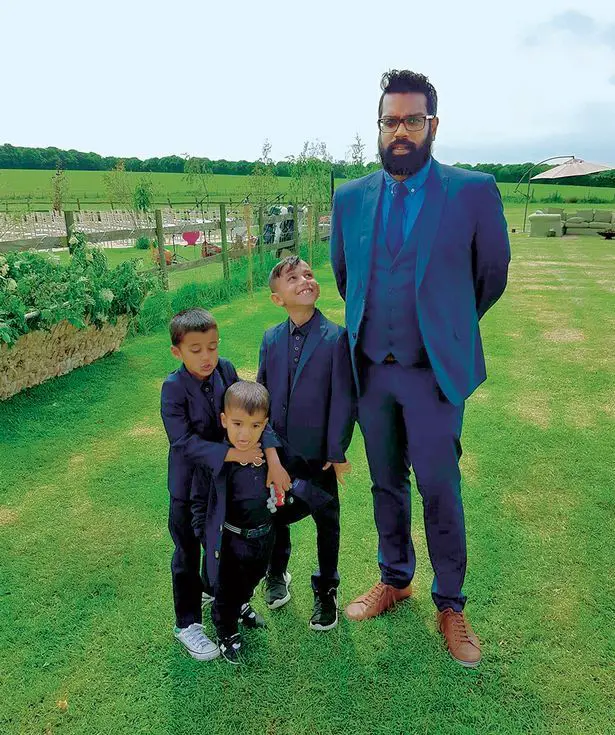 Romesh Ranganathan with his three sons: Theo, Alex, and Charlie (Photo: Mirror.co.uk)
Romesh's three kids are different in behavior to each other. He mentioned that his first son, Theo was raised to be a "perfect" child; however, his second kid Alex is a child with an attitude problem and often acts like a carefree rockstar.
You May Like:- Meleasa Houghton Reason For Divorce With Husband Israel Revealed! Full Report
Romesh, who travels a lot for work and doesn't spend much time with his family due to work commitments, has given the responsibility of managing the household. He even claims that if he would be home all the time, he and his wife would inevitably be divorced.
Further, Leesa is a loyal wife who supports her husband in his personal and professional life. She even joins Romesh in his shows and award functions which he attends.
However, Romesh feels that he has given back much in return to his wife. For instance, he revealed that he has regularly apologized for his physical resemblance which consists of a fat belly and a disproportionate body.
To add that, he also regrets having three children as his wife is often left alone to take care of them while Romesh is traveling for shows. But Leesa doesn't take this as a burden and loves to raise her children while her husband takes up the responsibility of earning a living for the family.
Immigrant Parents Moves; Father's Death
Romesh is a family man, who takes his folks everywhere he goes. For his recently released series, Just Another Immigrant, Romesh shifted his whole family to California. Coincidentally, the show is based on his own life as a British comedian who moves with his family to achieve success in the states.
Born in Crawley, West Sussex, England; Romesh was born to Sri Lankan immigrant parents. Romesh considers his mother, Shanthi as the greatest source of inspiration of his life. While Romesh was a kid, his family went through some severe financial crisis after which Shanthi had to work odd jobs to sustain her family's living. Romesh's mom also appeared on the BBC show, Asian Provocateur.
Read Also:- Mark Lowry Response To Gay Rumors Amid Married Questions!
For the shooting of the show, his mother even sent Romesh to Sri Lanka, his native land, to learn about his roots, cultures, and traditions.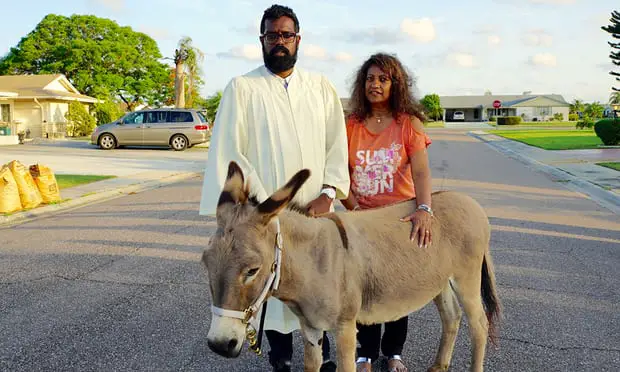 Romesh along with his mother Shanthi appears on the BBC show, Asian Provocateur (Photo: TheGuardian.com)
Romesh's father died in 2013, three months after he started his career as a full-time comedian. After his father's death, Romesh and his brother Dinny Ranga jointly managed their father's public for a short while before moving on to their respective careers.