Entertainment
Meleasa Houghton Reason For Divorce With Husband Israel Revealed! Full Report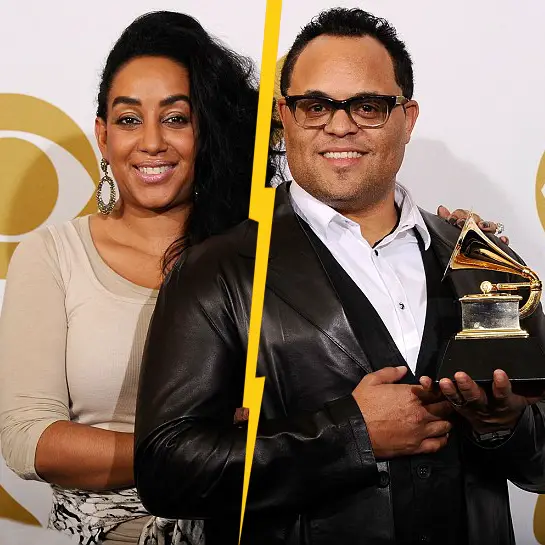 Quick Information
Date of Birth Mar 01, 1964
Nationality

American

Birth Place

United States

Zodiac Sign

Pisces

Son/s

Israel Houghton II, Milan Lily Houghton

Daughter/s

Mariah Houghton,

Relationship Status

Single

Divorce/Split

Yes (One)

Wedding Date

(m.1994–2016)

Ex-Husband

Israel Houghton

Net Worth

Not Disclosed

Awards

GMA Dove Award for Traditional Gospel

Nominees

Grammy Award

Instagram

instagram.com/meleasahoughton/?hl=en
It is not uncommon for people to get out of a problematic marriage, but it makes headlines when a long-lasting marriage breaks apart.
American singer-songwriter, Israel Houghton, and his wife Meleasa Houghton were a happily married couple with kids until one day when their marriage turned upside down. Israel took steps to build a new romantic relationship; however, fans are curious to know what caused the long-lasting partnership to fall apart in the first place.
Why don't you continue with this article to learn some dark secrets in the personal life of Israel and Meleasa's current predicament after the divorce!
Real Reason Behind Divorce; Husband Asks For Forgiveness 
Meleasa and her husband Israel were considered an ideal couple with three kids: Mariah, Israel II, and Milan Lily. And their married life was going through a smooth run.
Caught Cheating:- Lisa Nicole Cloud Background: Cheating Husband, Married Life Shaken, Divorced?
But, the marriage of over 20 years suddenly came to a halt when Meleasa found out about her husband's infidelity after he confessed to cheating on her through a Facebook post on 22 February 2016.
In the now-deleted Facebook post, the Grammy-winning songwriter/producer confessed his sins and asked for forgiveness from his fans, friends, and family for cheating on his wife of two decades.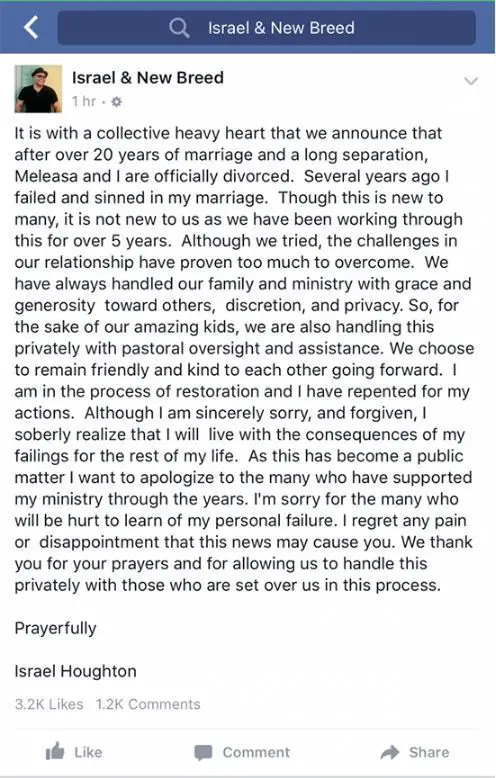 Israel Houghton confesses to adultery with his wife on 22 February 2016 (Photo: Joy105.com)
As the news circulated, fans became curious to understand the principal reason behind the couple's divorce. Many believed the primary cause of the split was Israel's affair with Adrienne Bailon, his co-host of The Real.
However, Israel was in no mood to blame Adrienne as he revealed his then-girlfriend had nothing to do with his split from Meleasa.
"My marriage had been over for quite some time before going public with my divorce announcement. It seems to be simple math that I had not even met Adrienne during the time my marriage was falling apart. Adrienne is a woman of integrity & character… Most of all she is a true friend, and she should not be blamed for my past indiscretions."
Following the confession of his sin, Israel even lost his job as a worship leader at Joel Osteen megachurch in March 2016. Further, in 2016, it was revealed that Israel had fathered two bastard children: Kingston and Khristian while he was still married to Meleasa.
In June 2016, his illegitimate kids' mother DeVawn Moreno sued Israel for child support payments.
Facing Same Legal Issues:- Fetty Wap Is Father To Baby Boy! Adds 7th Child To Family
However, the case got dismissed in December 2016.  
New Life New Wife; Old Wife Happy With Kids
Soon after Israel's divorce to Meleasa became official, he commenced a new romance with Adrienne Bailon. The pair was spotted kissing during their romantic holiday in Tulum, Mexico in March 2016.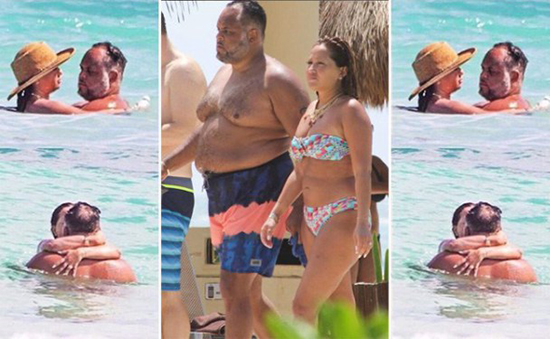 Israel Houghton and Adrienne Bailon enjoy their vacation at Dreams Tulum Resort & Spa in Tulum, Mexico (Photo: blacktinamagazine.com)
Israel, who is active on social media, explained how the relationship between him and Adrienne first started. He said, 
I met Adrienne Bailon a bit over 2 years ago, we worked together & became friends. Our circles connected & we remained good friends. From a friendship, as two single adults we have very recently begun to explore a dating relationship.
The couple got married in Paris on 11 November 2016, and Israel shared one of their wedding glimpses on Instagram.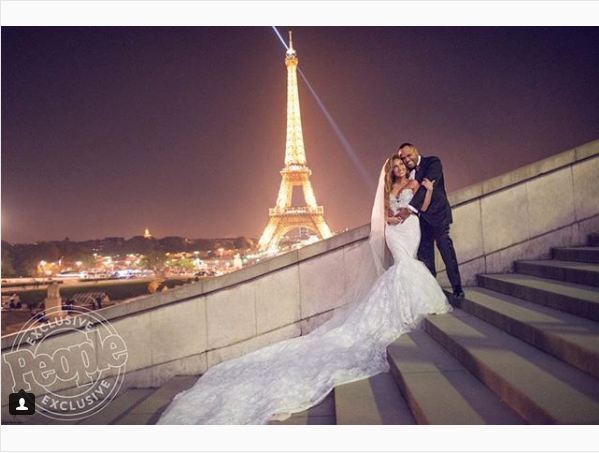 Israel Haughton and Adrienne Bailon get married in France on 11 November 2016 (Photo: Israel Houghton's Instagram)
In the meanwhile, Meleasa has not been involved with any boyfriend to post her divorce but is leading a self-content life with her three kids. Further, she enjoys flaunting her family time with children on social media.
Celeb Whose Spouse Remarried:- Neil Jackson Married, Girlfriend, Gay
Following her daughter Mariah's wedding, she shared an Instagram video on 5 January 2018 which showed her children jamming together. She further added the caption,
"My kiddos working on the melodies again in the kitchen! @sonnyhoughton2 @lillie_houghton@scottdozieriv love you my darlings ???⛄ï¸Â??"
Also, Meleasa made the headlines in 2017 along with her ex-husband after the Deutsche Bank sued the pair to foreclose their home as Israel failed to pay the mortgage due from several months. The home located in Harris County, Texas was once the family's residence.
Later in August 2017, the matters got resolved after Israel found a buyer for the home, relieving him nearly $90,000 debt.
Moreover, Israel Houghton has an accumulated net worth of $8 million. So, there's a possibility that Meleasa's net worth after the divorce could be half of her ex-husband's net worth, i.e., $4 million.
Relishing Motherhood; Daughter Married Now
Amid financial woes and a failed marriage, Meleasa found courage through her three children, who all mean different things to her.
Equal Number Of Children:- Mother of 3 Kids, Kym Marsh, About Her Pregnant Role: France Vacation With Boyfriend, Married Plans and Husband?
Like most moms, she doesn't hold back when it comes to showering her kids with love on Instagram. Off all days on the calendar, her kids' birthday means the most to her as evidenced by the reflective birthday wishes dedicated to them.
While she relishes the gift of motherhood of utmost joy, she probably hopes for the same to happen to her daughter, Mariah. Like her, Mariah is also a married woman. Back in 2016, Mariah tied the knot with her boyfriend-turned-husband, Bryon.
Her children aren't the only recipient of her social media love. Every now and again, Meleasa dedicates a post or two to her parents.