Entertainment
Rumored as Gay Chris Lilley Still Not Married? What About His Girlfriend and Dating History?
Chris Lilley has been dating for an extended period of time, however; the actor is still not married. His fans might be willing to know about his current relationship and the dating phenomena of the comedian. Yes, today we will shower the personal details of the comedian for his fans and well wishers.
What is the Current Girlfriend and Dating Status?
The actor is currently in a relationship with a DJ Milly Gattegno. The comedian had met the beauty in 2012 at Milly, London. Even though both the love birds did not officially announce their relationship in the early stage later in the year 2014, the DJ confronts about her relationship. The lady confronted the entire scenario of her love life. As published in an interview in Mail Online on 19th Nov 2014, Gattegno said:
'We met through MTV. And from the second we met, we just hit it off."
Is he Gay? Or does he have a Wife?
Well, the actor is not gay. In the past years, he was caught up in a rumor of being in a live-in relationship with his girlfriend at Melbourne. The relationship took a turn when the duo broke up after three years.
The Australian duo has been entangled for more than a year, but they have not shown any sign of getting married. Even though they have frequently been caught spending times and vacation together, they have not officially released any kind of statement of getting married through any of their social networking accounts.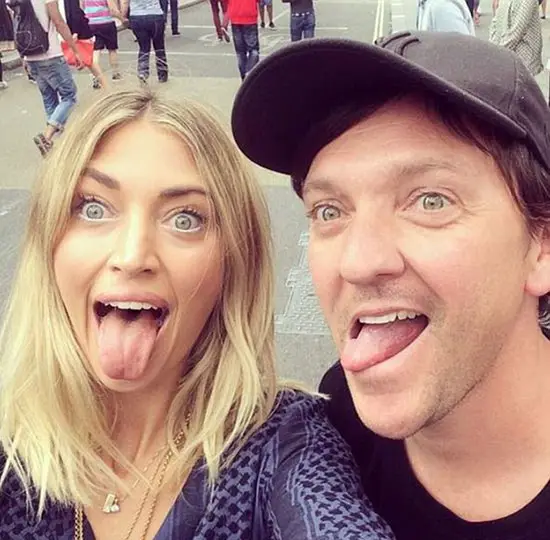 Caption: Chris Lilley with Milly Gattegno at Wireless Festival London(2015)
Source: dailymail.co.uk
Short Bio of Chris Lilley:
Chris Lilley was born on 10th November 1974 in Sydney, Australia as Christopher Daniel Lilley. He is youngest of the four siblings and is a vegetarian since the age of five. Even though he was born in Sydney, he was raised in Turramurra and attended Pymble Public School. He attended Barker College and obtained Bachelor of Arts.
In the year 1997, he graduated from Macquarie University in Sydney majoring in Diploma of Education. At the age of twenty, he started his career as a stand-up comedian, child care worker, and a shop assistant.
In the year 2003, he made his first debut in "Big Bite" a seven-network comedy program. He earned massive success with his second series "Summer Heights High" which was aired on ABC TV in the year 2007.
In the year 2011 comedy series called Angry Boys was aired on BBC in the UK and ABC in the Australia He has received plenty of awards, in the year 2006 he received Graham Kennedy award for most outstanding new talent for We Can Be Heroes.
In the year 2008, he received the award for the most popular actor award for Summer Heights. In the year 2014, he again received the most popular actor award for Jamie: Private School Girl. Currently, the writer is working on the new series of Summer Heights High. He has an estimated net worth of $4 million.