Entertainment
Second Marriage For Both: Josh Elliott and Liz Cho Got Married in 2015: Josh's Ex-Wife And The Reason For Their Divorce
A healthy relationship is must have a blissful life. Meet Josh Elliot, an American television journalist who is popular as the news anchor for ABC's Good Morning America. After quitting ABC, he moved on to NBC news to work as a sports anchor for Today and NBC Sports. Elliot had a rough childhood and now has major trust issues with women. The list includes Lara Spencer with whom he had a clash on insignificant issues.
On July 11, 2015, Josh married Liz Cho at Villa Sevillano. Cho is a local news anchor at WABC-TV in New York City. They enjoyed a low-pitched romance for past two years and got engaged in August 2014.
The bride and groom said 'I Do' in front of around seventy guests. Elliott's daughter Sarina and Cho's daughter, Louisa both attended the marriage. Their girls served as the maids of honor. Liz looked stunning in blush Ramona Kaveza wedding gown. Josh looked charming wearing a navy Zegna suit.
Caption: NBC's coverage of Josh Elliot and Liz Cho's wedding.
However, not everything was rainbows and butterflies for the couple.Their wedding ceremony took place just three weeks after Elliot's mother passed away. The anchor was distraught with this loss and was reported saying,
It was a massive, brutal moment. My immediate reaction was, 'How am I going to make it to [tomorrow]?' The wedding was very far from my thoughts.'
However, with the support of his wife, family, and friends, Elliot proceeded with the marriage plans and wedding took place with the presence of an empty chair decorated with flowers in the memory his mother.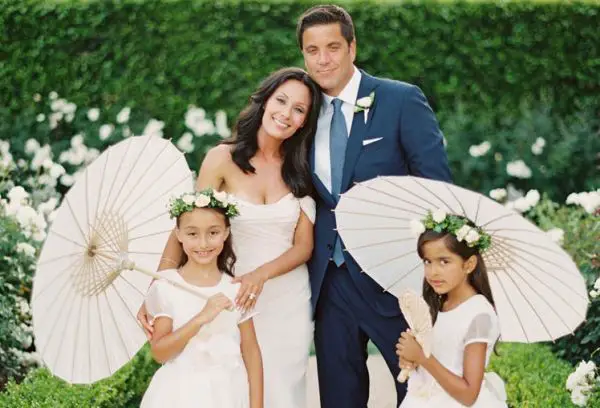 Caption: Josh Elliot and Liz Cho's together with their children on their wedding.
Source: timeinc.net
The former ABC anchor and his wife Liz Cho are very successful in their profession. According to sources, the estimated net worth of Josh is around $5 million dollars. Likewise, the net worth of Liz is estimated around $700,000.
Did you know Liz Cho is Josh's second wife? Well, Josh is also Cho's second husband.
Josh was previously married to Priya Narang. Together they have a daughter named Sarina. Their relationship turned sour when Priya caught Josh red-handed having sex with an ESPN intern right after their honeymoon. Their marital relation ended in divorce after Elliott accepted that he had been a sex addict.
Similarly, Liz was married to Evan Gottlieb. From her first marriage, she has a daughter named Louisa Simone Gottlieb born on May 17, 2007.