Entertainment
Beautiful Television Personality Audrina Patridge Welcomes a Baby With Her Fiance, When Are They getting Married?
The mixed ethnicity actress Audrina Patridge recently welcomed a baby with her fiance but has she further thought about getting married to the biological father or has she made the decision to take care of her child alone?
These few questions might have been hitting her fans and might even be internally creating negative controversy in the mindset of her fans.
So, fan followers before making any judgment about your fav stars we have revealed few details of the stars regarding her marriage pregnancy plans, and about her fiance.
Get to know about her Fiance and her Dating story?
In the sets of the television series"The Hill"(2006-2010), the actress met her would be husband Corey Bohan, the professional BMX dirt bike rider, and an actor by profession.
Even though the actress had admired the personality of him, she had no intention of getting hooked or hitched with the man off the screen despite dating him on screen.
But, looks like the destiny had written something else for her and hence since the year 2008, the star started dating Corey on and off throughout the years.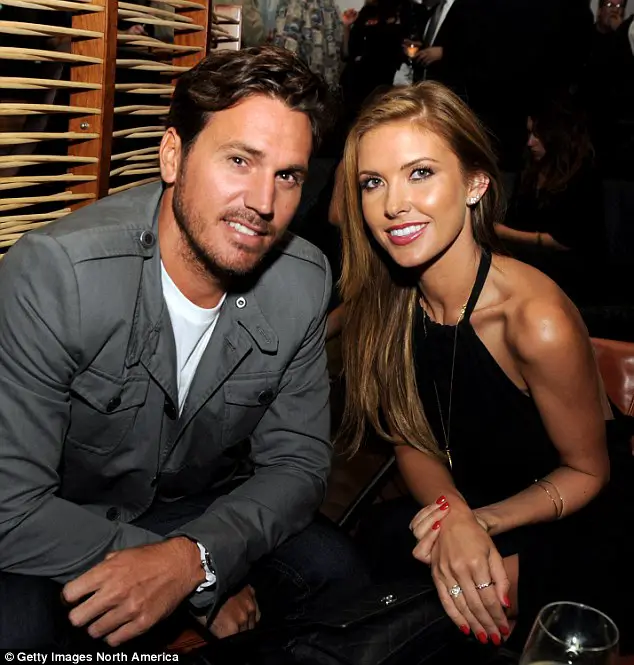 Caption: in presence ofAudrina and her fiance Corey Bohan in 2012.
Source: dailymail.co.uk
Similarly, after years of dating finally, her long time sweetheart proposed her for marriage in a surprise ceremony in the presence of the family members of the would-be bride.
As posted by People.com in 21st November 2015, the proposal took place at the Summit House in Orange County, California. When asked with the lady about the proposal she said:
When dessert time came he ordered cheesecake and the waiter brought it out on a platter with a beautiful silver cover,I noticed all the waitresses gathering with phones and thought, What is going on! Then all of a sudden the waiter lifted the silver cover and I saw the ring in a box with white rose petals on the plate."
She added:
Then Corey dropped to his knee and said, 'We have been together for many years now and I love you more than anything. I want to spend the rest of my life with you – will you marry me?
Well, that was a real sweet plan made by the Corey for his would-be wife. Even though she is engaged, we are still in a dilemma about the wedding date and still have doubts whether or not will they get married or will they end their relationship.
How did she take her Pregnancy?
The actress took the news of being pregnant in quite a positive manner. Even though Audrina was on doubts, her boyfriend helped her to move into ease in spite the news of the pregnancy would cause controversy in the life of the actress.
As posted by E Online on 9th June 2016, she expressed her fear and how her man had helped her to go through it. She said:
"I didn't want to rush getting married, because stress is bad for the baby. I was a little worried about people judging me for it, but Corey wasn't.He asked me to stop caring what people think.Their opinions don't matter as we've already been together for so long and it's like we're already married.It's just a title at this point and a ring."
And as published by E Online on 25th June 2016, the actress had announced the big news of her pregnancy, through her blog where she expressed her happiness and stated:
"You guys have no idea how hard this has been to keep my mouth shut, but we are finally ready to reveal the gender of our little munchkin! "Don't worry, I'll get right to the point.We are thrilled to announce that we will be welcoming a sweet little GIRL into our family in July!"
The actress since then posted her pregnancy pictures of her with her baby bump and her glowing face.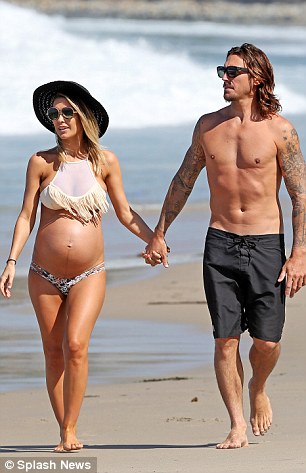 Caption: Audrina flaunts her baby bumps with her fiance Corey Bohan in 2016.
Source: dailymail.co.uk
Well, on 24th June 2016, the beautiful lady and her fiance, Corey Bohan was blessed with a baby girl Kirra Max Bohan weighing eight lbs., 4 oz. The actress took her pregnancy in full excitement with her daughter and is seen posting plenty of pictures and video of the baby girl on her Instagram account:
Similarly, just after her pregnancy, into the star expressed her phase of motherhood along with her difficulties of breastfeeding period. As published by hollywoodlife.com on 27th September 2016, she shared her experience of being a mother:
"Breastfeeding was the most painful thing,for me, it was more painful than the c-section,but I got through it!"
Even though she has expressed her pains, she seems to be totally for her child and has consistently been posting pictures with her baby on her Instagram account and enjoying her mother-daughter bonding very well along with her partner.
Well, the couple is blessed to have a newborn baby to their family now we along with her fans are eagerly waiting when the couple will tie the knot officially.
Are the Wedding bells ringing soon?
When talking about her wedding plans, she has expressed her desire to execute their original plan of getting married even though her baby was born a month earlier than they had expected.
As posted by eonline.com on 25th June 2016, she said:
"We are doing it backwards, I know! But, God's timing is everything, and I am confident that this is the way things are supposed to be.Plus, I have a feeling our wedding photos will be extra adorable with our little baby in our arms instead of in my tummy."
As published by E.Online on 9th June 2016, the actress mentioned about the wedding to take place in the late of November with only total guests of 130 mostly family and few close friends of the duos. She has also mentioned about having a honeymoon which shall be accompanied by her daughter and her sister. She said:
"If we take a honeymoon, we're definitely bringing our daughter and my little sister, so she can watch the baby while we go out to dinner or snorkel,"
Well, the month of November calls for a wedding for both the love birds and her daughter.Wouldn't their wedding picture be just so perfect with her daughter in their arms?
Well, her fans are eager to see the perfect wedding picture of the actress in her white dress.So are we desperately waiting for the month of November eagerly waiting to see the beautiful wedding or a picture perfect family wedding?
Audrina Patridge's Short Bio:
Audrina Patridge was born on May 9, 1985, in Los Angeles, California. Audrina is born with multiple ethnicities of English, Belgian, Italian, Polish, German ancestry and has three siblings.
She came into the spotlight from the MTV reality show "The Hills".and Scary Movie 5(2013). Since then she has appeared in plenty of reality show like Dancing with Stars in the year 2010 and later she appeared in movies like Into the Blues 2(2009), Sorority Wars(2009), Honey2(2011) and Audrina(2011).
Audrina has an estimated net worth of $5 million. The main contribution to her net worth is through her acting career and appearance on various other events.
She currently has not undertaken any projects and has given continuation in looking after her baby daughter and busy preparing for her wedding.