Entertainment
Toby Turner Allegedly Accused Of Using Drugs And Sexually Assaulting Girlfriend; Denies Explicit Relationship Details
Multiple stories are there still, which are untold and uncovered one about the sexual assault and most probably rape. The relationship gives you many experiences; sometimes it will make you feel the best whereas sometimes it can be the darkest one too.
The aftermath of his bumpy relationship with another YouTube star April Fletcher resulted in the allegations of slipping drugs and alleged rape. Let's see Turner's response to accusations.
A rejoinder to allegations:
The YouTube star Toby Turner was accused by his former girlfriend; YouTube Vlogger April Fletcher, known online as for April Skywalker and AprilEfff of rape and drug abuse.
In the defense, Turner uploaded a video 'The Truth' in which he mentioned that all the allegations were 'false.' He being disheartened said,
"A person I dated a few years ago has just made some extremely serious, false accusations about me. And I want to be crystal clear: I have never done anything without her consent, I never tried to trick her into anything."
Caption: Turner responded to the accusations in a video titled 'The Truth.' (Published on Apr 17, 2016).
On April 8, 2016, April posted on Tumblr in which she has shared every possible detail of her experience with Turner from physical and mental pressure which she tolerated by alleged rape and slipping drugs in her drink without her knowledge.
As per the post on Tumblr by April, they first meet while working at E3 in June 2011 and were together since then but never gave a name to the relation.

Caption: As per April's post, Turner and April first met at E3 in June 2011.
The reason that April never went to police was that she had loved Turner a lot. Might, the fear of Turner getting arrested stopped her.
April wrote on her post,
"There are women with stories similar to mine. He's still playing his games of multiple girls at a time."
She addressed that she decided to publicize after seeing Tobuscus toys on sale Toys'R'Us, the back of the package called him a hero because she believed,
"I'm sorry but a hero doesn't disrespect, abuse, rape, and drug women. He is not a hero. He is not a role model. He is a sick sick man."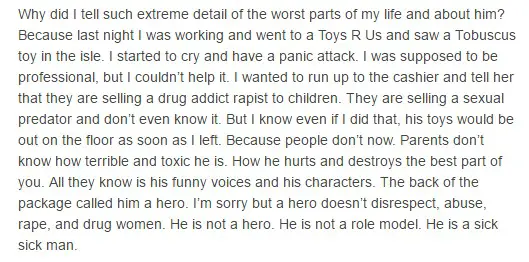 Caption: The inspiration and motivation for many youngsters proved to be a sick man according to April.
The YouTube star, in his video, responded,
"I read her Tumblr post and I was shocked, and I was hurt. These allegations are absolutely false."
That was Turner's part. After April's post, many came out to support April which includes the exes of Turner. Clare Lourdes took her post to Facebook in which she wrote,
"I have made peace with my time with Toby and don't wish to discuss it in detail, as is my choice. However, I can say that my time with him has given me the experience and perspective to believe their accounts are absolutely true."
The more recent ex of Turner Jaclyn Glenn whom Turner dated on 2015, posted on her Facebook account she allegedly felt pressured to do certain things but also clarified that she was never forced into anything.
On the other side, Turner's fans went on saying, April's accusations are wrong. For which April was ready with the proof which she took to Twitter.
In defense of son, Turner's mother Jackie took her post to Facebook, on which she took parts of April's post and justified that the incident didn't match. She also mentioned that April did that all of the jealousy, after knowing about his relationship with Olga Kay.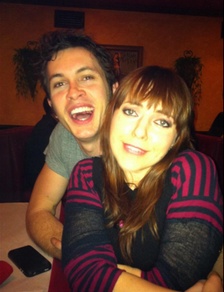 Caption: Turner and Olga dated from 2011 and later split on 2012.
Photo Credit: sweetpics.site
Looking at the words which April has described saying he was in a relationship with both Olga and her at the same time, can we say she has to be right? Or she is just exaggerating all of it just to ruin the career of Turner?
The fact of the story is still the untold one. Who is guilty and who is the victim? There are many unanswered questions in the chapter of Turner and April.
Well! as of now everyone has their point to defend their story; everyone has gone on and on with their assumption and interpretation of the story.
But the ordeal is on Turner as his career is somehow paused at the very moment.
But recently, Turner has made his come back with the recent video, titled 'It's hard for me to say this..." which is named so, because of his voice. That has undoubtedly surprised his fans.
Caption: Toby Turner is back on his YouTube channel with a new video entitled 'It's hard for me to say…" ( Published on Feb 25, 2017).