Entertainment
TV Actress Jill Wagner Engaged To Her Boyfriend, When Do They Plan to Getting Married?
Wipeout co-host Jill Wagner is all set to start a family of her own. Want to know why? It is because she has taken a leap from her relationship with her boyfriend and has engaged with him. Still wondering who her lover is? Who took the liberty to bend his one knee and became her fiancé? Well, let's start with it.
Although there has been no news about it in the media about her engagement the beautiful TV actress was kind enough to share her happiness with her fans and loved ones on her Instagram account rather than secretly keeping it concealed to herself.
"Mercury Girl" Gets Married:
Most known for her work in the commercials for Lincoln-Mercury cars which got her dubbed the title "Mercury Girl" as well as the eccentric co-host and interviewer of the comedic reality game "Wipeout," Jill Wagner is finally starting her steps towards the married life.
The host of 'Handcrafted America' has been hinting about her love life for a long time now, with some images here and there that have created massive speculations about her relationships. Most notably, this picture with her 'supposed boyfriend' and the girl who is heavily featured on Jill's Instagram, where Jill's engagement ring can be seen clearly.
The identity of the boyfriend/fiancee nor the girl has been revealed, and Jill seems adamant to not let any information leak. She addresses both of them by calling them 'love' or her 'family.' Furthermore, it is not clear if the girl is Jill's Daughter or any other relative, or even the child of the boyfriend but considering how Jill is affectionate towards her, we can safely assume that the girl is her daughter or at least, a future daughter.
Eventually, Jill addressed to the assumptions about her engagement and confirmed that the man featured on her social media was indeed, her fiancee. She seemed ecstatic to announce their relationship and made it clear that he was her 'One True Love.'
Enjoying life with soon-to-be Husband and Daughter:
Jill appears to be enjoying her life with her new family a lot, going on trips, enjoying new adventures and more or less having a great time. The Hand-crafted actress gets to visit places all over America, but she still loves spending time with her family more. In a recent Instagram post, Jill revealed that she and her fiancee had bought a house sometime in December 2016, so maybe the date of her marriage is not that far away.
After two unsuccessful dating experiences in the past with Jay Gordon and Tyler Hoechlin, Jill is ready to start a new life with Brendan and the beautiful little lady and has been posting pictures of her family together frequently in her social media accounts showing fans and onlookers how truly happy their little family is.
Jill's Past Dating Experiences:
Previously Jill has had two significant relationships. Her first one was with singer, producer, journalist as well as the lead singer of the alternative metal band "Orgy," Jay Gordon. Jay and Jill dated for four years starting from around 2001 to 2005.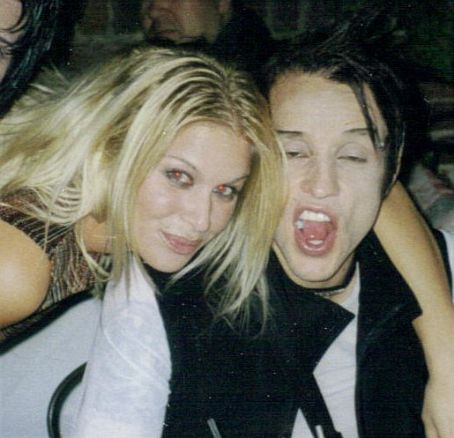 Caption: Jill Wagner with Jay Gordon in her arms.
Source: Whodatedwho.com
Jill also was rumored to have dated fellow "Teen Wolf" actor Tyler Hoechlin. In the supernatural fantasy TV series, Jill plays the role of Kate Argent. In the story, Kate has a romantic relation at one point with Tyler's character Derek Hale. This seems to have passed on to reality as Jill at some point shared a love life with Tyler, but there's no concrete proof of their relationship except a bit of tidbit here and there.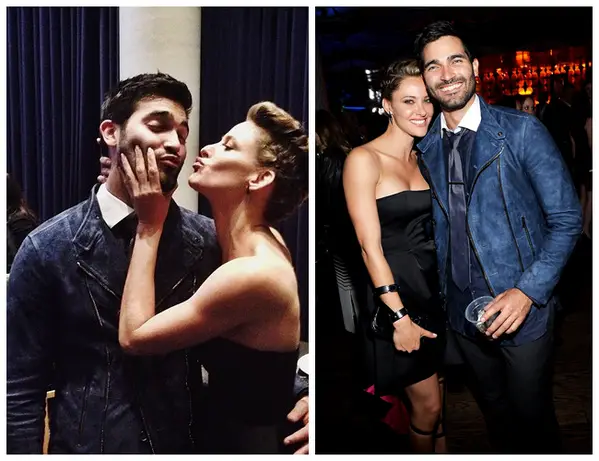 Caption: Tyler alongside Jill sharing a bit of love.
Source: Twitter.com
Jill Wagner: A Short Bio:
Jill Suzanne Wagner was born on January 13, 1979, in the city of Winston-Salem, North Carolina. She graduated High School from Ledford Senior High School and received a bachelor's degree in Business Management from North Carolina State University. She also attended Barbizon Modelling and Acting School in Raleigh and received the title of Miss Barbizon. Wagner debuted her acting career as a crew member on the infamous MTV prank show 'Punk'd.'
Eventually, she received the job of the spokesperson for the ads of the Mercury Brand cars for Ford Motors. This gained her the title of 'Mercury Girl.' She is most known for her work as the co-host and the interviewer on the comedy reality hit series 'Wipeout.' She also worked on various TV shows and movies such as Teen Wolf, Inside the vault, Blade: The Series, Splinter, etc.