Entertainment
Yasmeen Ghauri Husband & Daughter; 90's Model Family Over Career Decision Paid Off
A former Canadian model, Yasmeen Ghauri rose to fame after her first major cover shots for Elle in 1990. Not long after, she became the face of magazine covers and became the face of Chanel, Christian Dior, Valentino Couture, Jil Sander, Hermes, Lanvin, Versace and Anne Klein.
Well, she is the first South Asian woman to land a luxury beauty contract, to become a Victoria's Secret Angel, and to appear on the cover of Vogue. Yasmeen didn't just open doors for the models; she also broke down barriers of the blonde beauty.
However, she chose her family over her modeling career and lives with her husband and children.
Family And Career
Born to German mother, Linda and a Pakistani father Moin Ghauri in Montreal, Quebec, she was discovered in 1989 by Montreal hairdresser and artistic director of Platine Coiffure, Edward Zaccharia while working at a McDonald's restaurant. She was the employee of the month at the restaurant at a young age of 17.
She changed the mentality of the fashion industry from Nordic-looking models to more ethnic models. She was so passionate about her modeling career that she defied the objection of her father.
Despite her parent's objection, she actively participated modeling premiere in Milan and Paris before moving to New York in 1990. With her height of 5ft 10 inch and charming facial cut, she was noticed by fashion critics and was also described her runway walk as a "ball-bearing swivel of her hips" by New York Times.
With the perfect body measurements of 34-24-35, she moved to be a top model and broke down the barriers. She gave the first significant cover shots for Elle in 1990. Not long after, she booked magazine covers galore and became the face of Chanel, Jil Sander, Christian Dior, Hermes, Lanvin, Valentino Couture, Versace and Anne Klein.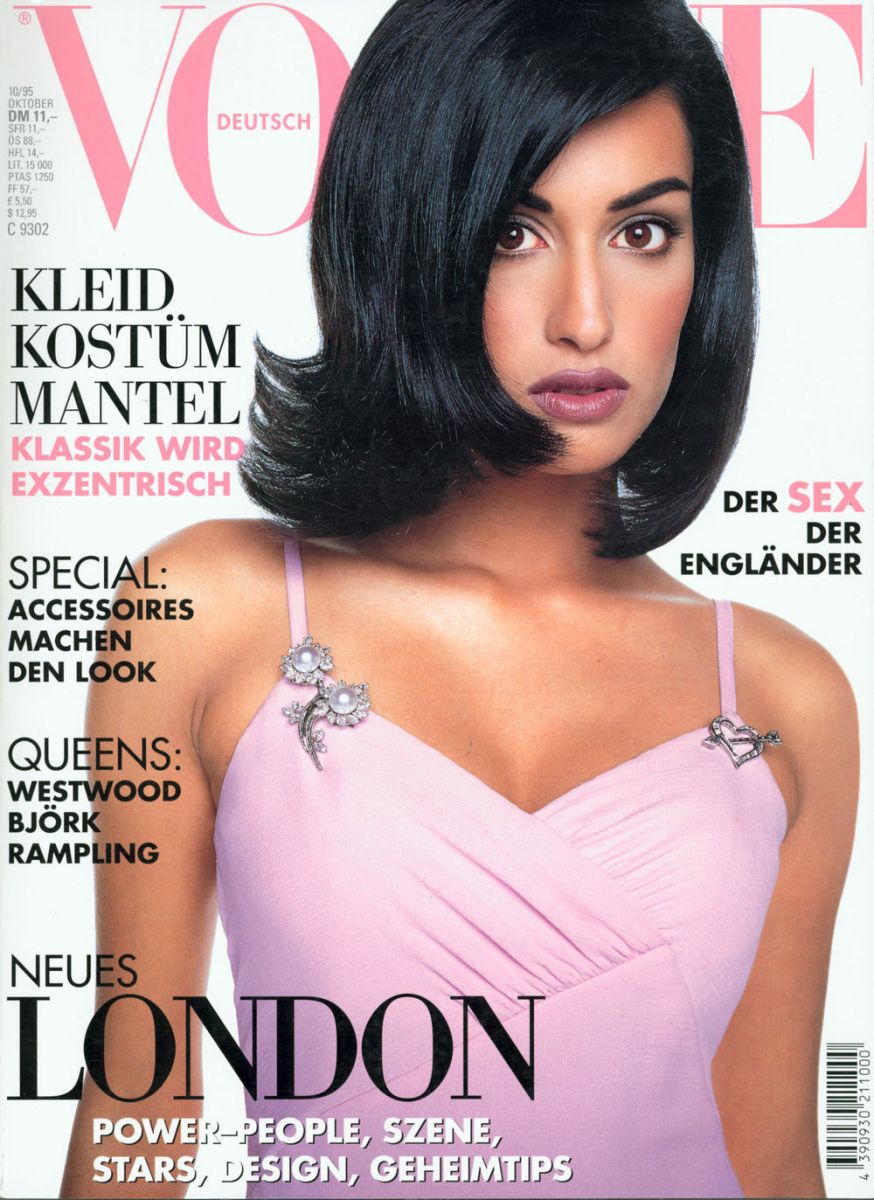 Yasmeen Ghauri's first Vogue cover in April 1992 (Photo: voguegraphy.com)
Since then, Yasmine over-ruled the modeling industry and became the face of many top agencies like Harper's Bazaar, British Vogue editorial. In 1992, she signed the contract with the Victoria's Secret.
With her climbing success in the Modeling industry, Yasmeen, who did not disclose her net worth, retired from her short-famed career in 1997 after skipping Yves Saint Laurent show on the last minute in 1996.
Married Life; Retired From Modeling Career
The Canadian supermodel of South Asian descent officially retired from the runway in 1997 when she became pregnant with her first child, Maia. She got married to the lawyer Ralph Bernstein after the birth of her first child, Maia. She started a happy family with her husband and daughter.
After some years of married life, the couple welcomed their second child, a son named Victor.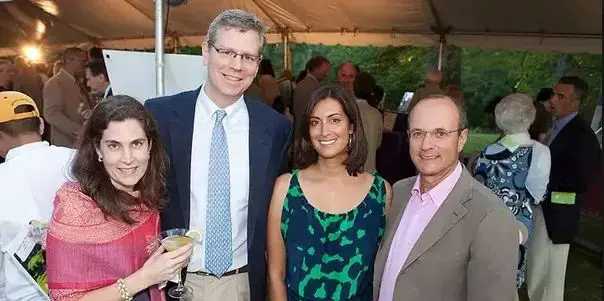 Yasmeen Ghauri with her husband, Ralph Bernstein (on the left) (Photo: Quora.com)
Although many of her fellow models are still active in the industry, Yasmeen has remained out of the limelight and raising her family was her main concern since the mid-nineties after her wedding. After retiring from the fame world, she pursued a degree in business with the advice of her hubby, a law firm executive, and businessman.
Where Is She Now?
Yasmeen Ghauri had ruled over the modeling world during her time. The 90's top model, who pursued the career alongside Yasmeen, is still pursuing the careers in fashion. But Yasmeen moved to the new life leaving the prestigious career behind.
At the start of her career, she defies the disapproval of her parents and chose her passion. But after binding into the marital bond, Yasmeen chose family over fashion. She officially retired from the modeling career back in 1997 to settle her life as a mother, philanthropist, and private citizen.
As of now, she is living happily with her husband, daughter, and son in New York. She spends most of her time with her children being a normal mom and has been working to fundraise for environmental causes and breast cancer research. Also, she is happy to share her incredible journey of modeling with her children.
Yasmeen's presence is still felt on the industry who brought the diversity and stands as a pioneer in the modeling industry.