LifeStyle
Top 10 Attractive Toe Nail Designs For 2016
Just like Tattoo Art and Face Art, Nail art is booming in the world of fashion. Previously girls opted more of face makeover but nowadays their fashion insights are making them head for the nail makeovers. With the approaching summer, every ladies are looking forward to trying out contemporary arts on their cute toe nail with more funky designs.
For the summer of 2017, we are bringing in the most adorable designs for all the girls who can sit back at home and do a little bit of experiment on their toenail without having to pay a hundred bucks to the nail artist.
But before getting started you are required to keep your toenails clean, i.e., a good pedicure for your toe is a must. Similarly, the toenail must be trimmed in a right length so that the design which you make on your nails look perfect and attractive.
The following are the few tricks and tips which would give you a funky and glamorous toenail.
1) Lovely Sea Blue Summer:
With the approaching summer, you would want to have attractive toenails with a decent color. Keeping it in mind, we are guiding you to have a lovely sea blue color with few glitters on your nails. For this, you need a transparent nail paint, sea blue nail paint and silver glitter nail paint.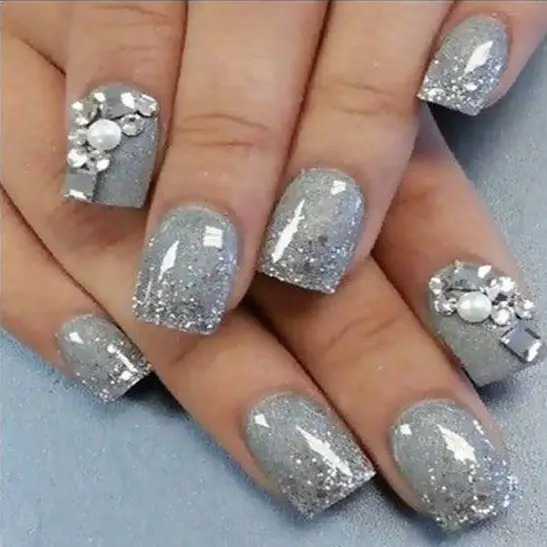 Photo Credit: crazyforus.com
Firstly, put a transparent nail paint on your toenails and allow it to dry. Secondly, go for sea blue nail paint and allow it to settle for a while. Double coat the sea blue color if you want a dark look on your nail and let them dry. After that, add the silver glitter nail paint to the bottom of your toenail for the extended look.
2) Crystal Blue Glittery Design:
Have you ever seen the pictures of an inner ocean? If you have then, you might exactly know how elegant and divine does the oceanic color looks. The same color would look exhilarating on your toenails and make your other girlfriends jealous.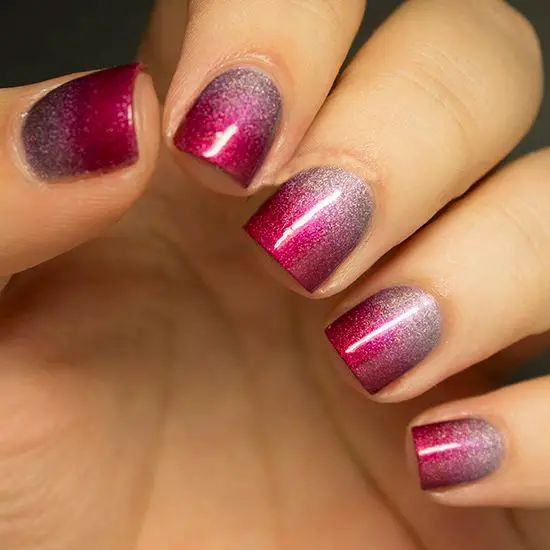 Photo Credit: crazyforus.com
To paint your toenail with the crystal blue glittery design you need a dark blue nail color and small white, pink and blue marbles. Follow the same pattern of putting a nail paint on your toe and simply paste the marbles on your toenail after the nail paint completely dries out with the help of nail glue.
3) Metallic Chick Style:
The metallic nail color gives your nail an elegant look. The metallic effect, i.e., the silver design gives your toenails a stylish look. This method is affordable to your pocket and goes with every outfit you have.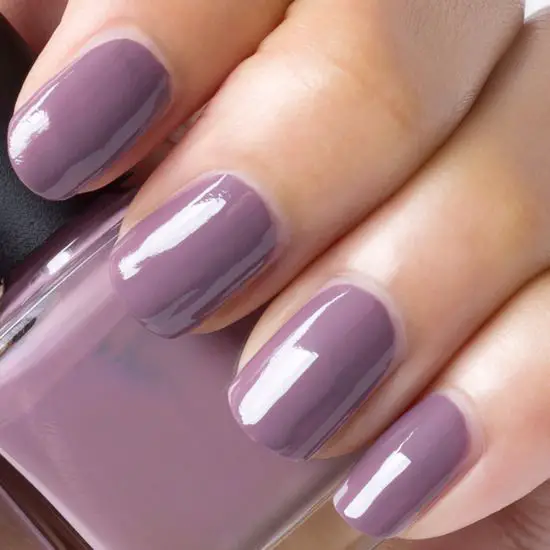 Photo Credit: crazyforus.com
Without any hassle and effort, you can easily get hold of the design as the metallic nail paint is easily available in any of the stores and your nearest Wal-mart.You can even go for gold or copper color for making a style statement of your own.
4) Glittery White Sand:
White and glittery blue give you a perfect blend of your nail art. The white color would depict the color of the beautiful flowing sea while the blue color would make you the picture of the blue sky.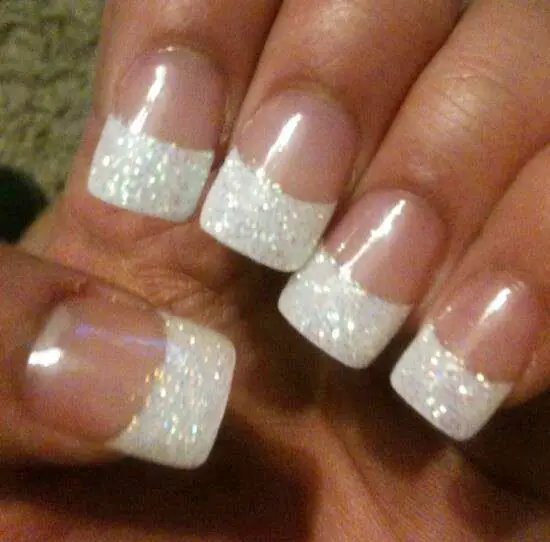 Photo Credit: crazyforus.com
The White enamel color and the blue glittery nail paint is enough to make you get the glittery white sand look on your toenails. Without much effort, one can get this funky design without paying a dime to the nail artist.
5) Crystal Design:
This design gets easily crafted in any color of nail paint like blue, pink or orange. But if you want to have the crystal design in a formal look then you must go for colors which are light and sober.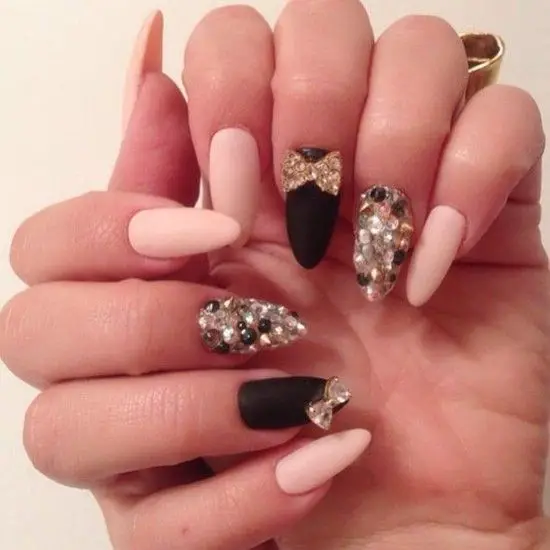 Photo Credit: crazyforus.com
If you pick a sea blue color as your background, then you are recommended to pick marbles of various color. This style is comfortable and convenient, still giving your nails a dazzling look.
6) Go Polka With Blue And Gems:
If you are searching for a few mismatch and few transfusion with color, then the polka and gem's combination would do wonders on your toenails.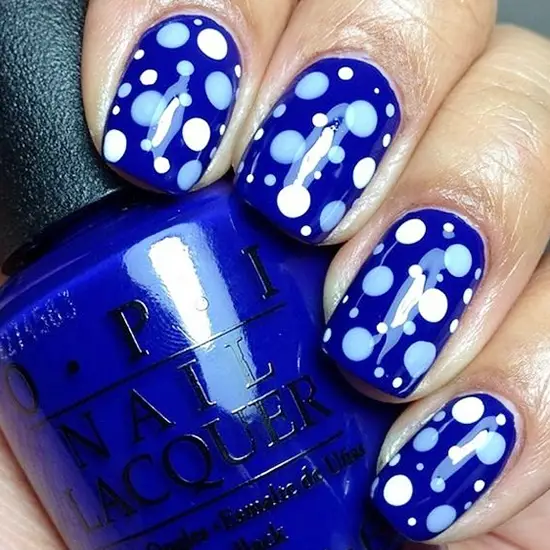 Photo Credit: beautifieddesigns.com
With blue and light blue nail paint you can easily go with the polka dot style, and with golden glitter, you can add glamor to your style. The fusion would look good and give you your fashion statement.
7) Black Matte With Golden Glitter:
The combination would look good especially for clubbing and night out parties. The black matte nail paint would somewhat give a rough look on your toenails, but when golden glitter is applied, then it would give a classy design.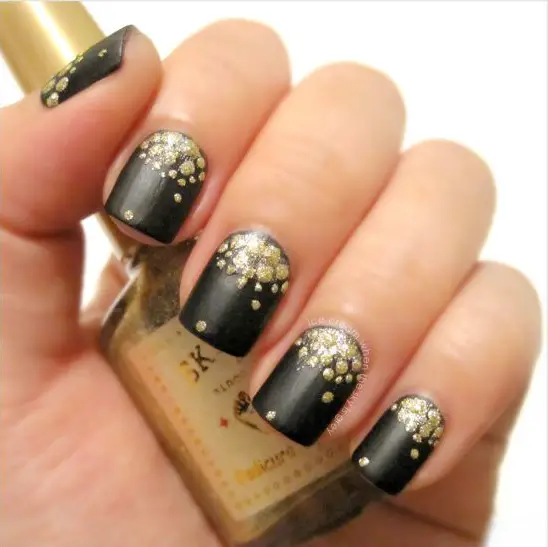 Photo Credit: beautifieddesigns.com
To get this design you don't need to go to any nail artist or professionals.You can quickly go to your nearest supermarket, pick the nail paint, go home, see the design and get it done by yourself.
8) The Zebra Design:
Few people get acquainted by the strips of zebra. They even go crazy and opt for outfits and shoes with zebra strips. Besides the shoes and clothes, one can also make the design on their toenails with any background color.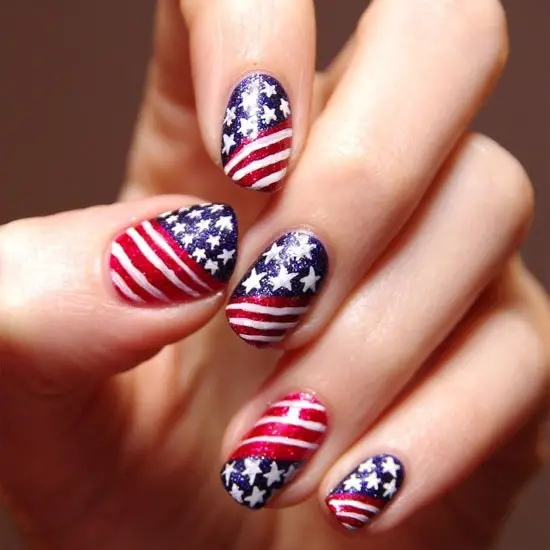 Photo Credit: bintle.com
Be it blue, red or white one can easily make the design. If you are a bit experimental, then you can go for the glittery strip. The design gets easily made with free nail paint, and a black nail color is needed t to make the piece in the background.
9) The Spring Design:
With the welcoming summer, few can also go for the spring design for their toenails. The Green and a white combination would give you a refreshing look which can be a new fashion in your town for its vibrant color.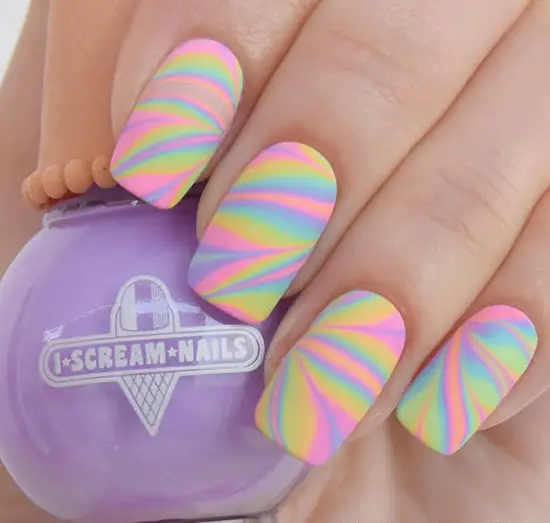 Photo Credit: crazyforus.com
To make the design, you will need a green and white nail paint with a flower sticker to make flowers. It even gives you a light look for the summer season and can even add life in the dark winter season.
10) The Fusion Design:
If you are bored with your everyday nail paint, then the fusion model would be best for you. To make the design, you need various nail colors to put on your toenails.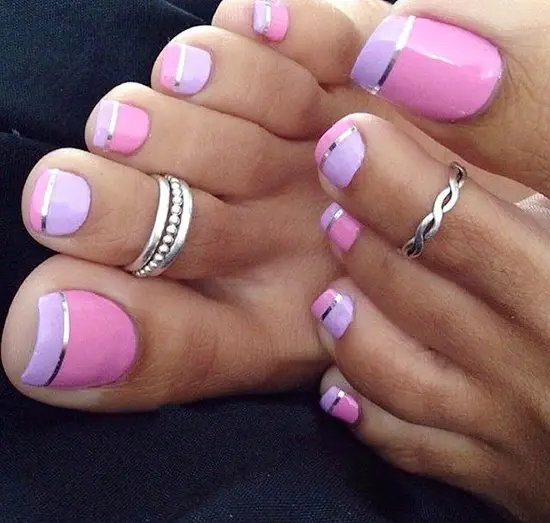 Photo Credit: prettydesigns.com
You have the option to repeat the color either; you can set the different color in each of your nails. The fusion style can compliment you best in your girly look rather than in professional or clubbing look. The style is easy to create as it is done with the available nail paints due to which it is extremely pocket-friendly.
With the ten given designs, you can choose any one you like or even try all the ten models one by one according to the occasion and as per your desire. The above design would refrain one from spending a hefty amount of cash on the professional artist as you can buy dozens of nail paints and stickers to create your nail art for your toenails.