News
The Curse Strikes Again! Strictly Come Dancing's Winner Joanne Clifton Splits from her Boyfriend Joe Edward-Bader
The curse may have shown that it still exists as it has allegedly affected Joanne Clifton's loving relationship with boyfriend Joe Edward-Bader. News rolled all over the media that the couple has split recently and that the curse took its toll over the couple after Joanne's victory in Strictly Come Dancing.
Over the years, many relationships have ended after they put their best feet forward in the Strictly Come Dancing, and Joanne Clifton and her boyfriend Joe Edward-Bader's name's now added to the list. The couple split just after eight months of dating affair, that was once a close-knit relationship.
"Joanne is absolutely smitten with Joseph, and the pair have been inseparable ever since they started dating in June."
The split left the couple's loved ones and family in a shock, as an insider revealed,
"The relationship broke down, and everyone's a bit in shock. She's taken it really badly and is struggling at the moment."
Joanne was boomingly dating Joe-Edward-Bader throughout her Strictly journey and as the sources claim, they both were inseparable.
"They were inseparable ever since they started dating last June and continued their relationship throughout Strictly."
The source expressed their sadness,
"It's a real shame because Jo was really happy – especially after beating her brother Kevin in this year's final."
Her fans got hints of their split on Valentine's day when Joanne shared a tweet that is not available anymore, completed with the caption: #valentinesday #goaway'.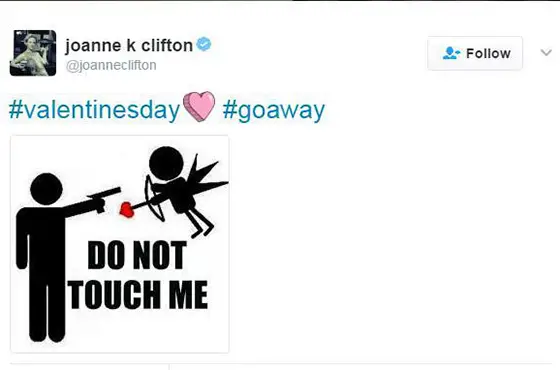 Caption: Joanne Clifton's tweet on Valentine's day.
Photo Credit: thesun.co.uk
However, Joe Edward-Bader, who was already imagined to be Joanne's future husband by a majority of fans has not made any comments regarding the hype. The Strictly show and its curse have affected other rock solid couples as the effect was first noticed in 2004 when Brendan Cole split from his partner Camilla Dallerup followed by Rachel Riley's split with husband of 15 months.
We urge the couple to remain strong in this hard time.