News
One Up for Love! American Idol's Finalist Pia Toscano is Married to her Boyfriend Jimmy R.O. Smith
Right after the New Year celebration American Idol finalist Pia Toscano got hitched to her long-term and dancer boyfriend Jimmy R.O. Smith. On January 7, 2017, the couple tied a knot in the vigilance of close family and friends at the Metropolitan Building in Long Island, New York.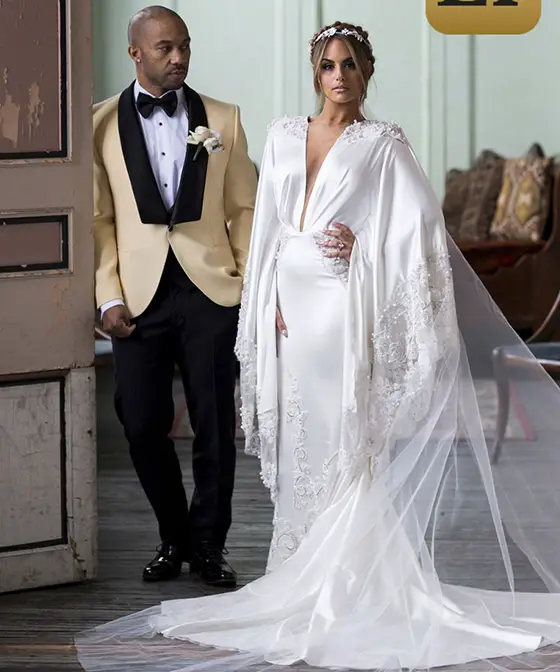 Caption: Pia Toscano gets hitched with Jimmy R.O.Smith (2017).
Photo Credit:etonline.com
Toscano expressed her excitement on the occasion of wedding. She said:
"I've dreamed of this magical day since I was 4-years-old, and I hoped to find my King. Today, all of my childhood dreams come true; I am marrying the absolute love of my life in front of my closest family and friends. I couldn't be happier!"
Through her Twitter account. Pia announced getting married to her best friend, Jimmy.
From the announcement on Twitter her fan followings and well wishers down poured her with good wishes and congratulations for her wedding.
Pia and Jimmy before landing in the " I do" ceremony had met on a promo tour of the Jennifer Lopez album A.K.A, exactly two years before getting engaged in January 2016. The engagement was announced and confirmed by Toscano at the opening of Planet Hollywood in Vegas, while Toscano uploaded a cozy picture with Jimmy flaunting her ring last year.
While confronting, Toscano thanked J Lo for bestowing happiness on her life and gave a handful of credit for bringing in Smith in her life. She said:
"I met my fiance through Jennifer. We met on the promo tour for Lopez's album, A.K.A. almost two years ago. Jennifer's brought a lot into my life."
From the 11th season of American Idol, Pia raised her career as a singer by enlisting herself as the top 10 singers. Though she got eliminated from the competition she received a major break through as a singer and writer where she gave major hits like "Wrecking Ball," "I Don't Believe It," "Renegades," "Pyro and "You'll Be King."