News
KTLA Anchor Chris Burrous Dies! What Is Death Cause At Age 43
KTLA 5 Morning News anchor, Chris Burrous dies at the age of 43!
KABC, a TV station based in Los Angeles reported that on 1:43 pm, Glendale Police had received an anonymous call which informed about a man not breathing.
The caller revealed that the two men were together at the Days Inn and the man was later found unconscious at the motel room. When firefighters arrived at the scene, they found a man in need of medical assistance, who was later identified as Chris Burrous.
CPR was immediately administered to him, but Chris was declared dead on arrival at the hospital.
More Death News:- Stephen Hillenburg, Spongebob Creator Dies; Cause Of Death At Age 57
Authorities mentioned that the cause of Chris' death is currently under investigation but has been suspected as a possible drug or alcohol overdose. However, detectives will be waiting for the Los Angeles County coroner's office report before jumping to conclusions.
The police have not released details of the room where Chris was first found and nor have shared anything about the man who made the phone call and was together with the reporter.
Authorities did not release details about what paraphernalia was found inside the motel room, nor did they elaborate on the relationship of the man who was with Burrous when he was discovered.
KTLA President/General Manager Don Corsini along with Lews Director Jason Ball issued a joint statement on Thursday night informing the viewers of Chris' demise,
"Our thoughts and prayers go out to the Burrous family. Chris loved sharing the stories of Southern California and connecting with our viewers. He will be remembered as a great journalist and a wonderful friend to many. He brought a kindness to his work and will be deeply missed by the entire KTLA family."
Chris Burrous, who joined KTLA in 2011, previously worked for several news stations across the US for 14 years as a reporter and anchor. He was raised in a family which consisted of his farmer and NASA engineer parents.
Chris, who has a degree from Chapman University in Broadcast Journalism, first met his wife Mai Do-Burrous while working for KGET in Bakersfield. He was working as a morning news anchor when he encountered Mai, who was a fellow journalist.
See Also:- Forest Whitaker, Divorce From Wife Of 22 Years! Relationship Falls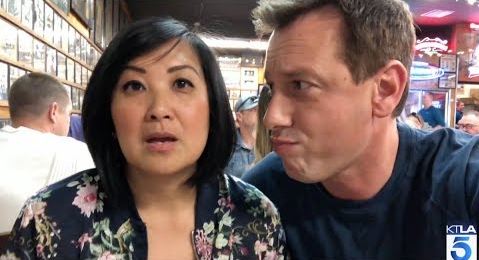 Chris Burrous with wife Mai Do-Burrous at Luigi's in Bakersfield (Photo: YouTube.com)
The pair later wed in 2003 after dating for nearly four years. Chris and his wife even parents a nine years old daughter named Isabella.
And after the untimely demise of the reporter, GoFundMe fundraiser helped the bereaved family by raising the fund of more than $75,000. Importantly, the Big Bang Theory star Kunal Nayyar made the largest donation of worth $5,000.