News
Marcela Valladolid's Engaged to her Boyfriend, Was Waiting for Daughter's Arrival to get Married?
Various reasons stop a couple who share a boyfriend and girlfriend relationship from getting married. Sometimes, they are just not ready for such commitments, and others are just working on it, but for Marcela Valladolid, the case is something else. It seems like having a satisfying number of kids is what held her back from getting married.
Marcela Valladolid welcomed her daughter, Anna Carina Button-Valladolid on December 5, 2016, with fiancé Philip Button.
The birth of her third kid was reported by a representative but later, Marcela herself took a picture of the little angel to Instagram with a sweet caption that explained how she and her boyfriend turned fiancé loved their baby girl.
While being pregnant with her daughter, Marcela revealed the struggle of balancing motherhood and professional life. She explained how her mother was a housewife who was always there for her and being a mother with a busy professional life, Marcela worries about her kids.
"I remember that, even though I grew up in a different culture, leaving to find my way and build a career (while uncommon at that time and incredibly hard) was an important step for me and for my family."
Marcela continued,
"I'm trying to build something here — not just for me, but for them. Not just for financial security, but so they are able to see the results of hard work. It takes a lot of self-work on guilt (as well as the support and kind words of the world's most fabulous man at my side) to walk myself off of the ledge when I'm having a challenging moment … and yes, sometimes I just want to walk away from the universe and stay home, roast a chicken, and put my babies to bed. But I carry on."
Rest of the family!
Marcela already has two big brothers; Fausto 12, and David, 20 months old for her newly arrived baby daughter. Her second child David was born on April 9, 2015, with her then boyfriend, who later turned fiancé Philip Button. Meanwhile, any other information regarding her first child Fausto is missing. The 38 years old has not bothered to reveal the little guy's birthday.
Boyfriend and Affairs!
The still hot looking Marcela may be settled with a family of five with three beautiful kids and a loving fiancé who is yet to become her husband. However, before everything became this okay, Marcela had quite the unstable love life.
Marcela was previously married to a politician named Fausto Gallard with whom she had her first child Fausto Gallardo. However, the married life lasted about a year and the couple separated in 2013, after remarrying in 2012.
Marcela and Fausto were together since childhood, but their marriage came to an end just when Marcela's closeness began increasing with her co-star Paul Hollywood whom Marcela referred as a 'handsome devil' who left his marital home after the split.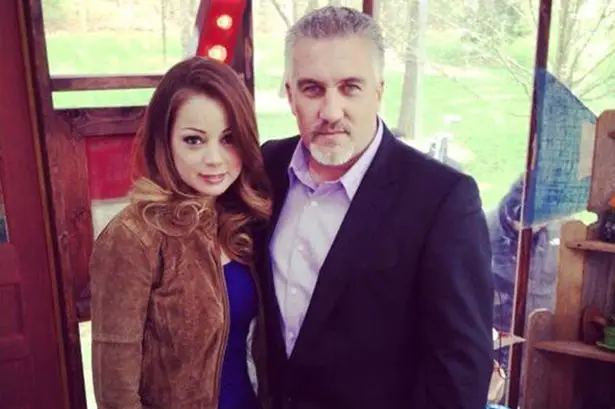 Caption: Marcela Valladolid with ex-boyfriend Paul Hollywood in 2013.
Photo Credit: mirror.co.uk
Marcela's married live with her husband Fausto came to an end just a couple of days after Paul announced his split with his wife Alexandra to whom he was married for 15 years. As Marcela revealed before about her rocky period with husband and a source added,
"Some of the family knew they had been through a rocky period, but we thought that was past. They have kept it very quiet, and that may be for his and her career. They are both very driven people."
The source added,
"Her family were excited that this TV show was going to be her big break. But it's just been the break-up of her marriage."
Dating rumor turned true!
Just months after both Marcela and Paul announced their split with their respective partners, Paul revealed that the dating rumors of him and Marcela were all true and that having an affair with Marcela was the biggest mistake of his life because of the love he had for his wife with whom he shares a son.
"I did have an affair in America with my co-judge and it was the biggest mistake of my life because actually I still love my wife."
Paul ended his affair with Marcela and started working on his broken marriage and meanwhile did not thought to talk about the affair as a big deal while asking for privacy.
"I don't mind talking about it now, because I am asking the press to give us privacy because that's exactly what we need at the moment.'
Paul has now reconciled with wife and is living with their son and similarly, Marcela is also enjoying her life with a family of five. When Marcela and her fiancé Philip have decided to get married is not revealed, but we hope the day when both will exchange their vows at the altar is not far.
Marcela Valladolid is famous for appearing in 'The Kitchen' as a co-host, she is recognized for her work in Mexican Made Easy, The View, The Price Is Right and The Talk. Even after having an extensive career in cooking competitions and series, Marcela has not disclosed her net worth to the media. After joining The Kitchen cast in 2014, she has been regular with the show and will continue to do so in 2017.