News
Charming Singer Cody Simpson Back to Dating Again? Well, Who's His Girlfriend Now?
We don't always see a celeb staying single for a long time; especially musicians who travel a lot for their tour related stuff now and then. And Cody Simpson is no exception. After going through a breakup, Cody seems to be back in the dating game with his new girlfriend. Well, what are you waiting for? Scroll your down to know it all.
Cody Simpson, who once said that he will always love his ex-girlfriend Gigi Hadid after they ended their dating in 2015, has already found someone to love, who as tabloids claim looks a lot like Gigi. After the breakup Gigi is currently dating the former One Direction bandmate, Zayn Malik.
Cody Simpson is now dating the Santa Barbara massacre survivor, Sierra Swartz, who is also a model from California. The couple stepped out in public in Malibu at the Malibu Guitar Festival earlier this year where Cody had a performance as well.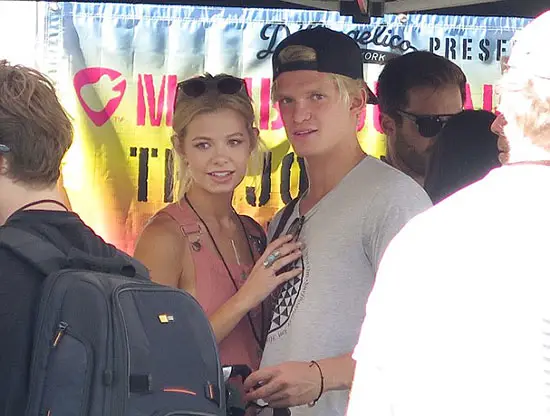 Caption: Cody Simpson with girlfriend Sierra Swartz at the Malibu Guitar Festival.
Source: dailymail.co.uk
After that, they were again seen together at the West Hollywood nightclub partying till early hours. It is believed that the couple met at an event some months ago and has been dating since.
On her experience on surviving the Santa Barbara massacre she said,
'The fact that I could feel the wind pass through my face [from the shot] I didn't even know that could happen with a gunshot.'
She did survive the fatal incident which left six people dead and many injured. It sure looks like Cody's girlfriend was meant to pass that incident to be with her beau.
Currently, Cody is focusing on his new band Coast House which led him to reject the offer to judge The X Factor. After revealing this news to the media, Cody took a picture of his shirtless body to Instagram, chilling by the pool with a stunning view behind him.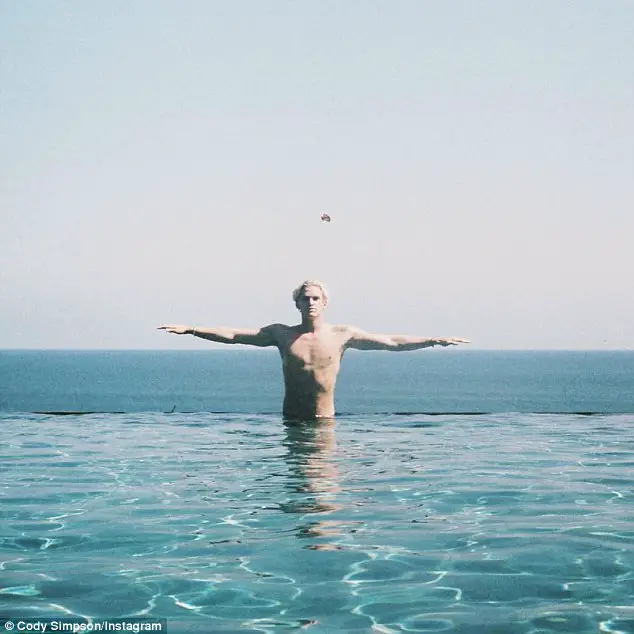 Caption: Cody Simpson's picture of his shirtless body in a pool in August this year
Cody's and his Siblings
Apart from his career, Cody Simpson also has time to spend with his family; siblings to be exact which include a brother Tom and younger sister Alli Simpson.
Alli is a versatile personality with possessions of talents like a musician, television/radio presenter, fashion blogging and acting. The two were seen together holding the Coca-Cola Olympic Torch representing their country at the Olympics held in Rio de Janerio, Brazil.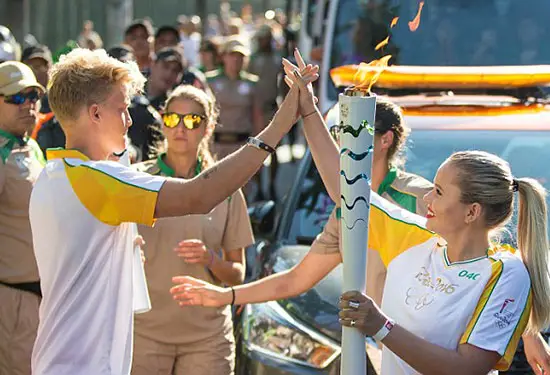 Caption: Cody Simpson with sibling Alli holding the Coca-Cola Olympic Torch at Rio Summer Olympic in Brazil.
Source: dailymail.co.uk (2)
However, he is currently on tour and has concerts in Mexico due January of 2017. The 19 years old Cody Simpson was famous on the internet with his cover songs which led him to sign with Atlantic Records at just the age of 12 years old. He currently has a net worth of $4.5 million dollars and is focused on expanding his musical career.