Sports
Adam Gemili's Weird Ethnicity to Be a Sprinter: Taking a Leap Through Influencing Parents
This British sprinter is just 23 years old but is already a star in making. Gemili's rise to Olympic stature is pretty extraordinary, but there are lots of hard work involved in it as well. Gemili was announced as Britain's most exciting sprint prospect in years. It is no wonder that the British public has got behind the sprinter from Dartford, Kent.
Weird Ethnicity but influenced by parents!
But his support and his heritage stretch very far and beyond British shores. The son of an Iranian mother and Moroccan father, though he is touched and amazed to find himself being the darling of the Moroccan and Iranian press and also has received good luck wishes from across the next corner of the world, the Arab world.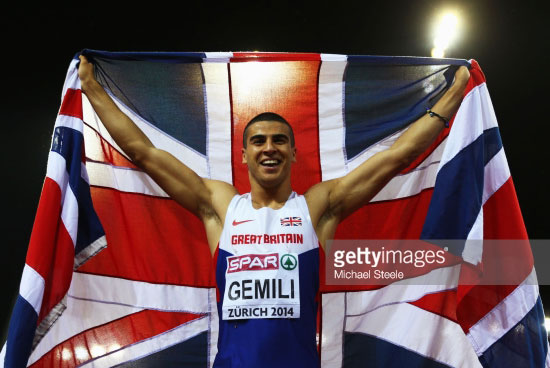 Caption: Adam Gemili of Great Britain and Northern Ireland celebrates winning gold at Stadium Letzigrund on August 15, 2014, in Zurich, Switzerland.
Source: gettyImage.com
Gemili's mother, Sacha spoke exclusively to The National and said:
"Adam is proud to be British and there was never any doubt in his mind that he would run for Team GB. But he is also extremely proud of his Arabic heritage and to be half Iranian, half Moroccan.
she further added;
"He's had the influence of those backgrounds and we've always encouraged that. We're all really touched by the support that has come from Iran and Morocco. We even had someone call the office of the Emir of Kuwait and wish him well.
"He's running for Britain but he said to me, 'Mum I'm really proud of our background'."
Gemili's gift became known to people of Britain in 2010 when he turned up at the English Schools Athletics Championships. He had no spikes and no real training, but came second in the 100m, running 10.99 seconds. Quite a raw talent.
Gemili said recalling the race:
"Everyone in the Kent team used to tease me about wearing trainers and I remember people looking at me before the race, doing my football warm-ups on the side of the track. About 10 minutes before the race, one of the coaches took me to the side and taught me how to get out of the blocks properly."
Gemili's mother has also spoken about their weird ethnicity and influenced to the thenational.ae on 2012, she said;
"Adam's father is an Arab and Muslim by religion who came to this country and achieved. Our family shows that if you put in the hard work you can achieve,"
Sacha also adds how their family background was and what made them so grounded. She said;
"Our family is so diverse but has the values from all our different heritages. I think the Arabic heritage places such importance on family and the support of family.
"If Adam makes it to the final it will be wonderful because all the boys and girls in the western world and the Arabic world will be able to look at him and say, 'maybe I can do that'."
Adam Gemili's Short Bio:
Adam Gemili (born on 6 October 1993) is a British sprinter and athlete. He is the European champion at 200 meters in 2014, and also a champion in 4 x 100-meter relay, a silver medalist in the 100 meters and 4 x 100 meters relay at the 2014 Commonwealth Games.
He is a former World Junior champion at 100 meters race and also a European Under-23 champion at 100 meters and 4 x 100-meter relay. He recently competed for 200 m event in 2016 Rio Olympics alongside Yohan Blake and Andre De Grasse.