Sports
Yohan Blake: Second Fastest Man Couldn't Make It in Rio. Still Dating With Girlfriend Ashley Bent?
Legendary Jamaican racer Usain Bolt had bagged his first gold in 2016 Rio Olympics winning the 100 meters. On the other hand, it hadn't been quite remarkable Olympics for fellow racer beast Yohan Blake. He had finished fourth in the 100m Olympics game.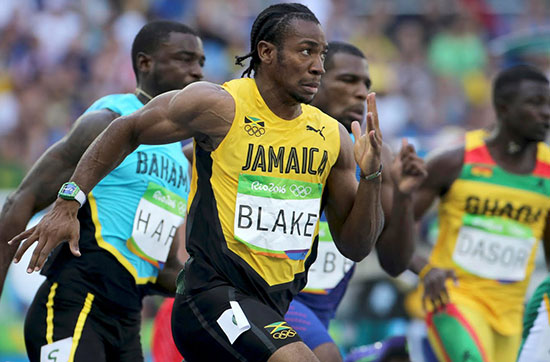 Caption: Blake in Rio Olympics 2016
Source: quillandpad.com 
He did his best in Rio in 100 meters but wasn't enough in front of Bolt who finished first. He had ranked 6th in the first round in 100m and secured 2nd place in semifinals of Men 100m completing the game in 10.01 second. But Blake improved his record in finals finishing the track in 9.93s. The result landed him 4th place in finals with Usain Bolt finishing in 9.81 seconds.
The 2012 London Olympic silver medalist, Yohan Blake produced an accomplished piece of sprinting to claim fourth in 9.93 seconds, his fastest 100m time for four years since London Olympics in 2012.
Can Blake win Gold in Rio?
Four years before, Blake had captivated audiences at the London Olympics. Just 22 during London Olympics, he held the fastest 100-meter time in the world that year and was one of the favorite to win. But he didn't. Blake came in second in the 100-meter final and the 200-meter final, four days later that event. His one and only gold medal of London Olympics 2012 was in the Jamaican Men's 100-meter relay. 
And then came Rio Olympics and Blake had every reason to believe in. He was so focused on his training to make his dream come true.
"I believe if I'm sleeping, there is this next guy is working harder than me," Blake said ahead of the Rio Olympics.
In July 2014,  a tough routine left Blake's leg failing in the most horrific way due to his injury in his thigh. Blake said.
"That pain was devastating. It pained me so much, man. Couldn't even imagine."
Is he still Dating his Girlfriend, Ashley Bent?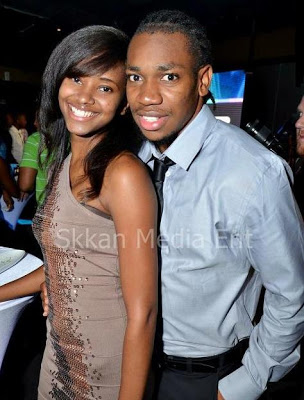 Caption: Blake and his then-girlfriend Ashley Bent back in 2012.
Source: tallawahmagazine.com
Beast Blake was in a relationship with Ashley Bent. Blake – who won a couple of Olympic silver medals in 2012, started dating Ashley Bent during that period. A few sources have confided to TALLAWAH that the 22-year-old sprinter and Ashley Bent turned into an inseparable pair after they became close before his departure for the London Summer Games in 2012.
We do not know if they have already separated, but Blake is said to be single now. 
Salary and Net Worth:
Yohan Blake is best known as one of the most successful sprinters in the sports industry and the second fastest man on the planet. According to celebritynetworth.com, Yohan Blake current net worth (estimated) is $5 million. Yohan Blake was one of the strongest competitors in 100 and 200 meters sprint races competing in Rio.
He has achieved quite a success that also increased his popularity and added a lot of financial success. For instance, he recently bagged a gold medal in Rio, this time for Men's 4*100 m Relay.
Nevertheless, Yohan Blake has recently paid the Jamaica Government $52 million (Jamaican dollar) for a property, newly-acquired house at 11 Jack's Hill Road in St Andrew.
Yohan Blake's Short Bio: 
Yohan Blake (born 26 December 1989), is a Jamaican sprinter of the 100-metre and 200-metre sprint races and also a national player for Jamaica. He won gold in the 100 m at the 2011 world championships being the youngest 100 m world champion ever.
He has also won a silver medal at the 2012 Olympic Games in London in the 100 m and 200 m races. Blake has also been named as the second fastest man in the world after Usain Bolt.