Sports
Adrian Gonzalez Injury Affecting His Stats And Trade-Through Which He Came In; Still Has A Year Long Contract At Hands
The longtime Los Angeles Dodgers' first baseman, Adrian Gonzalez seems to be struggling with his back pain these days. He's certainly not having good stats, and the trading which made him the part of the Dodgers is in threat. Dodgers have positioned him in the disabled list, and the star is under the proper medication for now after the serious injury.
To What Extent Are Adrian's Stats Affected?
Back in 2012, The Los Angeles Dodgers made the largest trade in nine-player trade signing Adrian Gonzalez along with Carl Crawford and Josh Beckett with more than quarter of a billion dollars as salary. In return, the team sent James Loney and other minor leaguers to Boston. According to NBA star Magic Johnson who was the then owner of the Dodgers, the trade was done to win the hearts of fans and undoubtedly, the games. His words copy as:
"We did this for our fans. We want to win now. When you bring in the type of players that we've brought in, it sends a message to our fans that we want to win. Our players are extremely happy."
The team came up strongly, and victories started knocking them frequently. Well, there are no doubts in the excellence the team possesses and its potential, but recently, it went through a significant loss with the injury of its first baseman Adrian Gonzalez who is now part of the disabled list.
It's not the first case Adrian is facing health disaster; he had already suffered elbow, forearm, triceps and back injuries before. With a back injury again, he was called back from the match on June 11 and is now the part of Dodgers DL. The performer has been facing a worse season with his ongoing injury and is batting .255 with one home run in 49 games. His .339 slow performance ranks him at the 108th position among the 114 National League players with at least 150 plate appearances.
The year 2016 was something different for Adrian where he had a better performance which looked like .285/.349/.435 hittings in 633 plate appearances in over 156 games. Let's have a look at the overall career stats of Adrian: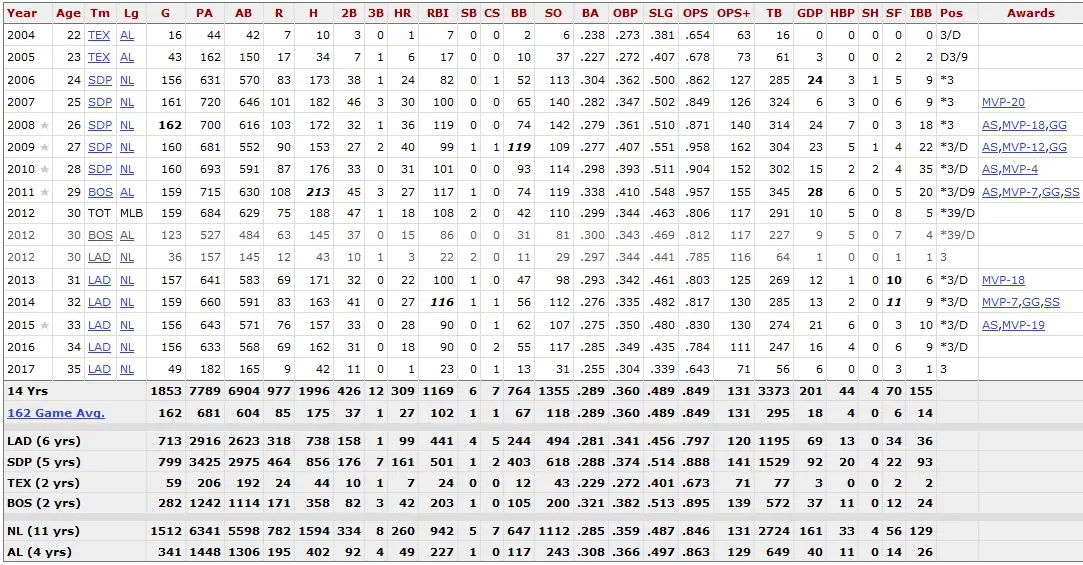 Caption: Adrian overall stats as per Baseball Reference.
Photo Credit: Self/Liverampup
The Boston Red Sox signed a contract with Adrian in 2011 with an impressive amount of $154 million, according to which he got a salary of $21 million for first five years annually and for the years 2017 and 2018, the amount increases to $21.5 million. While the contract persists, Adrian's health is a major concern for everybody and Cody Bellinger, who is another star of Dodgers, is currently in the first baseman position.
Family Life Of Adrian:
Adrian's family comprises limited members of four: the couple and its two daughters. The wife of the star, Betsy Gonzalez appears in several matches with the daughters to support her husband.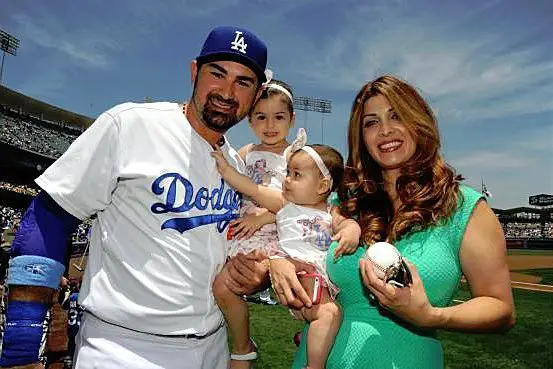 Caption: The lovely family of Adrian during a match.
Photo Credit: fabwags.com
Apart from games and fields, the couple makes their presence in other places too, and they like to take pictures of them to their Twitter and Instagram accounts.
Adrian also managed to post a beautiful picture of his wife with few love words dedicated to her.
Not to be forgotten, Adrian is not only the baseball player from his family, but he has an elder brother named Edgar Gonzalez who is also having the same career and has played MLB as well as NPB for Yomiuri Giants. Well, this is not all, but their father was also a member of Mexican national baseball team.
The family of Adrian now owes a beautiful house which he bought the Rancho Santa Fe estate of former player Bret Boone for $6.3 million.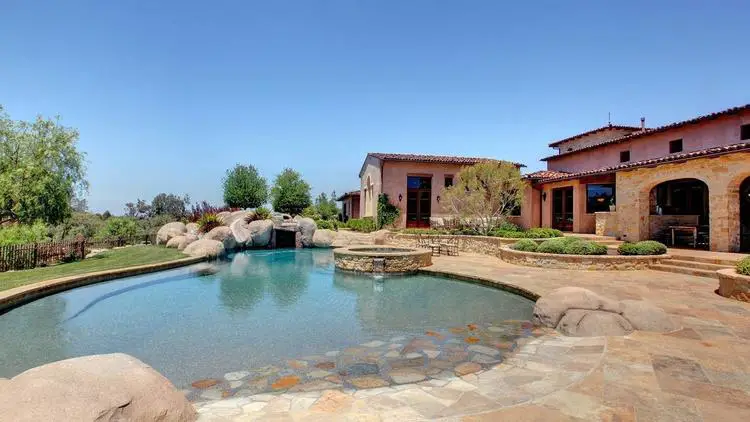 Caption: Adrian's 12,500 square feet house worth $6.3 million.
Photo Credit: latimes.com
The house lies on more than two acres of land in a gated community. It is a Tuscan-style home with 12,500 square feet coverage and consisting of seven bedrooms and nine bathrooms. A guest house is detached with the house which has a kitchen and a bedroom inside it.