LifeStyle
Here's Makeup Brushes List, Their Use and How To Store Them and How To Wash Them - Bet You Never Knew These
Here's Makeup Brushes List, Their Use and How To Store Them and How To Wash Them - Bet You Never Knew These. There is a whole list of things you need to know about these tools. Today we will be breaking down all the tips in depth; starting from how to use them till how to wash them and how to store them. And stick till the end for recommendations on the best makeup brushes on the market!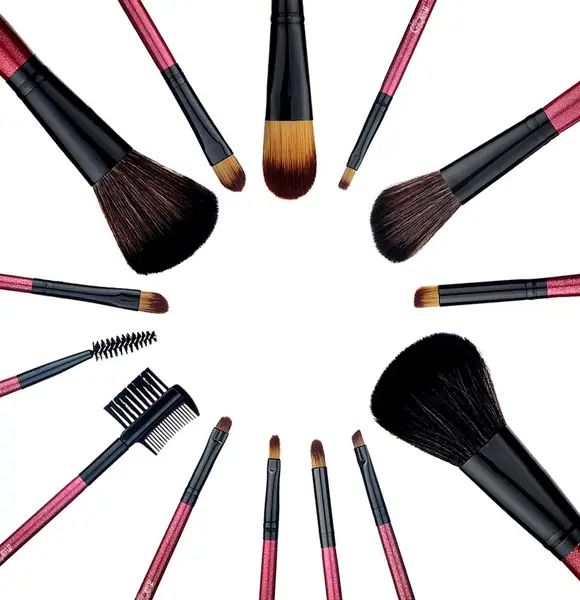 Are you wondering why your makeup is not on point despite following every step of your favorite makeup guru? The answer might be your makeup brushes!
Just like an artist uses painting brushes, makeup brushes are used to create the masterpiece on your beautiful face. No wonder brushes play a vital role!
However, there is a whole list of things you need to know about these tools. Today we will be breaking down all the tips in depth; starting from how to use them till how to wash them and how to store them. Stick till the end for recommendations on the best makeup brushes on the market!
Makeup Brushes: How to Use Them Correctly
How you use your makeup brushes makes a world of a difference! 
It is beneficial to learn how to handle them properly to reveal their stunning effect. So, to ease your confusion, here are some guidelines on how to use these incredible tools.
Let's start with the essentials for the base!
These consist of brushes that perfect your base makeup, like Foundation brush/sponge, brushes for concealer, powder, blush, contour, and highlighter. Let's review them in depth and their right purposes!
1. Foundation brush/Sponge (Beauty Blender)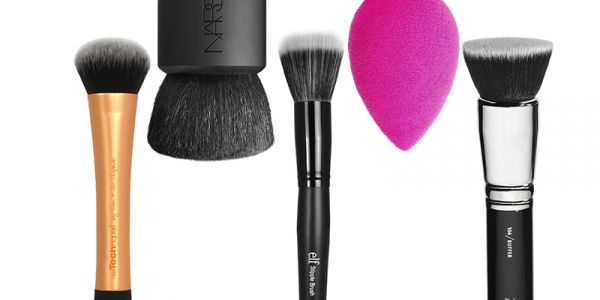 Caption: Foundation brushes and sponges are essential to make your foundation look very natural and seamless. 
Photo Credit: Cosmopolitan 
It is essential to focus more on your base than your eyes or lips. While grabbing a foundation brush to apply, do not pour the product on the brush directly.
Instead, dot foundation on your face evenly and blend with a dabbing motion.
However, do not use the blender dry and straight from the package. Dampen the sponge first for smooth application.  
Don't miss out more tips and ideas to apply foundation on your face!
2. Concealer Brush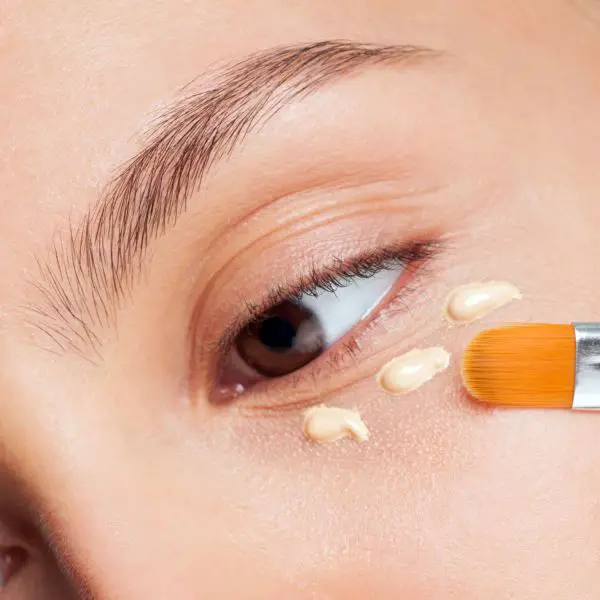 Caption: A concealer brush helps to cover your blemishes and acnes smoothly. 
Photo Credit: femside.com 
Concealer is of a thick consistency, and it is beneficial to use a specific concealer brush for its purpose. Do not coat the brush directly in the concealer. But apply a bit on the back of your hand and apply it making dots under your eyes and areas where you think you might need it. 
 3. Powder Brush 
Natural bristled brushes pick up loose particles better and give you a smooth finish than synthetic ones. Dip the powder brush, then tap off the excess powder; otherwise, you will have a cakey-looking face.
Gently apply the brush in light circular motion in the natural contours of your face, focusing mainly on the T-zone and oily areas.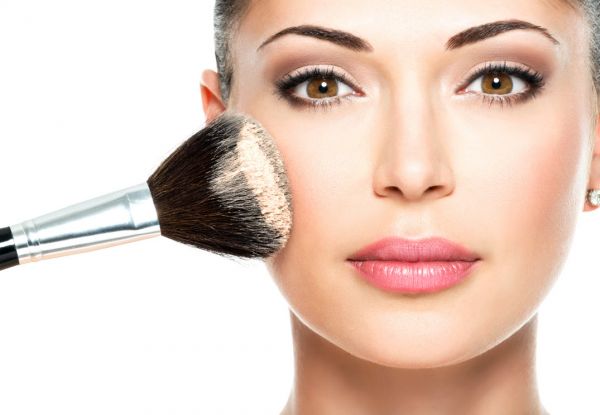 Caption: Brushes with natural bristles give you the best finish. 
Photo Credit: pinterest.com 
4. Blush brush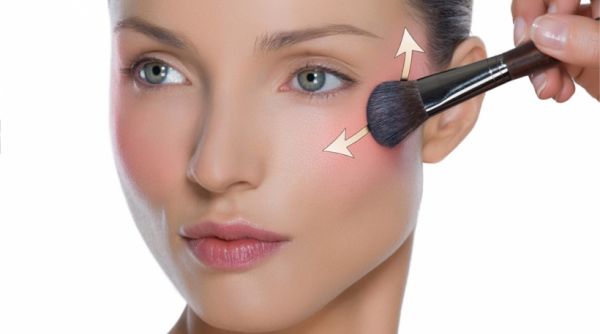 Caption: Blush helps you look fresh. 
Photo Credit:: Makeupforever.com 
With some blush on the brush, apply the product on the top of your cheekbones with very light pressure for a younger and fresh look. 
5. Contour brush and highlighter brush
A contour brush and a highlighter brush go hand in hand. Apply the contour brush lightly on the hollows of your cheeks, the sides of your nose, the temples and beneath the jawline to shade and deepen the area.
Then with the highlighter brush, apply the highlighter on the top of your cheekbones, bridge of your nose, cupid's bow, inner corners of your eyes and basically, the highest points of your face.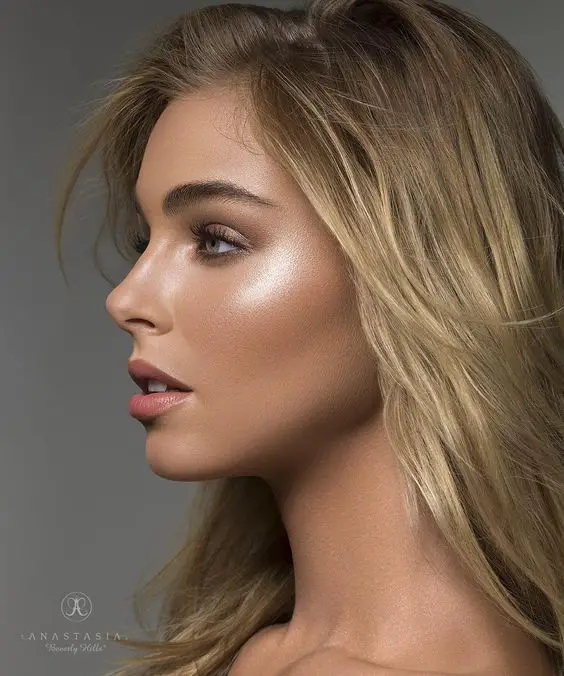 Caption: Apply contour and highlight to the right areas of your face for a natural defined look. 
Photo Credit: Pininterest.com 
Now let's move on to the brushes for our eyes, brows, and lips. There are many types of brushes, but there are few things to remember.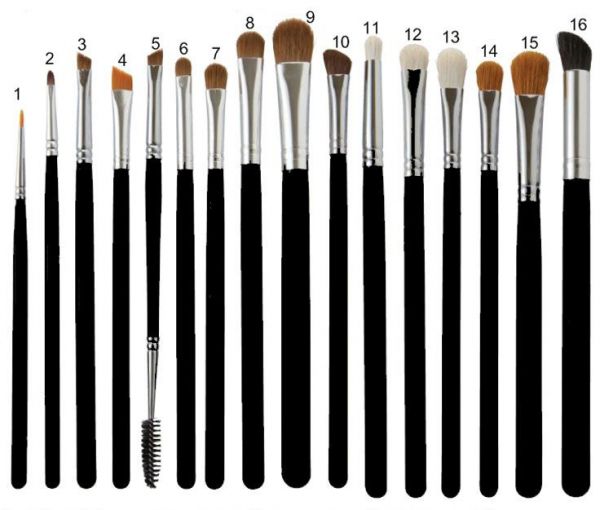 Caption: Eyeshadow brushes help you achieve perfect eye makeup look. 
Photo Source: Pinterest.com
1. Always start the eye makeup with a medium sized shader brush with window-wiper motion. 
2. After you have applied the eyeshadows, grab a clean fluffy blending brush and start blending your eyeshadows lightly for a very polished and subtle look. 
3. Take a smudger brush and gently press eyeshadow on the lower lash line for a smoky effect.
4. With an angled- eyeliner brush, dip it into cream or gel eyeliners and create a cat-eye or a subtle one; however, you like!
5. Take a Brow/Lash Comb/Brush and gently comb and tame your eyebrows and lashes. 
6. Lastly, grab a lip brush and precisely apply lipstick sticking inside your lip line. 
Cleaning Your Makeup Brushes 
Cleaning your makeup brushes from time to time is crucial. With all the makeup you use, bacteria can build up inside your brushes. And the next time you apply makeup, you are transferring all those germs and dirt back to your skin, which can lead you to have acne and other skin issues. Scary, right?  
Here are some simple ways you can clean your valuable beauty tools. 
1. Hand Silicon Gloves
The Sigma Spa Brush Cleaning Glove has been trending around the internet for its convenient uses. It's great when you want to quickly and efficiently clean your brushes.
The glove has two sides, one for eye-brushes and another for face brushes. The different textures and patches aid in giving your brushes that squeaky deep cleansing!
2. Using Cleansing Balm 
If you don't prefer the gloves, try a cleansing balm such as Solid Brush Cleanser Cleansing Balm from Japonesque.
They are the mixture of different ingredients like olive oil, palm butter, and goat's milk. All those help in soft and profound cleansing and conditioning your brushes. 
Caption: Using cleansing balms to clean your makeup brushes and sponges. (Published on November 27, 2015) 
3. DIY Makeup Brushes and Sponge Cleanser
If you aren't a fan of splurging and want to look for an affordable alternative to clean your beauty tools, then learn this simple trick you can do at home! This DIY was revealed by the iconic makeup guru, Michelle Phan! 
All you need is:
Liquid Dish Wash Soap
Extra Virgin Olive Oil
Dinner plate
Now get the cleaning process starting!
1. First, pour the liquid dish washing soap on the plate and add a little bit of the extra virgin olive oil. The dish wash soap gets rid of the bacteria from your brushes, and the olive oil keeps them soft and conditioned. 
2. Swirl the brushes or squeeze the beauty sponge in this mixture and watch as the dirt says goodbye.
3. Rinse the tools under room temperature or lukewarm water and soak up excess water with a paper towel. But, never dry your brushes straight up!
The water will get inside all the bristles of the brushes, and it will loosen the glue that holds the bristles together. It will result in the bristles falling apart, and we do not want that.
Instead, hang the brushes upside down in an open environment. It can dry quickly and won't lose its quality!
Recommended: Check out the home remedies that give you glowing skin! 
Storing Your Makeup Brushes 
Proper Storage is necessary for the brushes not to lose their shape. Meanwhile, storing them is also fun, and you can get creative with it!
There are a lot of expensive makeup organizers and storage containers. But, you can even create one, or you can easily find containers in your home that you can turn into your brush organizer.
Here are some ideas that are a cheap and beautiful way of storing your brushes. 
1. Take an empty fish bowl and load it with tiny rocks, jewels, or sequins. Then place the brushes inside in a way that they stand upright. 

Caption: Fish bowls are a great affordable way to store your makeup brushes. 
Photo Credit: gurl.com 
2. You can use empty candle jars or any glass container lying around in your house. It looks stylish, and it's a great way to reuse the jars!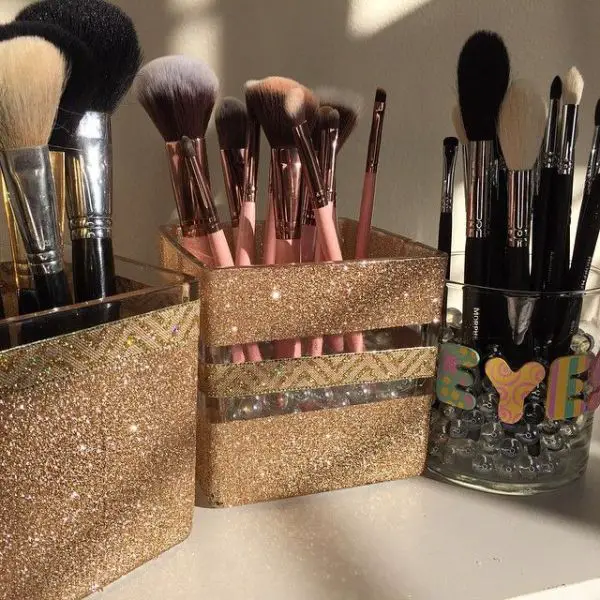 Caption: Empty Candle Jar or Glasses are a great way to store your brushes. 
Photo Credit: Pinterest.com
3. You can find cheap and adorable plant holders in IKEA.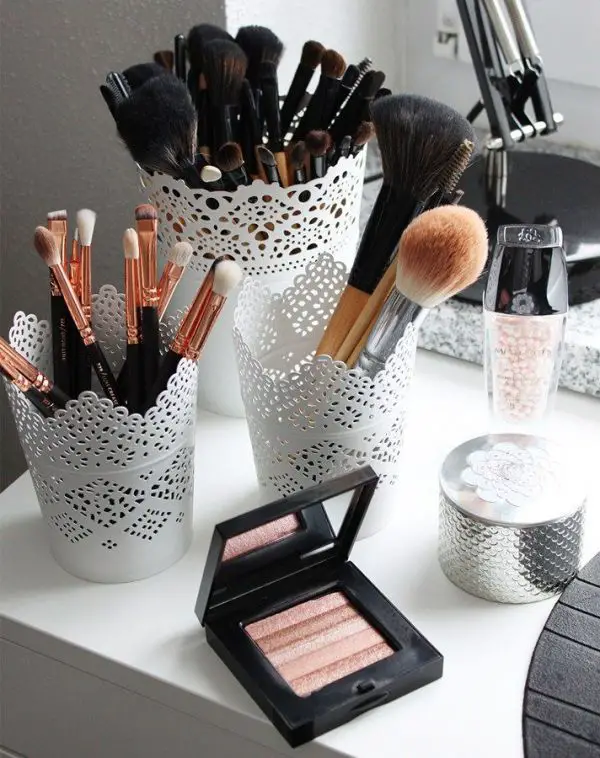 Caption: You can opt for IKEA plant holders too!
Photo Credit: Pinterest.com 
Lastly, here are some recommendations on the best brands for makeup brushes according to VOGUE.
1. Artis
Artis is a high-end luxury brand, known for making top quality makeup brushes. Their unique and ultra-soft fibers result in smooth and faster application.
The popular Elite, Mirror Ten Set Brush comes with brushes of different shapes and values for $360. Their brushes are something every makeup guru swears by! 
2. Burberry
The luxury brand, Burberry makes high-quality makeup brushes that are ideal to use and suitable for beginners. Their Powder Brush No.1 brush values at $62. 
3. MAC
Makeup and Brushes from Mac are used worldwide by professionals. Their 224 tapered blending brush stands at $25. 
4. RealTechniques 
The award-winning Base Core collection from RealTechniques is everything you need while saving money. It only retails for $12.
5. WetnWild
Wet and Wild is a drugstore brand that is impressing every makeup lover with its latest good-quality brushes. The pink tip bundle consists of 17 essential brushes and only values $28.99. Such a steal! 
Makeup Brushes help you perfect your makeup look. It is not necessary to buy expensive brushes. Even the affordable ones deliver a good job. Whatever brushes you opt using, always remember to clean them regularly. While applying makeup, take care of your skin as well. Moreover, once in a while, it is best to go a day without any makeup because you are beautiful either way!